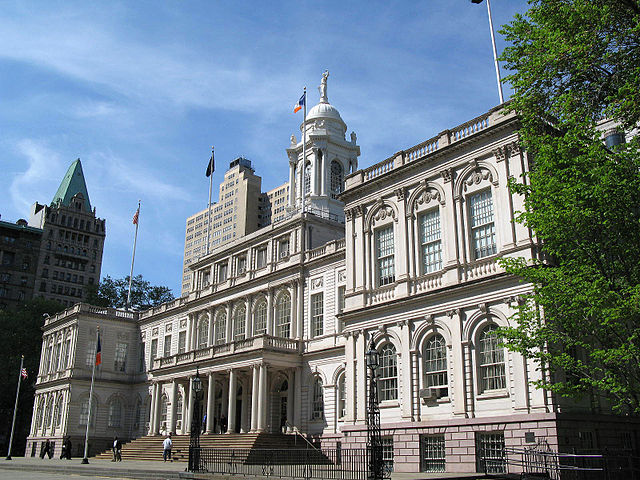 New York City Hall
---
What to watch for this week in New York politics:
Ongoing legislative session in Albany - legislators will be in Albany Monday through Wednesday this week for session
Movement toward Mayor de Blasio's Executive Budget, due out May 7, according to the mayor

the mayor has promised additional detail on a number of fronts, and the city's updated 10-year capital plan is due along with the updated FY16 budget
what will happen regarding NYPD staffing - will there be money for the 1,000 new officers the Council has asked for? a compromise at 500, perhaps?
other key issues on the table include funding for libraries, seniors, farmland, and more
Tuesday marks one week until the special elections in New York's 11th Congressional District and 43rd Assembly District

does Democrat Vinnie Gentile have a chance to defeat Republican Dan Donovan to rep Staten Island and a small chunk of Brooklyn in Congress?
could we have the first Working Families Party-only candidate elected to the state Assembly?
As always, there's a great deal happening all over the city, with many events to be aware of, see below for our day-by-day rundown.
***Do you have events or topics for us to include in an upcoming Week Ahead in New York Politics?
E-mail Gotham Gazette editor Ben Max: This email address is being protected from spambots. You need JavaScript enabled to view it.***
The run of the week in detail:
Monday
After another trip out of town - this time he was in Wisconsin talking about the inequality crisis and bashing WI Republican Governor and presidential candidate Scott Walker - Mayor Bill de Blasio starts the new week with a limited public schedule, he "will travel to Connecticut and return to New York City in the afternoon. Later, the Mayor will swear in 28 judges to Family Court, Criminal Court, and Civil Court."
Governor Cuomo starts his Monday in New York City with a 9:30 a.m. appearance at the "Daily News Citizenship NOW! Phonebank Event" at Stella and Charles Guttman Community College. The governor will then travel to Albany later in the day.
On Monday morning at 10 a.m., City Council Speaker Melissa Mark-Viverito will appear on "HuffPost Live"; then at 11:15 she will attend CUNY Citizenship Now Call-In; and at 4 p.m. she will speak at Brooklyn Borough President Eric Adam's Community Affairs Recognition Ceremonial at Brooklyn Borough Hall.
On Monday at 11 a.m., it is reported that Vice President Joe Biden will swear in Loretta E. Lynch as the 83rd Attorney General of the United States.
At 11:30 Monday morning, the State Senate Democrats will renew their push to close the infamous LLC loophole, preceeding a vote in senate committee. The push is being led by Democratic Leader Andrea Stewart-Cousins and bill sponsor Daniel Squadron. They will be joined at the press conference by other legislators from both houses and advocates. [Read about the pending Monday vote on the LLC loophole and the larger campaign finance reform push in our recent article on the subject]
On Monday morning, WNYC's Brian Lehrer Show will welcome City Council Member Brad Lander, who will discuss, among other city news, "the "Stop Credit Discrimination in Employment Act" he sponsored that was approved by the City Council. It would prohibit credit checks for hiring for many jobs."
On Monday morning, ahead of the City Council's hearing on a resolution declaring the city a "TPP-free zone" there will be a 9:30 a.m. press conference at City Hall: "Leaders from New York City's labor, environmental, social justice and faith communities will rally and testify in support of City Councilwoman Helen Rosenthal's resolution urging Congress to reject "Fast Track" legislation for the Trans-Pacific Partnership (TPP) and declaring the city a "TPP-free zone." The rally will include "City Council members, Communications Workers of America, Working Families Party, Sierra Club NYC Group, New York City Central Labor Council, New York State AFL-CIO, Food & Water Watch, MoveOn.org, Voices Of Community Activists & Leaders (VOCAL-NY), United Steel Workers, Alliance for Retired Americans and WE ACT for Environmental Justice." Speakers will include Zephyr Teachout and Josh Fox, director of Gasland.
Just after that rally, also outside City Hall, Council Members Margaret Chin and Paul Vallone will hold a "press conference calling on Mayor de Blasio to add new funding for vital senior services in his forthcoming Fiscal Year 2016 executive budget."
Human Services Council will lead a "COLA Rally" at City Hall at noon on Monday: "Join HSC, social service providers, and friends of the sector in urging the City to increase [cost of living adjustments in city contracts] for the social service sector."
Monday's City Council schedule includes a meeting of the Committee on Women's Issues to consider a resolution regarding "Prohibition of differential pay based on gender"; a meeting of the Committee on State and Federal Legislation to consider a resolution declaring the City of New York a 'TPP-Free Zone'; a meeting of the Committee on Land Use; a meeting of the Committee on Health to consider a resolution "recognizing this and every April as Organ Donation Awareness Month in the City of NY" and to discuss a new bill which would "require the department of health and mental hygiene to issue an annual report regarding hepatitis B and hepatitis C"; and a meeting of the Committee on Cultural Affairs, Libraries and International Intergroup Relations to discuss a "comprehensive cultural plan."
At 1:30 p.m. on Monday in Albany, Assembly Speaker Carl Heastie will hold a "news conference regarding equal pay. He will be joined by Labor Chair Michele Titus, members of the Assembly Majority and advocates."
Monday afternoon: City College of New York competition expo and Standard Chartered Women Entrepreneurs Prize awards.
At 5:30 p.m Monday, the Contracts Committee of the Panel for Educational Policy will hold a public meeting at Tweed Courthouse.
On Monday evening, City Council Member Helen Rosenthal will hold a town hall with representatives of several city agencies there to answer constituent questions and at which she'll announce the winners of her district's participatory budgeting process.
Also Monday evening, City Council Speaker Melissa Mark-Viverito and special guests Lin-Manuel Miranda and Arturo O'Farril will host An Evening of Arts and Culture at Pregones Theater, in the Bronx.
Comptroller Scott Stringer starts his week with one public event: at 6:30 p.m., Financial Women's Association will host him for an open conversation at TIAA-CREF in Manhattan.
At 8 p.m. on Monday, New York City "First Lady Chirlane McCray will introduce author Toni Morrison at a reading and discussion of Morrison's new book, God Help the Child, at the 92nd Street Y Unterberg Poetry Center."
And, there is another scheduled debate in the NY-11 congressional race scheduled for Monday evening. Republican Dan Donovan has skipped several opportunities to appear alongside Democrat Vinnie Gentile and Green James Lane and it was reported that he will not be debating again, though it is unclear if he will attend Monday evening's event at 7 p.m. at the College of Staten Island.
Tuesday
Tuesday is one week until the special elections in New York's 11th Congressional District (Staten Island, Brooklyn) and 43rd Assembly District (Brooklyn).
Tuesday morning in Albany, the New York League of Conservation Voters will host a Capital Region Eco-Breakfast at Fort Orange Club: "Every year, our Capital Region Eco-Breakfast brings together environmental leaders from across the state. We are excited to welcome all three Environmental Conservation Committee chairs in the State Legislature as our featured guest speakers. We will also honor The Nature Conservancy for their tireless work on the Community Risk and Climate Resiliency Act, which was signed into law last year. State Senator Diane Savino will join us to give remarks on this achievement and to present them with their award."
Tuesday afternoon in Albany, Empire State Pride Agenda will host New York LGBT Equality & Justice Day 2015, "the largest statewide annual lesbian, gay, bisexual and transgender (LGBT) advocacy day."
Tuesday at noon at City Hall, there will be a rally led by New Yorkers Against Gun Violence with Council Member Jumaane Williams, Brooklyn Borough President Eric Adams, and others calling on the state Legislature to pass 'Nicholas' Law.' [Read this recent op-ed explaining and promoting passage of the law]
Tuesday's City Council schedule includes a meeting of the Committee on Finance to consider the following resolutions including one "Establishing a property tax credit for commercial landlords who voluntarily limit the amount of rent increases to small business owner tenants upon lease renewal"; and one "Establishing a real property tax credit for small business owners who own their properties and for commercial landlords who retain tenants"; another meeting of the Committee on State and Federal Legislation on the resolution "Declaring the City of New York a "TPP-Free Zone"; and a full-body Stated meeting of the City Council starting at 1:30 p.m., with the usual pre-stated press conference at 12:30 p.m. at City Hall.
Tuesday evening, the New York City Bar Association will host The Evolving City Council: "The Committee on New York City Affairs is presenting a panel discussion addressing the governance of the City Council. What impact do the recent amendments to the Council's Rules have upon the Speaker's powers, independence of Council Members and Committee Chairs, and the effectiveness of the Council in performing its obligations under the Charter? Is a strong Speaker necessary for the Council to act as a check and balance to the Mayor? What further amendments to the Rules are necessary, or should any of the recent amendments be reconsidered? What additional powers, if any, does the Council need to perform its duties effectively and to act as a check and balance to the Mayor?" Participants will include Public Advocate Letitia James Advocate, several current and former City Council members, Manhattan BP Gale Brewer and Queens BP Melinda Katz, Common Cause New York's Susan Lerner, and several law experts.
Also Tuesday evening, the African Leadership Project will hold a panel discussion on access to quality education titled: "Our Children Matter: Is Access to Quality Education a Civil Rights Issue?" at the Adam Clayton Powell State Office Building on West 125th Street.
Tuesday, Democratic presidential candidate Hillary Clinton will hold three fundraisers in New York City, followed by a Wednesday morning speech at former Mayor David Dinkins' annual forum at Columbia University.
Wednesday
Wednesday morning, Hillary Clinton will give the keynote address at the 18th Annual David N. Dinkins Leadership and Public Policy Forum at Columbia University.
Wednesday is #DenimDayNYC, and there will be a rally at City Hall led by City Council Women's Issues Committee Chair Laurie Cumbo and others to raise awareness about domestic violence and continue the push against it: "Sexual Violence must end. Join the #DENIMDAYNYC rally on Wed. April 29, 11AM, City Hall."
All day Wednesday, Capgemini and Thomson Reuters hosts its Chief Digital Officer Summit New York City. Amen Mashariki, Chief Analytics Officer at the NYC Mayor's Office of Data Analytics, will attend and speak at one of the panels.
Wednesday's City Council schedule includes a joint meeting of the Committees on Consumer Affairs and Housing and Buildings on new bills regarding "Licensing tenant relocation specialists"; "Required notifications by persons negotiating tenant buyout offers"; and "Amending the definition of harassment to include repeated buyout offers"; a meeting of the Committee on Sanitation Solid Waste Management for an oversight hearing regarding "Sustainability in the Commercial Waste Industry"; a meeting of the Committee on Technology, jointly with the Committee on Higher Education for an oversight hearing regarding "Diversity at CUNY TV"; a meeting of the Committee on Environmental Protection on "limiting nighttime illumination for certain buildings"; and a meeting of the Committee on Veterans for an oversight hearing on "Veterans Liaisons at City Agencies."
Wednesday afternoon, the Rockefeller Institute of Government will host a forum on state government immigrant policy with New York Secretary of State Cesar Perales: "This forum engages key policymakers from both the executive and legislative branches to discuss achievements and new initiatives to help new immigrants and refugees, as well as assist permanent residents become U.S. citizens. As comprehensive immigration reform at the federal level has stalled, the states are increasingly passing legislation and implementing initiatives to further immigrant integration. New York is among the handful of states with an Office for New Americans. Working together with a taskforce in the legislature, the Office for New Americans has developed innovative programs that are increasingly referenced across the country, most recently in the "Federal Strategic Action Plan on Immigrant and Refugee Integration" issued on April 14th by the White House Task Force on New Americans." Assembly Member Marcos Crespo, chair of the Assembly Puerto Rican/Hispanic Task Force and chair of the Task Force on New Americans will attend.
Wednesday at 6 p.m., there will be a Panel for Educational Policy meeting at M.S. 131, 100 Hester Street, Manhattan.
At 6:30 p.m. Wednesday, The Center for New York City Affairs at The New School will host Affordable Housing: Rent and Reality. "Mayor de Blasio's ambitious affordable housing agenda is at the heart of his administration's pledge to start a new chapter in "a tale of two cities." In 2015, Albany serves as the rent-regulation battleground but the true impact of this fight will be felt in the five boroughs where more than 2.3 million people live in rent-regulated housing. While proposals to construct new affordable housing continue to garner the most media attention, the mayor's State of the City address revealed just how dependent his strategy is on preserving the affordability of existing units. What does the battle over rent regulation in the state capital portend for turning de Blasio's vision into reality? Join a forum with leading officials, experts, and practitioners who will shed light on this question and more."
Thursday
On Thursday, Public Advocate Letitia James will hold a "Forum on Housing Crisis and Rent Reform" at 10 a.m. at the 1199 SEIU Auditorium: "a forum to discuss New York City's housing crisis, landlord abuses of tenants, and the need to strengthen the rent laws that protect the affordable housing of over 2 million New Yorkers. The forum will consist of two panels followed by an intimate roundtable between the Public Advocate and four tenants. The forum is being hosted by the Real Rent Reform Coalition, The Alliance for Tenant Power, and 1199 SEIU." [Read our recent profile of Public Advocate James]
Thursday's City Council schedule includes a meeting of the Committee on Recovery and Resiliency, jointly with the Committee on Public Housing for an oversight hearing regarding "Monitoring FEMA's $3 Billion Dollar Grant to NYCHA for Sandy-Damaged Developments"; a meeting of the Committee on Governmental Operations to discuss new bills relating to "Establishing term limits for community board members"; and "Making urban planning professionals available to community boards." [Read our recent report on the bill to establish terms limits for community board members and read our recent report on the bill to require a city planner for community boards]
On Thursday evening, City & State NY hosts its "inaugural 'On Queens' cocktail reception featuring Queens Borough President Melinda Katz...City & State's first-ever Queens Special Issue, which will be officially released at the event, will focus on the landscape of Queens' politics, feature spotlights specific to the borough, and have perspectives from Queens leaders." 6:30 p.m. in Long Island City.
Friday and the weekend
Friday morning, NYU Steinhardt hosts another in its Education Policy Breakfast Series. The topic will be affordability and sustainability in early childhood education: "As New York prepares to expand pre-K, what can we learn from other cities and countries that have undergone similar efforts? In particular, what are the different models for funding early childhood education? How have countries with less wealth succeeded in implementing pre-K? Our guest speakers will include an economist who focuses on early childhood development and poverty alleviation issues internationally, and a former appointee in the Obama Administration who oversaw pre-K programs in Washington, DC."
Also Friday morning, the Center for New York City Law at New York Law School will celebrate its 20-year anniversary with a breakfast event featuring NYC Law Department Corporation Counsels past and present, including current corp counsel Zachary Carter, and formers Michael Cardozo and Paul Crotty.
At 10 a.m. Friday, the City Council Committees on Health and Consumer Affairs will meet jointly for a hearing on a variety of business and regulatory policies and practices. Also at 10 a.m., the City Council Committee on Immigration will meet for an oversight hearing on "Implementation of IDNYC - New York City's Municipal Identification Program."
On Saturday, the FDNY celebrates its 150th anniversary with open houses at fire houses and EMS stations all over the city.
***
Have events or topics for us to include in an upcoming Week Ahead in New York Politics? E-mail Gotham Gazette executive editor Ben Max any time: This email address is being protected from spambots. You need JavaScript enabled to view it. (please use "For Week Ahead" as email subject).
***
by Rati Mukhuradze, Marco Poggio, and Ben Max
@GothamGazette