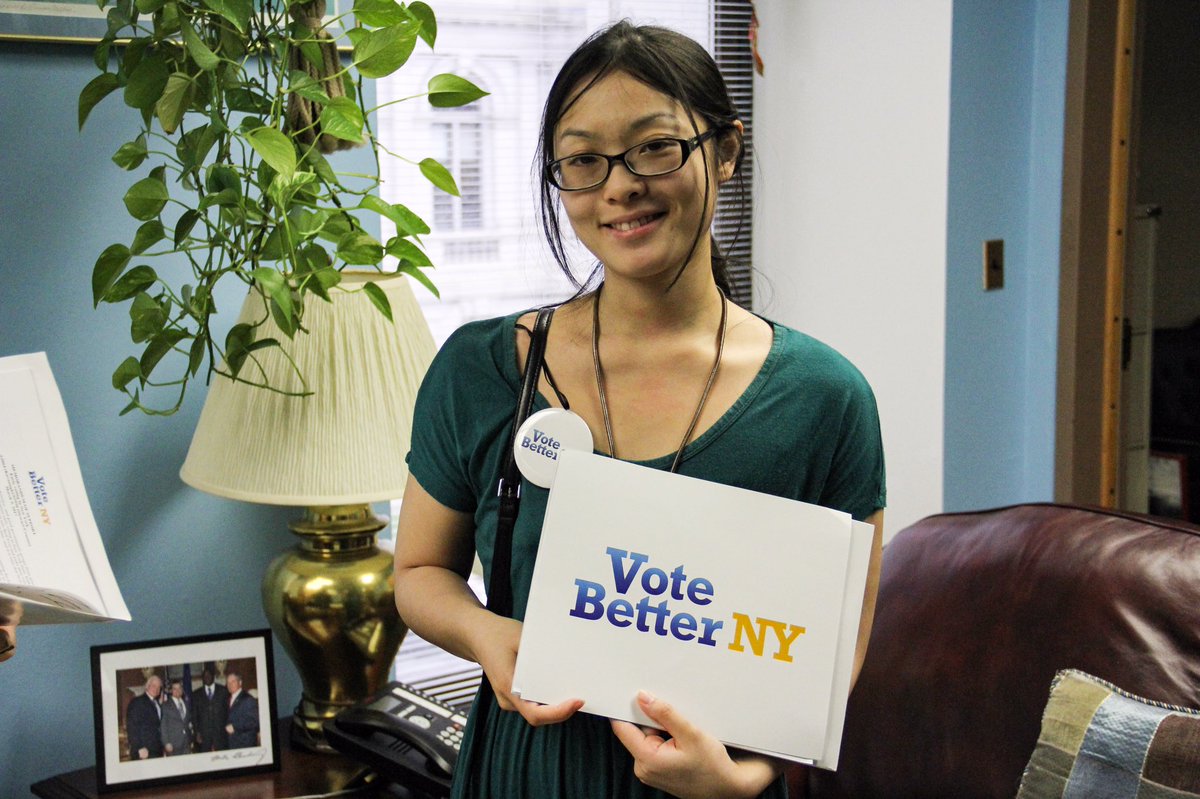 One Vote Better NY lobbyist (photo: @NYCVotes)
---
Two charter buses idling in downtown Manhattan in the early hours of the morning on a weekday would usually be full of mismatched tourists from far-flung states and countries, waiting to gape at the Wall Street bull and his recently-placed female antagonist.
That was not the case for the buses that departed Church Street this past Tuesday morning, which, like their counterpart departing from the Bronx, were full of New Yorkers headed to Albany with a very specific mission: pushing legislators to adopt voting reforms that would make it easier for people to cast their ballots.
The group of about 150 activists, students, and assorted concerned citizens from Manhattan, Queens, Brooklyn, the Bronx, and Syracuse had risen at an hour when most fellow city-dwellers were still sound asleep, steeled themselves with coffee and muffins, and traveled to the state capital as part of the "Vote Better NY" campaign. The effort -- now an annual lobbying day -- was organized by the New York City Campaign Finance Board's "NYC Votes" initiative, which partnered with schools and civic organizations like Dominicanos USA, CUNY, and the recently founded high school progressive group Coalition Z.
Chloe Baker, 21, a junior studying history at Queens College and interning at the New York Public Interest Research Group (NYPIRG), felt that the trip's intent was to "get the legislators thinking about [voting reform], and remind them that they work for us," a sentiment echoed by many of her fellow volunteers.
It's the fourth year of the annual pilgrimage (Gotham Gazette was also along for the last two). To the chagrin of organizers, the objectives this year are the same as they were the first: to change the laws around voting so that citizens can more easily register and stay registered, and find it more feasible to actually vote once registered.
Those goals are put forward in proposals included in four bills introduced to the Democratically-controlled State Assembly -- they would need passage there, then in the state Senate, and to be signed by Governor Andrew Cuomo. The New York Votes and Voter Empowerment Acts, sponsored by Democrats Michael Cusick of Staten Island and Brian Kavanagh of Manhattan, have some similar language; both would permit pre-registration of 16- and 17-year-olds and allow government agencies like housing authorities to automatically forward voter information for registration.
New York Votes would additionally establish same-day registration with a constitutional amendment (it isn't permitted under the current state constitution), open polls two weeks before elections for what is known as "early voting," expand absentee voting, and boost polling place resources and training. Voter Empowerment would establish online voter registration through the Board of Elections and automatically update registration information.
A separate early voting bill, also sponsored by Kavanagh, would, in its current version, establish an early-voting window beginning eight days before an election.
Finally, the so-called preclearance bill, sponsored by Brooklyn Democrat Latrice Walker, would seek to replicate some of the controls previously contained in the Voting Rights Act before it was gutted by the Supreme Court. Counties where 10 percent of the population are racial or language minorities or which have been found to have denied voting rights to protected populations would need to submit any changes in voting-related practical or policy changes to the Attorney General's office for approval.
The early voting and voter empowerment bills both have versions in the Republican-controlled Senate. The former, sponsored by Democratic Conference Leader Andrea Stewart-Cousins, was passed through the election committee and has been sent over to the local government committee. The latter, sponsored by Queens Democrat Michael Gianaris, was voted down, 6-3, in the elections committee less than 24 hours before the activists boarded their buses, including a "nay" vote by one of its own sponsors, Queens Democrat and Independent Democratic Conference member Tony Avella.
Yet what would seem like a deflating defeat was received with cautious optimism by activists, who are happy that the leadership in the Senate -- "where these bills go to die," was how one NYC Votes staffer put it -- were even publicly acknowledging the ideas.
"Having [Senate Majority Leader John] Flanagan even talking about wanting to know the cost of it is a change in the right direction. Last year it would have been a flat 'no,'" said Onida Coward Mayers, the NYCCFB director of voter assistance, referring to the Suffolk County Republican's recent comments citing the potential cost of early voting, while leaving the door open to continued conversations on reform.
The day's activities began with a rally held by legislators and advocates on the steps of the Capitol building's famed "Million Dollar Staircase," where it was moved after rain scuttled plans to hold it in Lafayette Park. After that, the group splintered into 11 teams, each with its own schedule of meetings; the idea was to try to have each legislator who had been open to a meeting hear from at least one of his or her own constituents. "They're much more interested if it's someone from their community, because they know that person represents many more at home," explained Coward Mayers.
The group Gotham Gazette trailed soon found itself in the imposingly bright and bustling Legislative Office Building, where hordes of staffers, lobbyists, and activists tried hard not to run into each other as they shuffled between meetings. First on the group's schedule was Senator Roxanne Persaud, who had to run out but left an aide, who asked not to be identified, to speak with the six-person delegation. The Brooklyn legislator is one of a handful of Senate mainline Democrats who have not sponsored both of the Senate bills. No Republicans have signed on.
As Amanda Melillo, public affairs officer at NYCCFB, explained that multi-hour lines dissuaded voters from participating in elections, the staffer nodded and spoke of her own experience during last year's presidential election, saying, "I was out there, I saw the last-minute rush. I understand." While she couldn't quite commit to the senator sponsoring the bill, she promised to discuss it with her boss, and ended with the hope that "when we meet next year, it'll be better."
A cramped elevator ride and brisk walk through halogen-lit hallways deposited the group at the office of Brooklyn Senator Jesse Hamilton, who greeted Coward Mayers with a hug and spent a few minutes posing for photographs with the activists. Hamilton and his seven colleagues in the IDC, a group that forms a governing coalition with Senate Republicans, are crucial to pushing through the bills that still have a chance in this legislative session, which runs through mid-June.
The group quickly scored their first clear success: Melillo explained the intent of the preclearance measure and had not quite finished asking Hamilton to introduce it in the Senate before he piped up with, "I can do that, that's not a problem."
He was a bit less receptive when the volunteers raised the issue of early voting. When Bella Wang, a 26-year-old PhD student at Princeton and former poll worker, brought up voters waiting "one to three hours" to get their ballot, Hamilton said that "that's only in presidential elections that you get three hours."
Wendy Odle-Harvey, a volunteer in her fifties whose family moved to Brooklyn from Barbados in the 1970s, chimed in to say that if people vote in any election to find long lines and voting machine problems, they "don't want to come out to vote for senator, for local races."
Hamilton promised to look a the bill, but told the group that they'd be best served by "talking to the Republicans, because you're preaching to the choir."
Case in point, the group's next scheduled meeting was with Republican Senator Marty Golden, of Brooklyn, who quickly got into a back-and-forth with Wang when she stated that people with oddly-spelled and hyphenated names often find themselves left off the voter rolls due to human error.
"We have people with names, hyphenated or not hyphenated, voting in several elections" he said, and asserted that there were "people bused in from the Bronx and Westchester to vote in Brooklyn races." Wang shot back that you were more likely to be "crushed by furniture" than to commit voter fraud, a claim that Golden vigorously disputed. While there have been sporadic claims of voter fraud in New York, Attorney General Eric Schneiderman declared earlier this year that there was not one substantiated incident of voter fraud in New York in 2016.
As Melillo ticked off reasons why New York's voter turnout is so low - 41st out of the 50 states in the 2016 general election, with 57 percent turnout - Golden asked if it couldn't be that "people don't care," and argued that high immigrant populations and cultural differences led to low turnout in some districts, pointing to "Palestinian and Arab communities" in his own constituency. "Do they vote? No," he said.
Despite the disagreements, Golden conceded that improvements could be made to the state's voting procedures, saying "there are a couple of things we can do to help people register and vote, and I'm open to that," and agreeing to consider the bills. He threw out some of his own ideas, such as making poll workers' pay non-taxable and getting the MTA to provide expanded service on election days.
Asked about the probability that he would support any of the bills were they to come to a vote, he said "our leader is having conversations about the bill," but declined to definitively take a position.
Downstairs in the building's cafeteria, past a group of Army personnel manning a series of small tables covered in military equipment as part of something called Fort Drum Day, the activists took a breather.
"I didn't really know what to expect…Say 'I'm a constituent' and maybe they'll listen more, but there are a lot of groups here, so sometimes it feels like lip service," said Natasha Padilla, 38, a Brooklynite who had taken a vacation day to go on the trip, as a group of people in bright green shirts emblazoned with the Airbnb logo chatted quietly 10 feet away.
The final meeting of the day for the group Gotham Gazette followed took its members back through the packed elevators with the electronic voice and to the office of Brooklyn Assembly Member Peter Abbate Jr., who was not available. Aide Joe Brady took his place for a quick discussion that largely consisted of Brady agreeing that there were issues with voting and pledging to discuss the proposals with the Assembly member.
The issue of voting reform is a particularly sensitive one for legislators, Coward Mayers said, because it "taps into their livelihoods. They want to be safeguarded." If successful, the reforms would shift their voter base, empowering a whole slate of people previously not involved in politics. That prospect can be frightening to elected officials that can pretty much predict the comfortable margin they'll be reelected with under the current system. Incumbents in New York, where there are no term limits for state legislators, do very well election after election, often running unopposed or with nominal opposition.
For the activists who gave up their weekday to show up at their doorstep, the legislators' reticence is understandable but misplaced. With "a few million dollars in a multibillion dollar budget," as Melillo put it, they could bring hundreds of thousands of New Yorkers into the political process. (The state budget that was recently passed totals $153.1 billion in operating funds.)
In a telling exchange with Senator Hamilton, Wang, the PhD student, brought up Minnesota, a state with same-day registration and early voting that also happens to have had the highest percentage turnout in 2016 elections. As Hamilton began to speculate about the reasons Minnesotans may simply have a greater interest in voting, Padilla cut him off.
"They got their people to vote. And it's really cold there," she said.