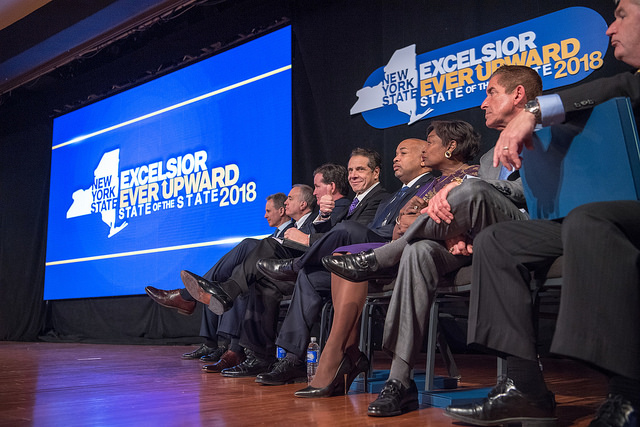 Gov. Cuomo and legislative leaders (photo: Darren McGee/Governor's Office)
---
Since the 2018 session began last week, Governor Andrew Cuomo and legislative leaders have outlined their agendas for the year, and addressed or hinted at some of the significant challenges facing state lawmakers.
In particular, threats from the federal government were acknowledged by Cuomo during his state of the State address and in remarks from legislative leaders in the Assembly and Senate, from the potentially harmful environmental policy of President Donald Trump's administration to the new federal tax code -- passed by the Republican Congress and signed by the Republican president in December -- which is expected to disportionately burden New York taxpayers. Cuomo has said New York will sue, while his team is also exploring an overhaul of the state tax code to blunt the impact of the federal reforms.
The governor and the Legislature must also sort out the state's larger-than-usual budget deficit, with a new spending plan due by the April 1 start to the new fiscal year, and while tackling the expiration of federal funding to various programs in healthcare and beyond.

Conflicts, some of them repetitious from past years, are clearly brewing over taxes, MTA funding and an expected congestion pricing proposal by Cuomo, reforming child abuse laws, voting reform, women's reproductive rights, and more.
Also looming are the trials of several close former aides and donors to Cuomo and the retrials of two former legislative leaders, Dean Skelos and Sheldon Silver, both of whom were removed from the Legislature in 2015 following their initial convictions, which were later overturned due to a new Supreme Court ruling. Nevertheless, government ethics and campaign finance reform got barely a mention in the governor's address and in opening day remarks by legislative leaders.
At the Assembly's opening day on Monday, before outlining his legislative agenda, Speaker Carl Heastie, a Bronx Democrat, offered an overview of the conference's past legislative accomplishments, such as passing paid family leave and raising the age of criminal responsibility, and then dove into his concerns over "radical policies" coming from Washington.
"We must push back wherever necessary to protect the interests of our citizens," said Heastie. "Among other things, Congress just enacted a law to scale back the deductibility of state and local taxes—a provision of law that predates the federal income tax itself. This shift will increase New Yorkers' already sizeable contributions to the federal treasury while increasing our cost of living and disrupting our housing market—all to finance huge giveaways to the rich and to large corporations."
Heastie cited affordable healthcare and childcare, domestic violence and sexual harassment, environmental protections, and gun control, including the banning of bump stocks, as issues on the top of his majority conference's legislative agenda.
Assembly Minority Leader Brian Kolb, a Republican representing Canandaigua and Geneva Counties in the Finger Lakes region who has announced he is running for governor this year, spent his initial floor time calling on his colleagues to put politics aside and face the crises in front of them. Essentially outlining his platform for the gubernatorial race, Kolb painted a bleak picture of New York State, which he noted could not be blamed on the federal government, highlighting New York City's crumbling subways, Upstate New York's chronic outmigration and poor job growth, as well as lack of movement on ethics reform in Albany as evidence that government was failing the voters of the state.
A poignant moment unfolded when Kolb expressed condolences to Assembly Majority Leader Joseph Morelle, whose daughter Lauren died last year following a battle with breast cancer, and praised his commitment to the job in the face of those challenges.
Meanwhile, looming over the State Senate's opening day, which took place on Wednesday, January 3, was the news that there may be a Democratic reunification deal in place, provided that two vacated Senate seats remain Democratic through upcoming but not-yet-called special elections, granting the party the requisite 32 votes to pass legislation.
Currently, eight Democratic senators known as the Independent Democratic Conference (IDC) form a ruling coalition with the Republican conference and nominal Democrat Simcha Felder, of Brooklyn, a Democrat who conferences with the GOP to form a majority even without the IDC.
During his opening comments on the Senate floor, Senate Majority Leader John Flanagan, a Republican from Long Island, expressed pride in his conference and his colleagues across the aisle, noting that collectively they had served in the Senate for 593 years.
"I am not going to apologize. I am going to speak proudly of this institution and the fact that we all are engaged in public service, because last time I checked, I don't have to canvas all 62 members to know that we're not doing this for the money," he said, seemingly referring to Cuomo's call in his annual address for a ban on outside income.
Senate Minority Leader Andrea Stewart-Cousins, a Westchester Democrat, urged the governor to call a special election to fill the two vacant Senate seats "as soon as possible." Cuomo had the discretion to call for special elections to fill a total of 11 vacant legislative seats, with nine in the Assembly, as early as January 1, but he has declined, indicating he does not want the Senate seats filled before a budget deal is reached. An election would take place 70 days after Cuomo makes the call.
IDC Leader Jeffrey Klein of the Bronx also rattled off his conference's legislative priorities, including voting reform measures, universal pre-kindergarten expansion, a student loan forgiveness proposal, improvements to the subway system and a method to pay for them, and a completely state-funded Child Health Plus program.
On Monday, Stewart-Cousins spoke from the Senate floor wearing black in solidarity with all women, echoing the statement made by Oprah Winfrey and others at the Golden Globes a day prior, and vowed that her conference is committed to battling workplace sexual harassment, which she said "every woman in the Senate has experienced."
Outlining her conference's priorities, she highlighted legislation to tip workers' rights, voting reforms, women's health policies, healthcare, tightened gun laws, MTA investments, and more.
On Tuesday, Senate Republicans elaborated on their "affordability agenda," making clear that their vision does not include higher taxes of any sort, including the additional payroll tax floated by Cuomo as a possible way to compensate for the reduction of the state and local tax deduction from federal taxes that is part of the new tax code. Rather, the Republican conference is pushing their usual message of controlled spending, including a cap on annual state spending growth, plus a slew of bills to slash income, property, energy, and retirement taxes.
Presiding over a press conference to outline the agenda, Flanagan did not provide information about how the state, which is facing immense budgetary challenges, would pay for the additional tax breaks and cut the press conference short as reporters asked repeated questions about curbing discretionary spending in members' districts. Flanagan defended the practice, which he was being asked about because of the news Tuesday morning that Democratic Assemblymember Pamela Harris had been indicted on public corruption charges.
Another point of conflict was apparent at the Senate's opening last week, when Timothy Cardinal Dolan, New York's archdiocese, offered a prayer to launch the session. Advocates for the passage of the Child Victims Act, hopeful for movement on the bill that makes it easier for victims of childhood sex abuse to file charges, criticized Flanagan and IDC Leader Jeffrey Klein for inviting Dolan to give the benediction.
Critics said Dolan, who leads the Catholic Conference, which has spent millions on lobbying to prevent the passage of the Child Victims Act, should not have been invited when the bill is such a hot item of debate.
"Majority Leader Flanagan has refused to meet with victims and buried the Child Victims Act in the rules committee for years," stated Gary A. Greenberg, founder of Fighting for Children PAC. "The is a new low to rub salt in our wounds and invite the person who has stopped victims of child sexual abuse from receiving justice in New York. Flanagan has refused to meet with victims and I have turned down another meeting with his staff."
New Members and Vacant Seats
If Cuomo does not call a special election soon, nearly 1.8 million New Yorkers will be without representation during budget negotiations, according to calculations from the New York Public Interest Group.
The Assembly has welcomed two new members from the city, Daniel Rosenthal, of the 27th Assembly District in Queens, and Al Taylor, who replaced former Assembly Ways and Means chair Denny Farrell in Upper Manhattan's 71st District, both of whom were selected by local Democratic party leadership. Rosenthal, a former aide to City Council Member Rory Lancman, is the youngest sitting member of the state Assembly at age 26. Taylor is a pastor and community organizer who served as chief of staff to his predecessor, Farrell, who retired last year.
In the Senate, former Assembly member turned Senator Brian Kavanagh, of lower Manhattan and parts of Brooklyn, took Daniel Squadron's former seat in the Democratic conference. Kavanagh was the party-leader-picked successor to Squadron, who resigned abruptly last fall, citing disillusionment with his ability to affect change in the Senate and a new opportunity to go national. Kavanagh led a press conference on Tuesday calling on the governor to include funding for early voting in his executive budget proposal, due out next week.
Klein, in his remarks, also briefly addressed Assemblymember Luis Sepulveda of the Bronx as a "senator in waiting." Sepulveda has announced his candidacy for the vacated seat of now-City Council Member Ruben Diaz, Sr.
Heastie also announced a shuffle of leadership positions. Replacing Farrell at the helm of the Ways and Means committee is Brooklyn Assemblymember Helene Weinstein, marking a first for the Assembly, as no woman has previously held the post that runs budget proceedings.
Corruption Trials Loom
Hanging over this session will be the upcoming trials of former State Senator George Maziarz, which begins in February, as well as those of the former Cuomo aides and associates -- including his former top aide Joe Percoco and former SUNY Polytechnic Institute President and CEO Alain Kaloyeros -- and those of Skelos and Silver. Good government groups gathered at the capital this week to highlight this climate, attempting to put pressure on legislative leaders and Cuomo to move forward legislation on clean contracting, LLC loophole closure, outside income limits, and other reforms.
On Tuesday morning the news of Assemblymember Harris' multi-count indictment broke, putting added focus on government ethics and other reforms. Harris, who represents Bay Ridge and Coney Island, was indicted on fraud charges for allegedly diverting City Council funds designated for the non-profit she ran before taking office and for fraudulently obtaining Hurricane Sandy relief funds for her home, as well as witness tampering. Legislative leaders reacted to the news with surprise and disappointment but downplayed the need for reforms.
Flanagan expressed surprise as he learned of the news from reporters, during the press conference on the Senate Republicans' agenda. "I'm actually very disheartened to hear that. But it is an indication that our laws are actually working. We have more disclosure, more transparency, more limitations of what people can do in the Legislature," said Flanagan, adding that her indictment is "bad for everyone, because it paints the Legislature with a broad brush."
Heastie, when cornered by reporters outside his chamber, also shrugged off the need for additional ethics guidelines. "I don't want to get so much into it, because I haven't read the indictment, but there are certain things you can and cannot do in this life. I'm not sure how another ethics reform makes this better or worse."
In contrast, Democratic Senator Todd Kaminsky, a former federal prosecutor, released a statement calling for "crucial ethics reform in Albany" after learning of Harris' indictment.
"Today's indictment is the latest chapter in a sordid book about the need for crucial ethics reform in Albany," said Kaminsky. "In particular, the legislature needs to immediately focus on the outside income of legislators, as demonstrated by this latest case. We can't let Albany shrug this one off — we must prioritize those reforms and others to restore voters' trust and confidence in the government."