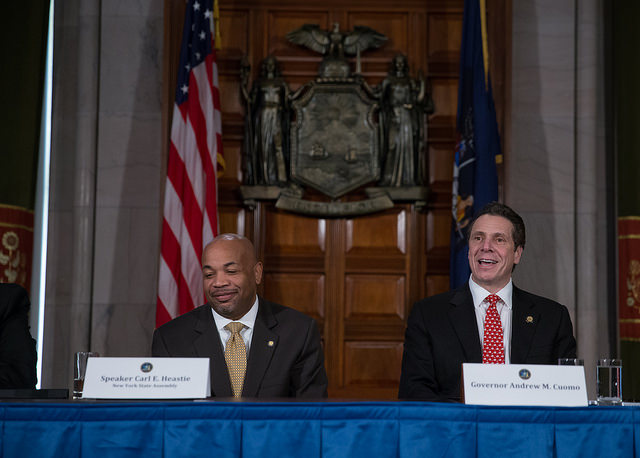 Speaker Heastie, left, and Governor Cuomo (photo via the Governor's Office)
---
Amid open conflict with Governor Andrew Cuomo, a second-term Democrat, the Republican-controlled state Senate recently passed a package of bills aimed at shedding light on taxpayer-funded economic development projects, among other reform measures. The move helped reignite attention on the legislation and put pressure on the Democrat-led Assembly to pass bills it has previously supported.
The legislation includes the Procurement Integrity Act, which would restore the state comptroller's power to review contracts before they are officially awarded, and the "database of deals" bill, which would create a public catalogue of economic development awards and their results. Such grants run into hundreds of millions of dollars in public funds, though they are often largely hidden from the public and have been at the center of recent corruption charges.
Assembly support for the measures was strong enough that earlier this year they were included in the chamber's one-house budget, as they were in the Senate's, though they were not included in the enacted state budget after negotiations among the Assembly, Senate, and governor.
Assembly Speaker Carl Heastie praised the Procurement Integrity Act last year, saying, "Another set of eyes will make people feel better that, yes, things are done correctly."
However, the bill hasn't made it out of the Assembly's Government Operations Committee -- even though the committee's chair, Assemblymember Crystal Peoples-Stokes, a Democrat from Buffalo, is the very lawmaker sponsoring the legislation. The bill has 37 co-sponsors in the 150-seat Assembly.
And as the June 20 scheduled end of legislative session approaches, the "database of deals" bill is stalled in the Assembly's Ways and Means Committee, chaired by Democrat Helene Weinstein of Brooklyn. That bill has 34 co-sponsors.
The reason for the hold-up? Advocates for the legislation are pointing at Cuomo, and his influence over Heastie.
"The speaker is jamming the bills because the governor wants him to," said John Kaehny, executive director of government watchdog Reinvent Albany. "If those bills went to the floor of the Assembly, they would pass overwhelmingly."
Assemblymember Robin Schimminger, a Democrat and main sponsor of the "database of deals" bill, echoed Kaehny's comments.
"The governor does not want this bill moved," the Buffalo-area representative told Gotham Gazette. "The question is, do Chair Weinstein and Speaker Heastie -- are they going to do the right thing or are they going to roll over and not move?"
Weinstein's, Peoples-Stokes', and Heastie's offices did not respond to requests for comment. Questions around the bills, and whether Heastie and Assembly Democrats are willing to cross Cuomo, come as Democrats have a relatively recent "unity" pledge and coordinated campaign effort ahead of the fall elections.
The economic transparency legislation is seen by many as essential after corruption indictments centering on some of the governor's most vaunted development programs.
Federal indictments in 2016 depicted a "pay-to-play" culture in which members of Cuomo's inner circle received bribes or other perks in exchange for lucrative state contracts and special treatment meted out to developers in secret. Longtime Cuomo government aide and campaign manager Joseph Percoco was convicted of fraud and soliciting bribes in March. Former SUNY Polytechnic President Alain Kaloyeros heads to trial later this month for allegedly helping rig multimillion-dollar contracts.
Both the Procurement Integrity Act (S.3984/A.6355) and "database of deals" bill (S.6613/A.8175) aim to address perceived flaws in how Cuomo has overseen funding allocations. The governor's office did not respond to a request for comment for this article. Cuomo has in the past dismissed calls to restore the comptroller's pre-clearance authority on the applicable state-funded contracts, which was stripped from the office during Cuomo's first years as governor.
The projects Kaloyeros helped oversee, including a $750-million solar panel factory in Buffalo, were tied to SUNY Polytechnic. While Kaloyeros was allegedly scheming to reward developers who had donated to Cuomo's re-election campaign, the state comptroller had no insight into the process; the governor and legislative leaders took away his power to pre-audit all state contracts over $250,000, including for SUNY- and CUNY-affiliated non-profits, in 2011 and 2012.
The Procurement Integrity Act, introduced by Comptroller Tom DiNapoli, would restore that power.
"One of the reasons why folks thought they could get away with something is that they knew nobody was really looking, other than the people on the inside who turned out to be benefiting from this," DiNapoli told Syracuse.com last month.
The bill would also authorize the comptroller to approve SUNY Research Foundation contracts valued at over $1 million and would bar state-affiliated nonprofits from doling out contracts unless explicitly authorized by law. Such non-profits are at the center of the Percoco and Kaloyeros cases, with an entity called the Fort Schuyler Management Corporation awarding allegedly rigged bids.
Last year, Cuomo's counsel told Gotham Gazette the clean-contracting legislation "does not address the issue."
"The proposed legislation…is both burdensome and duplicative," Alphonso David said. "The vast majority of these contracts are subject to OSC [Office of the State Comptroller] post-award oversight and these measures only add significant delays and increase costs for New York taxpayers."
Still, basic information about the taxpayer-funded programs that Kaloyeros helped oversee, along with numerous other public-private projects, is not available to the public. The governor's office publishes vague information about projects like the Computer Chip Commercialization Center in Utica, which has been variously described as generating 300 to 1,500 jobs and entailing investments from $100 million to $1.5 billion.
The "database of deals" would aim to fill in holes in public knowledge of such projects. It would list every taxpayer subsidy that corporations receive along with the number of jobs created and cost per job to taxpayers.
The Senate passed the "database" bill and the Procurement Integrity Act by votes of 62-0 and 60-2, respectively, on May 9. They were part of 11 total reform bills widely viewed as a snub to Cuomo, who fell out with the Senate's Republican leadership amid political maneuvering in April.
"Because [Cuomo] went to war with the the Senate GOP, [Senate Majority Leader John] Flanagan put them up for a vote and -- no surprise to anybody -- they passed overwhelmingly," Kaehny observed.
"It is imperative that the public trusts the actions of their public officials, especially when it comes to spending the people's money," Flanagan, of Long Island, said in a statement after the reform bills were approved. "This extensive package would help fix many of the issues that lead to corruption and the misuse of taxpayer funds." While pressure from the Senate GOP is unlikely to sway Cuomo, recent weeks have seen the governor change his stance on a variety of issues in the face of the Democratic primary challenge from Cynthia Nixon. Observers have noted she's pushed him left on policy like legalizing marijuana.
But while the actor and activist-turned-candidate has slammed Cuomo on corruption scandals in general, she is yet to make a cause of transparency and accountability reform legislation in particular.
Speaking on The Capitol Pressroom radio show on Monday, DiNapoli, a Democrat, voiced skepticism that the bills will pass the Assembly this session. Even if the Assembly approves the legislation, one of them -- the "database of deals" bill -- varies slightly from the Senate version and would have to be reconciled in conference.
"I'm the forever optimist, but it seems that the end of session is getting very bogged down and work's not happening," DiNapoli told host Susan Arbetter.
"My optimism is somewhat tempered by the seeming stalemate," the comptroller added, referring to drama in the Senate. "At least, that's how we ended last week. Let's hope this week turns out a little differently."
A number of advocacy and watchdog groups are organizing a final push for the "database of deals" and clean-contracting legislation, including a rally calling on Heastie to advance the bills on Thursday in Albany. Participants include Reinvent Albany, as well as Citizens Union, Common Cause NY, League of Women Voters NYS, New York Public Interest Group (NYPRIG), and a variety of progressive advocacy organizations, such as Fiscal Policy Institute.
"There are many steps we should be taking, but the time is running out," Assemblymember Schimminger said.
Note: Gotham Gazette is an independent publication of Citizens Union Foundation, sister organization of Citizens Union.