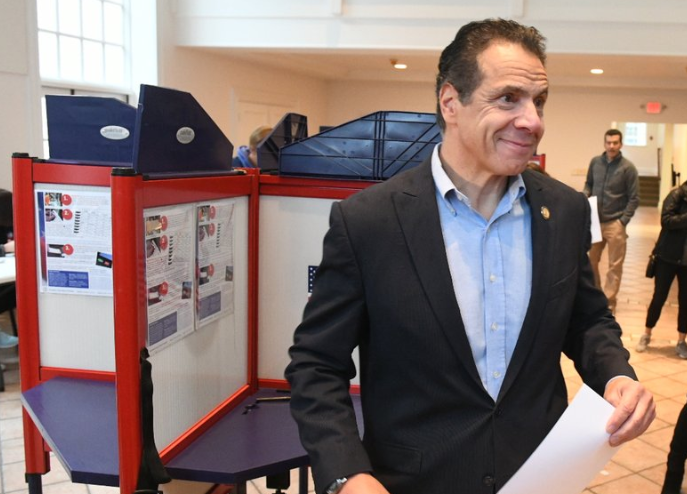 Gov. Cuomo votes (photo: @andrewcuomo)
---
Democrats will take full control of New York state government in 2019 thanks to the reelection of Governor Andrew Cuomo and other candidates for statewide office, as well as wins in the state Senate that flipped control of the upper chamber. Democrats continue to hold a wide majority in the state Assembly. With help from New York, Democrats also flipped the U.S. House of Representatives.
The state Senate and gubernatorial victories open the door for Democrats to move a sweeping policy agenda that has been blocked by Republicans, some items for years, in areas such as voting, campaign finance, and criminal justice reform, women's reproductive rights, alterations to rent regulations, and more. While some results are still to be finalized, Democrats may have 39 seats in the 63-seat chamber come January.
Cuomo won a third term on Tuesday, easily defeating Republican challenger Marc Molinaro and three other candidates, while his running-mate Lieutenant Governor Kathy Hochul won a second term alongside the governor.
Letitia James, currently the New York City Public Advocate, was elected Attorney General and is the first woman of color elected to a statewide position in New York. She's also the first woman and first person of color elected to become New York Attorney General.
The other Democrats running for statewide positions were also victorious, with U.S. Senator Kirsten Gillibrand and state Comptroller Tom DiNapoli both winning reelection by wide margins, as expected.
New York City and State races also contributed to a Democratic takeover of the U.S. House of Representatives.
And, in New York City, the three ballot proposals from Mayor de Blasio's charter revision commission were all approved by wide margins, ushering in campaign finance reform, a new civic engagement commission, and term limits for community board members.
In the overall race for control of the state Senate, Democrats claimed a majority, and seemed on their way to winning at least 36 and up to 39 seats while several remained neck-and-neck and could also tilt their way, according to unofficial state Board of Elections results. With Democrats in control, Senator Andrea Stewart-Cousins will become the first woman of color majority leader of the state Senate. "I am confident our majority will grow even larger after all results are counted, and we will finally give New Yorkers the progressive leadership they have been demanding," she tweeted Tuesday night.
Much of the action was on Long Island, but one of the few Republican-held seats in New York City was also hotly-contested and appears to be a Democratic pick-up for Andrew Gounardes, though Senator Marty Golden has not conceded.
In the open race for District 3, Democrat Monica Martinez defeated Republican Dean Murray. In District 5, Democrat James Gaughran won by more than 9 points against Republican Carl Marcellino. In District 39, Democrat James Skoufis beat Republican Tom Basile. Kevin Thomas, the Democrat in District 6, closely defeated Republican Kemp Hannon. In District 7, Democrat Anna Kaplan defeated Republican Elaine Phillips with an almost ten-point margin.
In two other open races, however, Democrats lost to their Republican opponents. In District 43, Aaron Gladd was defeated by Republican Daphne Jordan, and in District 50, John Mannion was defeated by Bob Antonacci.
The current Republican majority leader, Senator John Flanagan, said in a statement, "This election is over, but our mission is not. Senate Republicans will never stop advocating for the principles we believe in or the agenda that New Yorkers and their families deserve."
Along with competitive races for state Senate seats, many eyes were on potential swing districts for New York seats in the House of Representatives, part of the national picture whereby Democrats flipped the chamber to secure some control of government in Washington, D.C. and a significant leverage point regarding legislation, funding, and oversight of President Trump and his administration. That effort was aided by outcomes in New York, including an upset in New York City.
In the one city-based congressional seat held by a Republican, Rep. Dan Donovan lost to Democrat Max Rose, who will go to the House to represent New York's 11th congressional district of Staten Island and part of southern Brooklyn. In the 19th congressional district covering parts of the Hudson Valley and Catskills, Democrat Antonio Delgado defeated incumbent Republican Rep. John Faso. And in Central New York's District 22, Democratic candidate Anthony Brindisi was ahead by a razor-thin margin over incumbent Republican Rep. Claudia Tenney, in a race that seems too close to call. In Congressional District 27, though Democrat Nate McMurray had conceded to Republican incumbent Rep. Chris Collins, McMurray's campaign later called for a recount when the margin between the two was only one point.
Back in the five boroughs, of the three ballot proposals passing, Mayor de Blasio said in an election night statement, "Tonight we took a big step toward becoming the fairest big city in America. The question in front of voters was simple: are we going to be a city that works for everyone? New Yorkers answered with a resounding 'YES, YES, YES!' They voted to set a historic new direction for campaigns in our city by getting big money out of politics. They voted to give voters more power over their tax dollars. They voted to bring new voices into our democracy. The end result of the charter revision process that began nine months ago at the State of City is a democracy that can work for all of us – not just the wealthy and well-connected."
In terms of specific outcomes in important New York races, as of 2 a.m. on election night, initial results and tentative margins included:
-Governor Cuomo was reelected with about 58% to 36% for Molinaro, while Green Party nominee Howie Hawkins received 1.7%, Libertarian Larry Sharpe won 1.6%, and Stephanie Miner of the Serve America Movement got less than 1%. Both Sharpe and Miner earned their parties automatic ballot access for the next four years (Cuomo on the Women's Equality Party line and Molinaro on the Reform Party line did not get enough votes on those lines and parties will lose their automatic ballot lines.
-James won the attorney general office with 60% over Republican Keith Wofford, who received 34.3%, and other candidates splitting 2.3%.
-DiNapoli was reelected comptroller with 64.4%, while Republican nominee Jonathan Trichter got about 31%, and other candidates split 1.7%.
-Gillibrand won 64.5% of the vote, while Republican Chele Farley received 32.5%.
In competitive state Senate races, the results included:
-Democrat Andrew Gounardes appears to have won with 49.8% over Republican Senator Marty Golden's 48% in Senate District 22
-Democrat Monica Martinez won with 52.2% over Republican incumbent Dean Murray's 47.5% in Senate District 3, which includes parts of Suffolk County.
-Republican Phil Boyle won with 50.4% over Democrat Louis D'Amaro's 46.7% in Senate District 4, which also includes parts of Suffolk County.
-Democrat James Gaughran won with 53.23% over Republican incumbent Carl Marcellino's 44.7% in Senate District 5, which includes parts of Suffolk County.
-Democrat Kevin Thomas won with 49.2% over Republican incumbent Kemp Hannon's 48% in Senate District 6, which includes a portion of Nassau County.
-Democrat Anna Kaplan won with 53.7% over Republican incumbent Elaine Phillips' 44.5% in Senate District 7, which a portion of Nassau County.
-Democrat incumbent John Brooks successfully defended his seat, with 53% against Republican Jeff Pravato's 44% in Senate District 8, which includes Eastern Nassau and Western Suffolk counties.
-Democrat James Skoufis won with 52% over Republican Tom Basile's 45% in Senate District 39, which includes parts of Rockland, Orange, and Ulster counties.
-Democrat Pete Harckham won with 49.9% over Republican incumbent Terrence Murphy's 48% in Senate District 40, which includes Yorktown and Putnam, Westchester and Dutchess counties.
-Republican incumbent Sue Serino won with 50% over Democrat Karen Smythe's 48% in Senate District 41, which includes parts of Dutchess County.
-Democrat Jen Metzger won with 50% over Republican Ann Rabbitt's 47.4% in Senate District 42, includes parts of Delaware, Orange, Sullivan, and Ulster counties.
-Republican Daphne Jordan won with 52.1% over Democrat Aaron Gladd's 44.2% in Senate District 43, which includes parts of Saratoga, Rensselaer, Columbia, Washington counties.
-Republican incumbent George Amedore Jr. won with 55% over Democrat Pat Strong's 42.2% in Senate District 46, which includes Montgomery and Greene counties and portions of Schenectady, Albany and Ulster counties.
-Republican Robert Antonacci won with 50.4% over Democrat John Mannion's 48% in Senate District 50, which includes Syracuse and the surrounding area.
In competitive House of Representatives races, the results included:
-Democrat Max Rose won with 52% against Republican incumbent Dan Donovan's 46% in Congressional District 11, which includes Staten Island and parts of South Brooklyn.
-Democrat Antonio Delgado won with 49.2% against Republican incumbent John Faso's 46.4% in Congressional District 19, which includes the Hudson Valley and Catskills region.
-Democrat Anthony Brindisi led with 49.5% against Republican incumbent Claudia Tenney's 48.9% in Congressional District 22, which includes parts of Chenango, Cortland, Madison, and Oneida counties.
-Republican Incumbent John Katko won with 52.2% against Democrat Dana Balter's 46% in Congressional District 24, which includes pats of Cayuga, Onondaga, and Wayne counties.
- Republican incumbent Chris Collins, who is under indictment for insider trading, received 48.1% over Democrat Nate McMurray's 47.1% in Congressional District 27, which includes Orleans, Genesee, Wyoming, and Livingston counties. McMurray's campaign has called for a recount.
Samar Khurshid contributed to this article.
Note - This article has been updated.