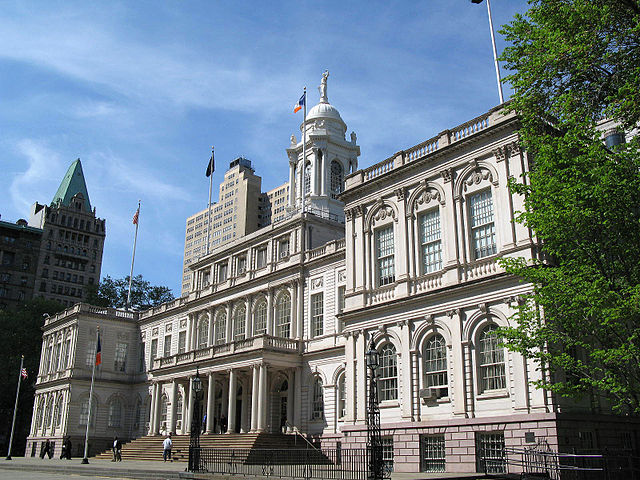 New York City Hall
---
What to watch for this week in New York politics:
While there is a lot going on, the main event this week will be Governor Andrew Cuomo's State of the State address and executive budget presentation, set for Tuesday afternoon in Albany. Cuomo, who reportedly moved up the speech by about two weeks due to the Legislature's plans to start moving significant bills, has already outlined a lengthy and ambitious policy agenda, and he has been adding to it in recent days with announcements of policies he will include in his budget plan, such as raising the statewide age for buying cigarettes and nicotine products to 21 and banning plastic bags throughout New York.
The Legislature will be in session on Monday and Tuesday and both Democratic majorities plan to move a number of high-profile pieces of legislation, including several voting reform bills.
In the city, we're watching for more from Mayor de Blasio after last week's State of the City address and its multitude of plans and proposals. The mayor may follow the speech with events this week to discuss certain proposals further. He may also provide additional information about his stated plans to travel around the country talking up his progression policies -- the mayor appeared Sunday morning on CNN's State of the Union with Jake Tapper and repeatedly declined to rule out a presidential run. De Blasio will also be in Albany Tuesday to attend Cuomo's speech. [Read: De Blasio Gives Little Mention to Several Major Challenges in State of the City Speech]
Regardless of how much the mayor does, it will be an eventful week in New York City, where there are key deadlines and more forums in the race for Public Advocate. The special election is six weeks from this Tuesday, on February 26. [Read: Everything You Need to Know About the Special Election for Public Advocate]
It's also a very busy week of hearings at the City Council -- see details below.
And connecting the city and state, the MTA, where there will be an "emergency" board meeting on Tuesday to discuss the recently-announced alternative L train tunnel rehabilitation plan from Cuomo and his team that still needs to be fully fleshed out, vetted, and voted on by the MTA board, which will also need to approve changes to the prior contract that had been set for the full shutdown of the tunnel that had been long-planned.
There's a lot to know as the week begins -- see our day-by-day rundown below.
***Do you have events or topics for us to include in an upcoming Week Ahead in New York Politics?
e-mail Gotham Gazette editor Ben Max: This email address is being protected from spambots. You need JavaScript enabled to view it.***
The run of the week in detail:
Monday
At 1 p.m. Monday, O"Mayor de Blasio will make an announcement about the NYC Ferry expansion" at P.S. 188 in Brooklyn.
The State Legislature will be in session on Monday in Albany. The Legislature is in session on Monday and Tuesday this week, and both houses are expected to pass several long-awaited Democratic priorities, from multiple voting reform measures to the Gender Expression Non-Discrimination Act (GENDA), and more. The Senate Democratic majority will hold a noon press conference on Monday to discuss the "historic voting reforms" that will be passed.
The New York State Board of Regents will meet on Monday and Tuesday.
Candidates for New York City Public Advocate in the special election set for Tuesday, February 26 have until Monday to file their petition signatures to the Board of Elections in order to appear on the ballot.
On Monday at 11 a.m., Lieutenant Governor Kathy Hochul will be a guest on The Capitol Pressroom with Susan Arbetter. In the afternoon, Hochul will preside over the state Senate session.
At the City Council on Monday:
--The Committee on Housing and Buildings will meet at 10 a.m. for an oversight hearing regarding housing lotteries, as well as to discuss several proposed laws relating to housing lotteries, to create a "preferred list of contractors," to require reporting on waiting lists for Mitchell-Lama, and to require that developers receiving city financial assistance on developments of at least 15 units to set aside 15 percent of units for the homeless.
--The Committee on Governmental Operations will meet at 10 a.m. to discuss a proposed law authorizing the creation of "legal defense trusts" by public officials able to solicit donations to pay their legal bills.
--The Subcommittee on Planning, Dispositions, and Concessions will meet at 1 p.m.
--The Committee on Fire and Emergency Management will meet at 1 p.m. for an oversight hearing regarding the "impact of new development on Long Island City's emergency services."
Starting at 11 a.m. Monday, the Let NY Vote coalition, which is led by Common Cause NY, will hold a day of action in Albany to lobby state lawmakers to pass "comprehensive, equitable voting reform," several planks of which appear set for passage that day.
On Monday at 11 a.m., "Brooklyn Borough President Eric L. Adams will join NYC Health + Hospitals President and CEO Dr. Mitchell Katz, MD, as well as NYC Health + Hospitals/Coney Island President and CEO William Brown, dieticians, and health care advocates in launching a new initiative to remove meat on Mondays from food menus at all 11 public hospitals across the NYC Health + Hospitals system. The expansion of plant-based menu options addresses a growing crisis of preventable diseases citywide; according to the New York City Department of Health and Mental Hygiene (DOHMH), an estimated 987,000 New Yorkers are living with diabetes, with other chronic preventable diseases such as heart disease, high blood pressure, and obesity growing in prevalence."
At noon Monday, Riders Alliance will gather at the Canal Street A/C/E stop to unveil data showing that "signal problems delayed trains during 92% of morning rush hours last year."
Tuesday
Governor Andrew Cuomo will deliver his State of the State address at 2 p.m. Tuesday in Albany, where he will also unveil his executive budget proposal. The speech will be delivered at Albany's Egg Center. Mayor de Blasio, among many other officials, plans to attend.
At the City Council on Tuesday: The Committee on Youth Services will meet at 1 p.m. for an oversight hearing on the Interagency Coordinating Council on Youth.
The State Legislature will be in session on Tuesday in Albany.
End of the night Tuesday is the first campaign finance filing deadline for candidates in the special election for Public Advocate. Some filings may be available during the day on Tuesday via the New York City Campaign Finance Board. The election is February 26.
At noon Tuesday, "MTA to Hold Emergency Board Meeting" so that the Board can be "briefed on matters related to L train project." "At the meeting, which will be open to the public, the Board will be briefed by WSP on the alternative Train design modifications to the original tunnel restoration plan, also designed by WSP. WSP has studied the proposed design alternatives and the preliminary new construction schedule developed by the construction manager. WSP will be recommending to the Board that it pursue the modified plan as a better alternative, as it does not require a total shutdown of train service. The Board will also be discussing the concept of hiring a new consultant reporting directly to the Chairman and the Board to oversee operation, oversight and precautions for the train and the tunnel reconstruction."
At noon Tuesday in Albany's Legislative Office Building, "on Martin Luther King Jr.'s birthday," there will be a press conference to call for "immediate reform to New York State's Discovery Laws. This is the key criminal legal system reform, the foundation from which bail and speedy trial reform can flow." There will be announcement of "an amended bill supported by Democrats in both the Assembly and the Senate, and a wide-range of advocacy groups around the state, including legal groups and labor unions." The press conference will include "Bishop Rosario and other faith leaders, Assemblyman Joe Lentol, Senator Jamaal Bailey, People impacted by NY's bad discovery laws, Discovery for Justice, VOCAL-NY, the Innocence Project, JustLeadershipUSA, It Could Happen to You, Citizen Action-New York and additional members of the Repeal the Blindfold Coalition."
At 2 p.m. Tuesday, the New York City Board of Elections will hold a commissioners meeting.
At 5:30 p.m. Tuesday, the New York League of Conservation Voters will host a forum focused on environmental issues for candidates for Public Advocate, at Brooklyn Law School. Politico New York's Gloria Pazmino will moderate more than a dozen candidates set to participate.
At 6:30 p.m. Tuesday, City & State will host "Health Power 50," honoring the 50 most powerful people in health care in New York. The event will take place at the Mezzanine in the Financial District. Speakers will include Senate Health Committee Chair Gustavo Rivera; Greater NY Hospital Association President Kenneth Raske; Tom Moriarty, Executive Vice President at CVS Health; Dr. Ramon Tallaj, Board Chairman of SOMOS Care; Denise Gonick, CEO of MVP Health Care; and Holly Lynch, a "citizen advocate."
Wednesday
At the City Council on Wednesday:
--The Committee on Juvenile Justice will meet at 10 a.m. for an oversight hearing regarding "evaluating programs that aim to reduce recidivism among justice involved youth."
--The Committee on Civil and Human Rights will meet at 1 p.m. to discuss a proposed law "recognizing 1/27/19 as Holocaust Remembrance Day and the week beginning on 1/27/19 as a citywide week of Holocaust Education in NYC."
--The Committee on Hospitals will meet at 1 p.m. for an oversight hearing regarding "charity care funding for New York City hospitals."
--The Committee on Education will meet at 1 p.m. for an oversight hearing regarding "health and wellness instruction in NYC schools." The Committee will also discuss three bills, to require all schools to stock opioid antagonists, to require the city to establish a task force on start times for middle school and high school, and to require DOE to submit an annual report on nutrition education in city schools. Finally, the Committee will discuss resolutions calling on DOE to ban processed meats from being served in schools and to create a "diabetes and prediabetes health based curriculum."
This week's Max & Murphy show on WBAI radio will feature interviews with three candidates for New York City Public Advocate: Assemblymember Michael Blake, Assemblymember Danny O'Donnell, and attorney Dawn Smalls. Recent shows have featured other candidates: an interview with City Council Member Rafael Espinal about his candidacy and an interview with City Council Member Eric Ulrich about his candidacy. The show airs at 5-6 p.m. Wednesdays on WBAI, 99.5FM or wbai.org, and is available as the Max & Murphy Podcast shortly thereafter.
Thursday
At the City Council on Thursday:
--The Committee on Higher Education will meet at 10 a.m. for an oversight hearing regarding careers in health care at CUNY.
--The Committee on Consumer Affairs will meet at 10 a.m. to discuss a proposed bill banning employers from requiring employees to check work emails and other communications in non-work hours.
--The Committees on Governmental Operations and Technology will meet jointly at 1 p.m. for an oversight hearing regarding "311 customer experience and operations," as well as to discuss proposed laws to require 311 to "stop referring non-emergency, anonymous calls about harassed properties to agencies for follow-up" and to "require the development of a protocol for identifying the languages spoken by callers to 311."
At 10 a.m. Thursday, the New York City Campaign Finance Board will hold a board meeting.
At 6:30 p.m. Thursday, the New York City Bar Association will host "Reimagining Domestic Violence Services," discussing the "current and future state of domestic violence services." Cecile Noel, Commissioner of the Mayor's Office to End Domestic and Gender-Based Violence, will deliver welcoming remarks. Afterwards, a panel will convene, consisting of Albery Abreu of the Children's Aid Society; Tanya Apparicio, Deputy Chief of the Domestic Violence Unit at the Manhattan DA's office; Ana Bermudez, the City's Probation Commissioner; Juliana Chereji of Brooklyn Defender Services; Bea Hanson, Executive Director of the Mayor's Domestic Violence Task Force; and Quentin Walcott, co-Executive Director of Connect.
Friday and the weekend
At 8:15 a.m. Friday, the Center for New York City Law will host a "CityLaw Breakfast" with former Chief Judge Jonathan Lippman. Lippman, who now chairs the Independent Commission on New York City Criminal Justice and Incarceration Reform, will discuss "the closing of Rikers as a catalyst for criminal justice reform in New York."
Mayor de Blasio may make his weekly appearance on WNYC's The Brian Lehrer Show at 10 a.m. Friday.
This year's Women's March will be Saturday.
***
Have events or topics for us to include in an upcoming Week Ahead in New York Politics? E-mail Gotham Gazette executive editor Ben Max any time: This email address is being protected from spambots. You need JavaScript enabled to view it. (please use "For Week Ahead" as email subject).
***
by Ben Brachfeld and Ben Max
@GothamGazette