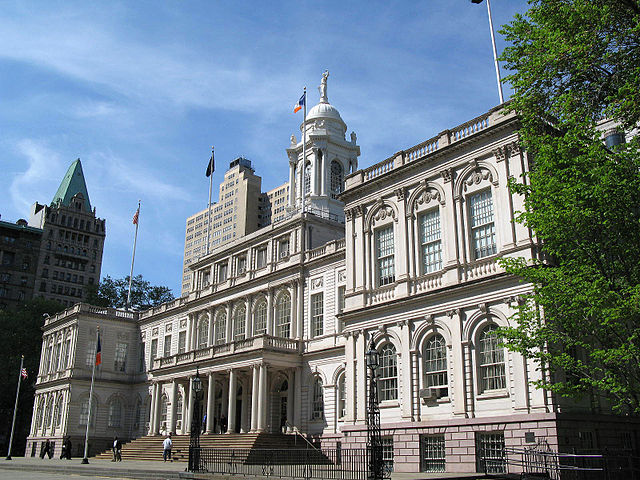 New York City Hall
---
What to watch for this week in New York politics:
We may get the answer this week as to whether Mayor Bill de Blasio is indeed running for the Democratic nomination for President of the United States. The mayor has been visiting early primary/caucus states and saying for weeks that a decision will be coming "sooner rather than later." He stayed in the city this weekend, perhaps preparing for an announcement one way or the other. Stay tuned. De Blasio begins his week with events related to NYCHA and the city's jails plan, as well as his usual NY1 Monday evening appearance (see below for details).
While the state Legislature is now on its usual mid-April break, the City Council will be very busy this week with committee hearings and a full-body Stated Meeting, at which new bills are introduced and bills that have passed committee are voted on by the full Council. This week's passed bills are expected to include a major package of environmental policy including mandates for many large buildings to become more eco-friendly. Some of the committee hearings this week will also consider new or updated legislation for the first time, with no vote expected, but signifying possible movement toward eventual passage.
It's the first week since the Council released its response to de Blasio's preliminary budget plan. Public and private negotiations over the city budget will continue this week as the mayor is set to release his executive budget proposal later this month, leading to another round of Council hearings and an evenutal budget agreement by the July 1 start of the next fiscal year.
[READ: City Council Response to De Blasio Budget Includes Investment in Workers, Cut to ThriveNYC, & Ferry Spending Transparency]
[LISTEN: Max & Murphy Podcast with City Council Speaker Corey Johnson]
This week will also feature an MTA Board meeting, a meeting of the city's Panel for Educational Policy, a speech by Port Authority Executive Director Rick Cotton, two debates among candidates vying in the special City Council election to replace Public Advocate Jumaane Williams, and more. As always, there's a lot happening - see our day-by-day rundown below.
And, perhaps this will be the week that the mayor, City Council speaker, and borough presidents name the inaugural members of the new New York City Civic Engagement Commission, which was supposed to be named for April 1.
***Do you have events or topics for us to include in an upcoming Week Ahead in New York Politics?
e-mail Gotham Gazette editor Ben Max: This email address is being protected from spambots. You need JavaScript enabled to view it.***
The run of the week in detail:
Monday
On Monday at noon at the Williamsburg Community Center in Brooklyn, "Mayor de Blasio will make an announcement regarding NYCHA's lead prevention efforts. This event is open press. There will be Q-and-A. Later, the Mayor and Council Member Levin will meet with community leaders to discuss the City's borough-based jail plan. This meeting is closed press. In the evening, the Mayor will appear live on NY1's Inside City Hall with Errol Louis."
At the City Council on Monday:
--The Committee on Environmental Protection will meet at 10 a.m. for an oversight hearing regarding "the environmental impacts of the proposed Williams Pipeline." City Council Speaker Corey Johnson will deliver remarks.
--The Committee on Public Housing will meet at 10 a.m. for an oversight hearing regarding "NYCHA management of Tenant Participation Activity funds."
--The Committee on Governmental Operations will meet at 1 p.m. to discuss a proposed law to increase the cap on public funds available to participants in the city's public financing system, and to implement the charter revisions approved by city voters in November.
--The Committee on Fire and Emergency Management will meet at 1 p.m. for an oversight hearing regarding "FDNY ambulance costs," as well as to discuss a proposed law requiring the FDNY to report on the cost of ambulance transport.
--The Subcommittee on Landmarks, Public Siting, and Maritime Uses will meet at 1 p.m.
Monday is MTA Board committee meeting day for April.
On Monday at 10 a.m. on the Lower East Side, "the NY Renews coalition and member organizations including the New York City Environmental Justice Alliance, Demos, and Make the Road NY will release a new report: Justicia Climática: How the Climate & Community Protection Act will Increase Resiliency for New York's Latinx Communities. The report details the ways in which Latinx communities are both disproportionately impacted by both the toxic effects of extracting and burning fossil fuels, and more likely to suffer damage to homes, person, and property from severe weather caused by climate change."
On Monday at noon in Chinatown, the city's Small Business Services department "will announce that registration is now open for new business courses in multiple languages, available to over 5,000 entrepreneurs. The courses will offer new culturally-competent curricula tailored to the needs of immigrant communities. The first new courses will be available in Spanish, Mandarin, and Russian."
Tuesday
At the City Council on Tuesday:
--The Subcommittee on Zoning and Franchises will meet at 9:30 a.m.
--The Committee on Sanitation will meet at 1 p.m. to discuss the implementation of a 5 cent fee on paper bags, opting the city into a new law passed in the adopted state budget alongside the near-ban on plastic bags.
--The Committee on Parks and Recreation will meet at 1 p.m. for an oversight hearing "examining water quality at the Parks Department's beaches."
--The Committee on Contracts will meet at 1 p.m. to discuss proposed laws related to increased reporting requirements for contract modifications and to city contracts with non-profits.
At 8:30 a.m. Tuesday, City Council Member Ben Kallos will speak to the Manhattan Chamber of Commerce at Fortis Lux Financial in East Midtown.
At 6:30 p.m. Tuesday, Brooklyn College's CLAS Student Government and the Young Progressives of America will host a forum for candidates for the 45th Council District seat at the Brooklyn College Student Center. The participating candidates will include Farah Louis, Anthony Beckford, Jovia Radix, Monique Waterman, Hercules Reid, and Xamayla Rose.
Wednesday
At the City Council on Wednesday:
--The Committee on Land Use will meet at 11 a.m.
--The Committee on Juvenile Justice will tour the Crossroads Juvenile Detention Center in Brownsville at 1 p.m.
--The Committees on Transportation, Economic Development and Governmental Operations will meet jointly at 1 p.m. to discuss the potential creation of an "Office of the Waterfront," which would coordinate among agencies on waterfront-related issues and would be tasked with "implementing the New York City Comprehensive Waterfront Plan," as well as the potential creation of a "Director of Ferry Operations" within DOT.
At 9 a.m. Wednesday, the MTA will hold a board meeting.
At noon Wednesday, State Comptroller Tom DiNapoli will speak at the Monsignor Hartman Memorial Luncheon at Crest Hollow Country Club in Woodbury.
At 5 p.m. Wednesday on WBAI radio, this week's Max & Murphy show will air. Tune in at 99.5FM or wbai.org. This week's show will focus on the latest out of state government in Albany.
At 6 p.m. Wednesday, the Panel for Educational Policy will meet at Murry Bergtraum High School in Chinatown.
At 6 p.m. Wednesday, LatinoJustice PRLDEF Lideres will host "Latinx: Political Power Rising" at the Black Gotham studio in the Financial District. Panelists will discuss the ascension of Latinx politicians and candidates and issues facing the community. Panelists will include Assemblymember Catalina Cruz, Senior Political Strategist for the Center for Popular Democracy Natalia Salgado, and Associate Counsel for LatinoJustice PRLDEF Jorge Vasquez.
At 6:30 p.m. Wednesday, City & State will unveil its debut "Higher Education Power 50" list at the Battery Gardens restaurant in Battery Park City. Maya Wiley, Senior Vice President for Social Justice at the New School and former counsel to Mayor de Blasio, will give keynote remarks.
At 7 p.m. Wednesday, City Comptroller Scott Stringer will hold a town hall meeting at the Elmhurst Hospital in Queens. The town hall is being organized in partnership with U.S. Reps Alexandria Ocasio-Cortez and Grace Meng, Queens Borough President Melinda Katz, State Senators Jessica Ramos and Toby Ann Stavisky, Assemblymembers Catalina Cruz and Michael DenDekker, and City Council Member Danny Dromm.
At 7 p.m. Wednesday at Brooklyn Law School, "Brooklyn Voters Alliance and Brooklyn Law School, along with local partners, will host an educational forum on the restoration of voting rights for people on parole and universal voting. We will hear from legal experts, advocates, and most importantly, New Yorkers who have felt the impact of our arcane and discriminatory voting laws as we engage in a dynamic, educational, and emotional discussion concerning the history of felony disenfranchisement...Speakers from the ACLU, Parole Preparation Project, National Action Network, the Brennan Center, Hour Working Women, and more."
Thursday
The City Council will hold a stated meeting at 1:30 p.m. Thursday. It will be prefaced by the usual pre-stated press conference hosted by Speaker Corey Johnson.
Also at the City Council on Thursday: the Committee on Finance will meet at 10 a.m.
At 8 a.m. Thursday, the Association for a Better New York will host Port Authority Executive Director Rick Cotton at the Mezzanine in the Financial District, discussing an "updated progress report on the redevelopment projects at the region's airports in a presentation titled "From Vision to Reality: Rebuilding New York's Airports for the 21st Century"."
At 9:30 a.m. Thursday, the Rent Guidelines Board will meet at the Landmarks Preservation Commission offices in the Manhattan Municipal Building.
At 10 a.m. Thursday, the Campaign Finance Board will hold a board meeting at 100 Church Street.
At 1:30 p.m. Thursday, U.S. Rep Alexandria Ocasio-Cortez will speak at the John Jay College of Criminal Justice's Gerald Lynch Theater.
At 5:30 p.m. Thursday, activists will rally and march from City Hall across the Brooklyn Bridge to protest the proposed Williams Pipeline.
At 6 p.m. Thursday, candidates for City Council in District 45 will participate in a debate at the Pakistani American Youth Society in Kensington. Bklyner's Kadia Goba will moderate. Participating candidates include Victor Jordan, Anthony Beckford, Monique Waterman, Farah Louis, Jovia Radix, Xamayla Rose, Adina Sash, Jean Similien, Rickie Tulloch, and Hercules Reid.
Friday and the weekend
Beginning at 8 a.m. Friday, the Regional Plan Association will host its 2019 Assembly at the Grand Hyatt New York in Midtown. Speakers "will address ways to promote both prosperity and community health—and how to put those policies and projects into action." The keynote speakers will be Los Angeles Mayor Eric Garcetti, JPMorgan Chase CEO Jamie Dimon, and Connecticut Governor Ned Lamont. A variety of local officials will also participate.
Mayor Bill de Blasio may make his weekly appearance on WNYC's The Brian Lehrer Show on Friday at 10 a.m.
Friday is Good Friday and the first night of Passover, and Sunday is Easter.
***
Have events or topics for us to include in an upcoming Week Ahead in New York Politics? E-mail Gotham Gazette executive editor Ben Max any time: This email address is being protected from spambots. You need JavaScript enabled to view it. (please use "For Week Ahead" as email subject).