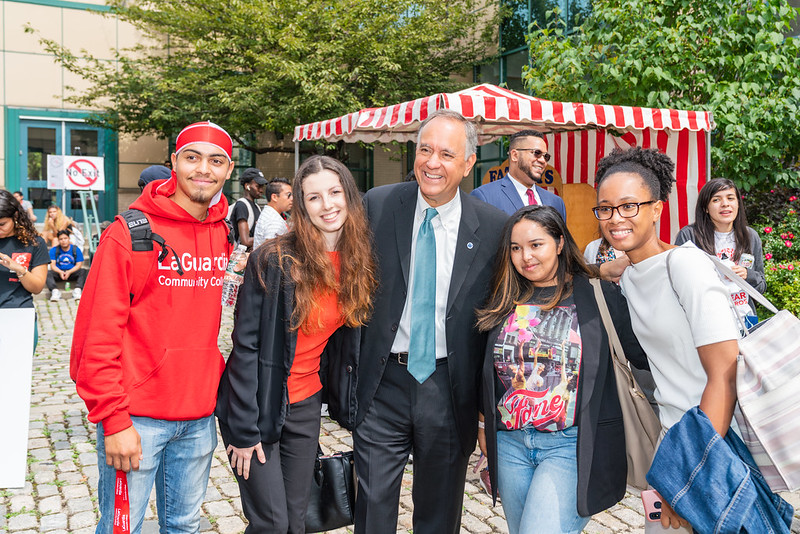 CUNY Chancellor Matos Rodriguez and students, pre-pandemic (photo: City University of New York)
---
College seniors who graduated this June faced a very different economic landscape from the one they saw at the beginning of the school year. A global pandemic shattered the job market, and many industries — including the performing arts, entertainment, restaurants, and hospitality and tourism — were in complete freefall after government-mandated closures.
The widespread financial strain that saw unemployment in New York City skyrocket from 4% to well over 20% was felt acutely among the 271,000 students of the City University of New York. CUNY educates some of the city's most vulnerable residents: almost half of CUNY students come from households that bring in less than $20,000 in annual income. Nearly 40% of students had lost their jobs since the pandemic began and over half had experienced housing insecurity, a university official said at a June City Council hearing.
The CUNY community, including students and their families, faculty, and staff, is a microcosm of the devastation that has already been wrought by the pandemic — especially in communities of color that have been disproportionately impacted by the coronavirus — and of the immense challenges facing New York City. The city is staring down a catastrophic fiscal crisis, losing billions of dollars in tax revenue and hundreds of thousands of jobs. And as the city feels for handholds to pull itself out of this deep hole, CUNY could be a major boost.
"CUNY is the educational, social mobility driver for the City of New York. We take that role very seriously," CUNY Chancellor Félix Matos Rodríguez said in an interview.
Uniquely, the majority of CUNY students are New York City residents — around 75 percent — and the majority of students will stay in the city after graduation. In an economy where jobs that don't require a college degree, like many in hospitality, restaurants, and retail, have been devastated, maintaining an accessible pathway to earning a degree like CUNY offers — and ensuring that New Yorkers enroll and graduate — may be one key to getting New Yorkers back to work.
Experts and stakeholders interviewed by Gotham Gazette say that New York City and CUNY could, and should, recover together, but warn that CUNY and its students could be left behind if smart steps are not taken.
"We're clearly an indispensable partner moving forward in the efforts to bring back the city and the economy, and its social and civic life," Matos Rodríguez said. "We've been working very hard with different sectors — the business community, with elected officials, with some of the other civic society groups who are framing an agenda about what needs to be done, so we can be an integral part of all those conversations."
The Road to Recovery
CUNY students have been disproportionately affected by the COVID-19 pandemic, said Cathy Davidson, the founding director of the Futures Initiative, a CUNY-supported program that seeks to advance equity in higher education.
"CUNY students were and are the city's essential workers," she said, noting that many students who work at CUNY hold jobs that stayed in operation during the COVID-19 shutdown, such as in pharmacies, grocery stores, delivery services, and health care. Over half of CUNY students work a minimum of 20 hours a week while going to school, which for CUNY includes 11 senior colleges, seven community colleges, and seven graduate, honors and professional schools.
Prior to the pandemic, New York City already had a "bifurcated" economy, according to Jonathan Bowles, executive director of the New York policy think tank Center for an Urban Future. There was a lot of low-wage job growth, in industries like home health care, restaurants, nail salons, and child care, as well as high-wage growth in areas like technology and creative industries, he explained.
Now, some of New York City's most important low-wage industries are among the most deeply impacted by COVID-19. A July report by Center for an Urban Future found that the restaurant, retail, and the personal care industries suffered some of the greatest job losses in the early months of the pandemic, alongside the entertainment industry, the hospitality industry, and transportation. Meanwhile, jobs in tech, finance, legal services, and some creative industries, like streaming and publishing, saw comparatively minimal job losses, alongside industries like grocery stores and healthcare.
After a methodical, limited reopening of the economy, the unemployment rate in New York City was at roughly 14% in September, up from 3.5% the same month in 2019.
"If anything, the pandemic has further polarized New York's economy. The data that I'm seeing suggests that the industries that have been hurt the most are also the ones that were most accessible for people without a college degree," Bowles said.
As it currently stands, when Mayor Bill de Blasio announced the broad strokes of his "recovery agenda" in late September, he did not mention CUNY. The agenda, which de Blasio said sets a "framework" for a series of more specific plans to come, focuses primarily on public health, public health research, "high quality jobs," and social justice. "New York City is about to enter a transformational era," de Blasio said in a statement at the time, outlining pillars to connect economic and public health, in part through a "highly trained workforce" and academic research.
Asked about how the mayor sees CUNY in relation to the city's recovery from the coronavirus recession, the mayor's office did not respond for this story.
As New York City tries to recover, CUNY could be the springboard that many current students and potential ones need to secure jobs and bounce into a higher income bracket. In a normal year, CUNY is already a social-mobility booster: a recent Brookings Institution report ranked 12 CUNY senior colleges and community colleges as showing some of the greatest results in being able to move students into the middle class in the nation.
The colleges themselves also are economic generators. Economic studies on the City College of New York and Queens College released early this year, for instance, found that both colleges added billions to the New York economy through alumni earnings, as well as millions of dollars through college operations, student, construction, and research spending.
Most students will stay in the state after graduation, and for a while: according to CUNY data released in 2014, 81% of students who graduated across CUNY degree levels in 2008 stayed in New York, while 66% from 1999 stayed in the state, and 72% stayed from the class of 1981.
And most will hold jobs soon after they graduate: 79% of students who earned a bachelor's degree were employed in New York within a year of graduation, according to the most recent data from CUNY. Graduates work across a litany of professions, with business and finance, architecture and engineering, and education being some of the major fields of employment for CUNY alums, a 2009-2010 CUNY survey reported. Of graduates in the survey, 30% worked in the public sector.
"I think more than ever New York needs to develop its own talent and to give its own residents a chance to access the good jobs that are being created. And I don't think there's any other institution that plays a more important role in grooming local residents [than CUNY], particularly those from low-income backgrounds, into the good jobs of today, and into the middle class," Bowles said.
The Past and the New Future
The financial crisis that New York faces rivals what the city faced in the 1970s, according to Greg David, the director of the Business & Economics Reporting Program at CUNY's Craig Newmark Graduate School of Journalism.
"There is no doubt that this crisis is far worse than the last three," David said. Somewhat recent financial crises for the city include the 2008 Great Recession, the aftermath of the September 11, 2001 terror attacks, and the recession of the late 1980s and early 1990s.
The city's near-bankruptcy in the 1970s marked a particularly dark time for CUNY: as part of drastic cuts, the colleges began charging students after almost 130 years of remaining tuition-free. This decision remains controversial, and City Council members and state legislators still periodically suggest reverting CUNY back to its tuition-free state, while student and activist groups like Free CUNY push them with that goal.
City Comptroller Scott Stringer recently picked up on the theme when he proposed making CUNY community colleges free in a much larger plan to develop New York City's workforce for a post-pandemic world. Facets of the plan include expanding CUNY ASAP, a highly successful financial assistance and academic support program, creating a paid internship program for CUNY students, and expanding technical career education and early-college education in public schools. The plan additionally focuses on helping New Yorkers between jobs to develop the skills they need to reenter the workforce, suggesting "micro-credentialing" and other training.
"My plan overhauls and modernizes our approach to job training, job placement, and education to reflect the evolution of work and aims to break down systemic barriers that have historically excluded women, people of color, immigrants and young people from higher-wage industries," Stringer, a Democrat running for mayor in 2021, said in a statement.
CUNY's population is composed largely of students of color. Across all campuses and degree levels, the student population is made up of roughly 23% Black students, 26% Hispanic students, 23% students who identify as Asian or Pacific Islander, and 27% white students, according to the most recent figures. The same data shows that CUNY also serves a majority of female students, coming in at over 60%.
Matos Rodríguez sees city and state government investment in CUNY as a "two-way street," which will be part of a longer-term strategy to economically reinvigorate New York.
He referenced partnerships including a Governor Andrew Cuomo-backed workforce development initiative that includes CUNY, as well as more support for paid internships. For instance, in addition to his community college plan, Stringer announced paid fellowships to CUNY graduates in the Comptroller's Office.
"I think those kinds of two-way partnerships will be crucial to make sure we can do our part in the economic recovery of the city," Matos Rodríguez said. One essential question is scale. Stringer's fellowship program, for example, is for only 20 students per year, but is part of a larger constellation of similar programs, such as the CUNY Cultural Corps internship program, that could become part of a broader universe.
Beyond the city and state, CUNY has leveraged partnerships with private companies, such as those involved in the new New York Jobs CEO Council. Supported by Cuomo and de Blasio and announced in August amid the pandemic, the council seeks to hire 100,000 New Yorkers, including 25,000 CUNY students, at major New York City-based companies by 2030. The council includes industry titans like Amazon CEO Jeff Bezos and JPMorgan Chase CEO Jamie Dimon.
The Budget Conundrum
Despite assertions that CUNY can be a key part of the pandemic recovery, the public university system is not immune to the pandemic-driven budget woes plaguing the city and state.
"CUNY is facing tremendous cuts, I'm afraid to say," State Senator Toby Ann Stavisky, a Queens Democrat who chairs the Senate's Committee on Higher Education.
"CUNY is in desperate need of federal stimulus money, as other agencies are, obviously," Stavisky added. "I think we're all waiting to see what will happen with the stimulus money. And that will be probably right after the election, is my guess."
Just like the city and the state, CUNY has called on the federal government in public statements to provide it with an infusion of federal dollars, or else it may need to make drastic reductions in spending. In May, Cuomo called on Congress to provide $60 billion in federal aid to shore up New York, from state government through localities, the MTA, and other governmental entities. The state government projects a $14.5 billion decline in revenue this year to its coffers alone.
"CUNY has long played an important role as an underpinning of the economy, and there's not question it'll have a role to play as we work to revive the economy from the damage done by the pandemic," said Freeman Klopott, spokesperson with the New York State Division of the Budget, which is part of the governor's administration. "To fully leverage CUNY, and all of the state's resources, we need federal funding to offset the state's devastating revenue losses that are due entirely to the pandemic. With federal funding, New York State can lead the national recovery as the producer of 8% of national GDP, and without it, the national recovery will be slowed."
The Professional Staff Congress, CUNY's faculty and staff union, has also been pushing for a federal stimulus. CUNY already laid off thousands of adjuncts over the summer, and as cuts continue to roll in, professors and staff are concerned not only about job security, but that the university system could be hindered by problems like slashed course offerings and increased class sizes.
"We feel that CUNY could play a key role, an essential role in recovery," said Barbara Bowen, a Queens College professor and the president of PSC. "Our position is that CUNY should be expanded now," Bowen continued, arguing that funding was key to providing students with the necessary tools to succeed.
Likely due to the pandemic, CUNY's student enrollment and enrollment revenue have both also taken hits: there has been a roughly 4.4% enrollment decline since the same time last fall, though official, final figures have not yet been tabulated, according to CUNY.
"We're trying to stay in touch with students," Matos Rodríguez said of students who had dropped out in spring when the pandemic first hit and had not returned in the fall. "At some point, hopefully in the not so distant future, we'll be back to normal, we'll have a lot more of our face-to-face courses, and then we'll be able to reconnect to those students." CUNY has begun the semester almost exclusively via online courses, with a few exceptions.
City Council Member Inez Barron, chair of the Council's Committee on Higher Education, said she would like to see the city and state take on more financial responsibility for CUNY, after years of routine underfunding.
"Whereas decades ago, a high school diploma was sufficient, and more recently, a college degree would give you some kind of guarantees, we now know that we need to make sure that high school students are prepared to function in today's society, and that requires post-secondary training," Barron said in an interview. "And I think it's incumbent on the city and the state to provide a minimum of two years of course offerings beyond 12th grade so that students are prepared to function in today's society."
While she doesn't yet know what role CUNY will play in the larger New York recovery, Barron believes that CUNY needs to hire and promote more Black faculty and upper level management to address the needs of a diverse student population. According to the most recent figures, only about 12% of the 7,280 members of CUNY's full-time faculty are Black.
"I question how CUNY can in fact step up and be that system that will help correct what has been historic injustices over the years, and play a significant part in addressing that. So, that remains to be seen," she said.
Despite clouds of uncertainty surrounding the budget, experts, officials, professors, and students agree that CUNY can and must be part of the New York recovery from the coronavirus recession.
"CUNY is going to be a vehicle of social upward mobility no matter what," said Timothy Hunter, the recently-departed chair of the CUNY University Student Senate and a recent graduate, in a September interview. He highlighted the impact that CUNY and its graduates have already had on the state for decades, noting that many elected officials themselves graduated from CUNY.
"I think our elected officials know that CUNY is important, and the numbers and the data is there, I just think that all they need now is just the funding," he said. "And if we don't get that, then we won't be able to have the impact that we're destined to have on New York City and New York state as a whole."