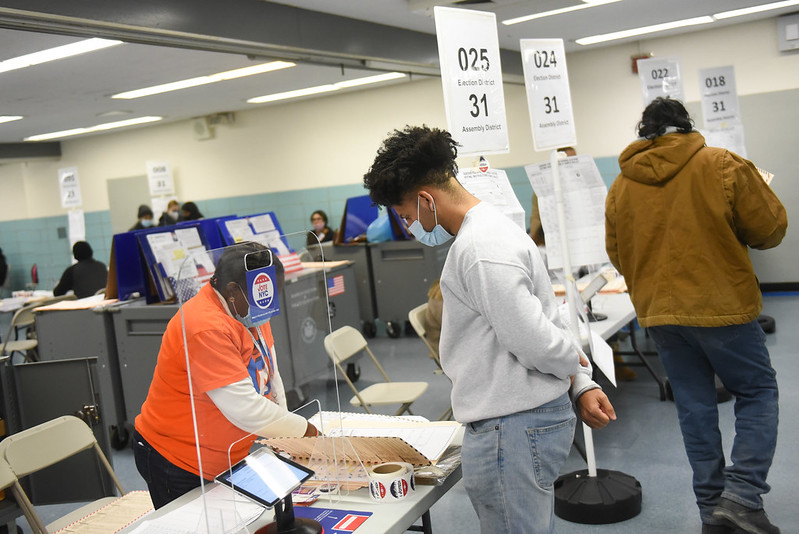 Voters voting in NYC (photo: Michael Appleton/Mayoral Photography Office)
---
Voting in the 2021 general election concludes on Tuesday, November 2, as New Yorkers elect a new mayor, City Council, and other citywide and borough-wide officials. There are likely to be few surprises, with Democrats expected to easily win most races because of their massive voter enrollment advantage in the city.
But anything can happen in politics and there are also several competitive races that may not be decided on election night, with many thousands of absentee ballots still to be counted. And there are a number of other important outcomes to keep tabs on that will impact the future of New York City and State.
Polls are open on Election Day in New York City from 6 a.m. and 9 p.m., and many winners are expected to be declared shortly after they close. New Yorkers and others are awaiting official word on who the next mayor of the country's largest city will be, as well as the results of voting across the state on five proposed constitutional amendments, and much more.
Here are several things to watch as Election Day 2021 arrives:
1. Turnout
In the June primary election, voter turnout surged, in part thanks to actions the state took to encourage voting amid the COVID-19 pandemic and certainly due to the highly-competitive races for mayor and many other seats.
In the 2013 general election, the last time all of city government was on the ballot and few incumbents were eligible to run due to term limits, just over 1.1 million New Yorkers voted, out of roughly 4.6 million registered voters -- about 24% turnout.
In 2017, the last citywide election with a race for mayor (and one of the first Trump era elections where engagement leaped), the turnout number climbed slightly higher to about 1.16 million votes out of roughly 5 million registered voters -- about 23% turnout.
So far in the city's 2021 election, 169,879 voters went to the polls during the nine-day early voting period that concluded October 31, the first time early voting has been allowed in New York for a mayoral race. It is unclear how many voters are casting ballots by mail in the still-expanded absentee voting method, though the New York City Board of Elections issued in the neighborhood of 200,000 ballots based on requests.
There are now roughly 5.6 million registered voters in New York City, including nearly 3.8 million Democrats, more than 1 million 'independents,' and 564,000 Republicans.
2. Adams on the Cusp of Victory, But by How Much
Brooklyn Borough President Eric Adams, the Democratic nominee for mayor, is poised for victory over his Republican rival Curtis Sliwa, founder of the Guardian Angels. With registered Democrats outnumbering Republicans nearly seven to one, Adams is all but assured a landslide victory. If he wins, Adams would become the second Black mayor in the history of New York City, after David Dinkins.
For most, the question is not if Adams will win, but by what margin.
In 2013, the last time there was an open race for mayor, Bill de Blasio won the general election with 795,679 votes, or 72.1%, against Republican Joe Lhota, who received 263,600 votes, or 23.9%. In 2017, de Blasio handily won reelection to a second term against Republican Nicole Malliotakis, who was then a member of the New York State Assembly and went on to be elected to the House of Representatives. De Blasio defeated Malliotakis 65%-27%.
3. Other Citywide Races
Public Advocate Jumaane Williams, a Democrat, is running for reelection after first winning his seat in a special election in 2019, when the then-Public Advocate Letitia James was elected State Attorney General. Williams is expected to easily defeat his opponents, which include Republican nominee Dr. Devi Nampiaparampil, Conservative Party nominee Anthony Herbert, and Libertarian Party nominee Devin Balkind.
Williams previously ran for lieutenant governor in 2018 against the incumbent at the time, Kathy Hochul, who became governor after Andrew Cuomo resigned earlier this year. Williams is openly considering a run for governor in the Democratic primary next year, which would pit him against Hochul and James in what is likely to be an intense and competitive race.
Brad Lander, a Brooklyn Council member who succeeded Bill de Blasio in District 39, is the Democratic nominee for comptroller and is expected to win against his Republican opponent, Daby Carreras, as well as Conservative Party nominee Paul Rodriguez and Libertarian nominee John Tabacco Jr.
Williams and Lander, both of Brooklyn, are longtime allies representative of the strength of the city's progressive wing that was unsuccessful in advancing a mayoral candidate.
4. Next Borough Presidents
Though most of the contests for borough president aren't likely to be competitive, some could have significant ramifications for the different boroughs. While the position has limited formal powers, it comes with a significant voice in land use issues, a solid bully pulpit, and an opportunity to rise to higher office (as Eric Adams appears to be showing).
On Staten Island, there is one of the few competitive general election races in the city, in the one to succeed term-limited Borough President Jimmy Oddo. Republican Vito Fossella, a scandal-plagued former U.S. Representative, is attempting a political comeback. He faces Democrat Mark Murphy, who previously ran for Congress in 2012, and Conservative Party candidate Leticia Remauro.
In the Bronx, Council Member Vanessa Gibson, a Democrat, is likely to win and will make history as the first Black woman to serve in the borough-wide seat. She faces Republican Janelle King and Conservative candidate Sammy Ravelo.
In Manhattan, Council Member Mark Levine, the Democratic nominee, is expected to win the borough presidency. He faces Republican Louis Puliafito and Libertarian Michael Lewyn.
In Brooklyn, Council Member Antonio Reynoso, a progressive Democrat and a reformer, is set to succeed Eric Adams as borough president. Reynoso's main competitor is Menachem Raitport, who is running on the Republican and Conservative Party lines. Also on the ballot are Shanduke McPhatter on the Voices for Change party line and Anthony Jones on the Rent Is 2 Damn High party line.
Reynoso's ascendency would mark a notable development in the borough for both the progressive wing of the Democratic Party and the forces of change in Brooklyn who have been challenging the county party machinery. And, as the 2021 races are assessed more broadly, Reynoso's win in Brooklyn has been joined with the strength of Williams and Lander, both Brooklynites, as part of the argument that the left has had a strong showing despite the more moderate Adams winning the mayoral primary over the progressive standard-bearer in that race, Maya Wiley.
In Queens, Borough President Donovan Richards will likely sail to reelection against Thomas Zmich, who is running on the Republican, Conservative, and Save Our City party lines. Richards won the seat last year in a special election and defended his spot in a close, contested primary in June.
5. The Next City Council
New Yorkers will elect a new class of the 51-member City Council on Tuesday, with dozens of new members as many current members are term-limited out of office. The Council is slated to hold a majority of women members for the first time, though the margin will not be clear until absentee ballots are counted and all races are decided.
While almost all of the 51 races are likely to go to Democrats (the Council currently has just three Republicans and a handful of conservative Democrats), there are a few competitive contests that are worth keeping an eye on.
In District 43 in southern Brooklyn, Council Member Justin Brannan, a first-term Democrat who is seeking to become Council speaker, is running for reelection. He faces Republican challenger Brian Fox. [Read: In Southern Brooklyn, Democratic City Council Member and Speaker Hopeful Tries to Hold Off Republican Challenger]
In District 32 in Southeast Queens, Republican Council Member Eric Ulrich is term-limited. Felicia Singh, a far left progressive Democrat, is attempting to flip the seat and faces a tough challenge from Republican nominee Joann Ariola, the conservative chair of the borough's Republican Party and a Trump supporter (unlike Ulrich, who is a Never Trumper but is backing Ariola in the race). [Read: GOP County Chair vs Progressive Educator as Republicans Try to Hold Lone City Council Seat in Queens]
In District 50 on Staten Island, Republican Council Member Steven Matteo is out because of term limits. There is a three-way race to replace him in a district that has only ever elected Republicans. On the ballot are Republican nominee David Carr, Matteo's chief of staff; Conservative Party nominee George Wonica, a real estate broker; and Democrat Sal Albanese, a former Council member from Brooklyn who moved to Staten Island several years ago and is also an attorney, former teacher and three-time mayoral candidate, and appears on the Staten Island 1st party line as well. [Read: Staten Island City Council Race One of Few Competitive General Election Contests]
In District 47, with Democratic Council Member Mark Treyger term-limited, there is a competitive race for his seat. The district, like neighboring District 48, tends to be more conservative than the rest of the borough. Democrat Ari Kagan, an aide in Treyger's office who was hired to work there in the lead-up to his run for office, is facing off against Republican Mark Szuszkiewicz, a known sympathizer to the dangerous QAnon conspiracy theory.
The District 48 seat in Brooklyn has been vacant since the former Council Member Chaim Deutsch was expelled from the Council after pleading guilty to charges of tax fraud. Democrat Steven Saperstein, a special education teacher, is running for the seat against Republican Inna Vernikov, an attorney and small business owner. Though the district twice elected Deutsch, a Democrat, he was among the most conservative members of the Council, reflecting the political leanings of his district.
There are a handful of other Council races, including those in Districts 5 and 19, where Republicans may be able to post stronger margins than in most other districts in the city where Democrats dominate, while the safest Republican seat in the city, Staten Island's 51st, is likely to remain represented by Council Member Joseph Borelli, an ardent Trump supporter and the likely next minority leader of the Council.
When the election is over, the race to be the next City Council Speaker, a position of immense power whose occupant is selected in January by the other members of the body, will take center stage.
6. Manhattan (and Brooklyn) District Attorney
Manhattan District Attorney Cyrus Vance, a three-term Democrat, declined to run for reelection this year while facing intense criticism over his handling of several cases and issues, triggering a competitive Democratic primary that saw eight candidates seek the nomination. Alvin Bragg, a progressive with prosecutorial experience, emerged victorious and is facing Republican Thomas Kenniff, a defense attorney, in the general election.
Given that the officeholder has immense powers of justice as the top prosecutor in Manhattan, and thus broader sway given the high-profile nature of the office, the race is among the most important of the 2021 election cycle. [Read: Debate Over Reform and Safety in Manhattan District Attorney General Election]
[WATCH: Manhattan District Attorney General Election Debate]
Meanwhile, Brooklyn District Attorney Eric Gonzalez, a Democrat, is running unopposed for reelection to a second term.
7. Ballot Proposals
Voters across the state are faced with five yes-or-no questions on their general election ballot to approve or disapprove amendments to the state constitution. The measures, which are on the ballot after passing two consecutive classes of the state Legislature, include changes to the state's redistricting process, an addition to the state Bill of Rights that would give New Yorkers a "right to clean air and water, and a healthful environment," same-day voter registration, no-excuse absentee voting, and expanding the jurisdiction of the New York City Civil Court.
[Read: New York Voters to Decide Fate of 5 Proposed Constitutional Amendments on General Election Ballot]
[WATCH: Get Ready to Vote on the 5 Ballot Questions]
8. Performance of the New York City Board of Elections
As with every election, all eyes will be on the New York City Board of Elections, which has a reputation for mismanaging the vote and has brought significant criticism upon itself, including after the primary this year.
There have long been calls to reform the Board to rid it of its patronage hiring system and partisan structure. In September, the State Senate held a hearing to examine the problems at the BOE as it considers legislation to improve its administration.
[Read: State Senate Examines Board of Elections at Oversight Hearing]
Ben Max contributed to this story.
Note - this article has been corrected to reflect the accurate early voting numbers. 169,879 New York voted early, not 724,680.