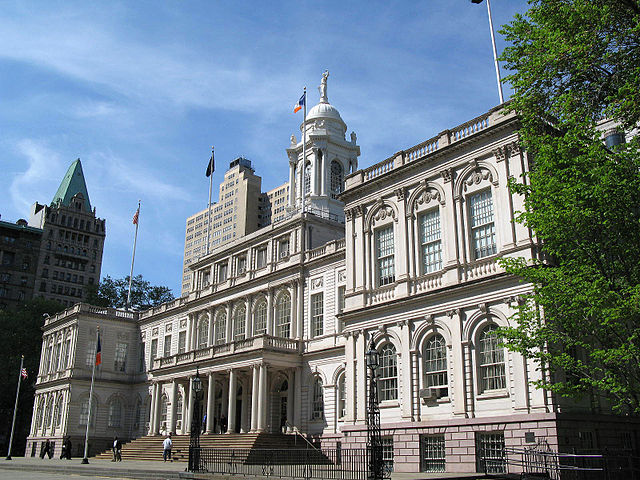 New York City Hall
---
What to watch for this week in New York politics:
New Yorkers continue to take to the street in protest. After tens of thousands marched on Saturday to protest police brutality and a criminal justice system many claim shows racial bias, New Yorkers will decide this week how much more action to take to bring attention to these issues. One group, operating under the banner of "This Stops Today" has promised to continue its "11 Days of Action" initiative that began last week. We're watching to see what that will include, as well as how NYPD treatment of protesters does or does not change in the wake of an incident of violence against two members of the force on Saturday night. Relations between Mayor Bill de Blasio and NYPD unions are already quite frayed over recent comments from the mayor and with contract negotiations ongoing.
We're also awaiting news from the internal NYPD investigation into the incident in which Eric Garner was killed, as well as any news from the federal investigation into the actions of officer Daniel Pantaleo and his colleagues who were involved that day. There is not necessarily anything expected this week, but news is highly anticipated. There is a "pro-cop rally" set for Friday of this week, something that will be very interesting to track as it comes together and how it plays out.
The Mayor had a quite weekend in terms of public events, but did quickly issue a statement condemning violence against NYPD on Saturday evening. De Blasio begins his week on Monday with two events on his public schedule: he "will join Brooklyn officials and community members for an affordable housing groundbreaking and press conference" and, "in the evening, the Mayor and First Lady Chirlane McCray will host and deliver remarks at a holiday party for elected officials, labor leaders and advocates in Manhattan."
Justice League NYC, which organized the major Saturday march, has announced it is rallying people at the event the mayor is holding Monday evening at Gracie Mansion.
On Thursday, de Blasio is reportedly set to visit Rikers Island to take stock of much-needed reforms at the city jail.
There's also a great deal of anticipation around whether state lawmakers will call a special session in Albany to pass a pay raise for legislators - along with whatever other legislation would be negotiated as part of a pay raise deal. Time is running out for this to happen. Be aware that on Monday those elected to fill vacant seats in the state Legislature can be officially sworn in, so they may very well be eligible to vote if there is a special session.
Whether a special legislative session happens or not, New York politicos are looking ahead to the new year in Albany and Governor Cuomio's January 7 State of the State address as well as the 2015 legislative session, where topics such as the DREAM Act, campaign finance reform, the Women's Equality Act, and many others will be front and center. And don't forget, that fracking report is due by the end of the year!
This week, we're expecting the decision of the New York gaming commission siting board on where New York's new casinos will be built. This is due on Wednesday.
The final City Council Stated Meeting, at which all council members gather to introduce and vote on legislation, of the year is on Wednesday. Leading up to the Stated, there's a bunch of City Council committee hearings. With the end of the year, expect many looks back at 2014 - the mayor's first year in office, and much more. Interested in these? Start with our look at Comptroller Scott Stringer's first year in office and our interview with Council Speaker Melissa Mark-Viverito about her first year in the post.
We're going to be publishing our annual article with predictions for the new year from politicos of various sorts - do you have a prediction about New York politics or policy to share? Submit to our editor Ben Max and you may just see it in our predictions piece later this month! E-mail: This email address is being protected from spambots. You need JavaScript enabled to view it.
We've pulled together events for the next ten days until Christmas. Much of city political life over the next ten days includes holiday parties - we've included a few, but there are many others being held by political and civic organizations. Chanukah begins on Tuesday evening and Kwanzaa begins the 26th. 2015 begins January 1.
***Do you have events or topics for us to include in an upcoming Week Ahead in New York Politics? E-mail Gotham Gazette editor Ben Max: This email address is being protected from spambots. You need JavaScript enabled to view it.***
The run of the week in detail:
Monday
City Council Speaker Melissa Mark-Viverito starts her week at the "City Council Sponsored Affordable Care Act Enrollment Session, which will take place at 5 p.m. at Gay Men's Health Crisis in Manhattan. Mayor de Blasio begins his week with the aforementioned groundbreaking and press conference in Brooklyn and holiday party in Manhattan. Neither Public Advocate Letitia James nor Comptroller Scott Stringer have any events on their public schedules for Monday.
Monday is a very busy day of committee action at the City Council. The schedule includes a meeting of the Subcommittee on Zoning and Franchises to review land use applications; a meeting of the Committee on Public Safety jointly with the Committee on Courts and Legal Services for an oversight hearing regarding "examining the Operations of New York City's Summons Courts"; a meeting of the Committee on Mental Health, Developmental Disability, Alcoholism, Substance Abuse and Disability Services on a new bill regarding "the early intervention program"; and a meeting of the Subcommittee on Landmarks, Public Siting and Maritime Uses to consider land use applications.
Also Monday at the City Council: a meeting of the Committee on Finance for an oversight hearing regarding "Examination of the Department of Finance's outreach efforts to senior citizens regarding the senior citizen rent increase exemption program" and to discuss intro of a new bill on "Senior Citizen rent increase exemption"; a joint hearing of the Committees on Technology, Contracts and Oversight and Investigations for an oversight hearing to "Examine Lessons Learned and Recommendations for Improving New York City's Management of Large Information Technology Contracts" and to address "Conflicts of interest in city contracts"; and a meeting of the Committee on Veterans to discuss a resolution regarding state-level legislation around "veterans' eligibility for public housing."
According to State of Politics, "Those lawmakers elected to fill seats that were vacant before the Nov. 4 elections can be certified as full fledged members of their respective houses prior to the start of the 2015 session in January. The eight Assembly members – six Democrats and two Republicans – who fit into this category will be certified on Dec. 15, according to Assembly spokesman Mike Whyland, which means they will take the oath of office and can be seated that every day. If a special session is called before Dec. 15, then a resolution could be passed to make those members eligible to vote."
On Monday at 5 p.m., "Brooklyn Borough President Eric L. Adams will celebrate the holiday season by lighting the Christmas tree standing in Brooklyn Borough Hall Plaza. After the lighting, he will promptly darken the lights for a moment of silence over the death of Eric Garner and of peaceful solidarity with those calling for local and national criminal justice reform; during the silence, a member of the Brooklyn United Marching Band will strike their drum eleven times to symbolize the eleven times Garner repeated, "I can't breathe," before he lost consciousness. Borough President Adams will speak to the importance of pursuing non-violent protest, particularly in the wake of the assault of two NYPD lieutenants during a march last night on the Brooklyn Bridge," according to a release from his office.
Tuesday
Tuesday's City Council schedule: a meeting of the Committee on Recovery and Resiliency to address "creation of a Hurricane Sandy community groups and houses of worship recovery task force" [Read our report: Sandy-Ravaged Houses of Worship Seek Aid, Left in Limbo]; the Committee on Parks and Recreation will meet for an oversight hearing on "the state of natural areas under the care of the parks department"; the Committee on Public Housing will meet for an oversight hearing regarding "the relationship between lighting and safety in the wake of Akai Gurley shooting"; and a meeting of the Committee on Land Use to discuss "All items reported out of the Subcommittees and such other business as may be necessary."
Tuesday's New York State Assembly schedule includes the Assembly Standing Committee on Alcoholism and Drug Abuse meeting to examine "the overall impact of the 2014-2015 Enacted Budget in relation to the Office of Alcoholism and Substance Abuse Services (OASAS) and to assess the impact and effectiveness of New York's prevention, treatment, and recovery services"; and a meeting of the Assembly Standing Committee on Health to "receive testimony concerning the New York Health bill" which would "create state single payer health coverage."
"On Tuesday, December 16 (the first night of Chanukah), Jewish and Muslim community members and religious leaders - led by the Arab-American Association of NY (AAANY), Jews for Racial & Economic Justice (JFREJ), and Bend the Arc: A Jewish Partnership for Justice - will gather in front of the Barclays Center in Brooklyn to call on Commissioner Bratton to end discriminatory and abusive Broken Windows policing. This action is part of the 11 Days of Action organized by #ThisStopsToday. It is also part of the national Jewish #ChanukahAction to End Police Violence."
On Tuesday evening, "Equality 4 Flatbush" meeting at 5:30 p.m. looking at affordable housing and gentrification.
Also Tuesday evening, Students for Sensible Drug Policy (SSDP) is holding an event to spread the word about its working. "SSDP joins with allies to work on drug policy reforms such as ending marijuana prohibition, increasing access to life-saving overdose reversal drugs, reducing criminalization of drug users, and eliminating punitive campus policies that cause more harm than good."
Tuesday evening is Chalkbeat's Holiday Happy Hour: "Come chat with reporters and editors, catch up with old friends, and meet other people who care about education in New York City. Feel free to bring guests—loyal readers and newcomers, parents and teachers, advocates and officials, are all welcome."
From NYC Votes, part of the NYC Campaign Finance Board: "The public is invited to give comments at the next New York City Voter Assistance Advisory Committee hearing on Tuesday, December 16 beginning at 5:30 PM. The hearing will take place at the Brooklyn Public Library's Dweck Center." Members of the public are invited to discuss "Your 2014 Election Day Experience; Voter Advocacy in 2015; Preparing for Federal Elections in 2016."
Tuesday evening is the Manhattan Young Democrats' annual holiday party. It's typically an event at which quite a few Democratic elected officials make appearances and say a few words.
[Read the latest political reporting from Gotham Gazette]
Wednesday
Wednesday's City Council schedule will include a meeting of the Committee on Finance to examine a proposed law in relation to "notices of violation" and to discuss a resolution "approving the new designation and changes in the designation of certain organizations to receive funding in the Expense Budget"; a meeting of the Committee on Rules, Privileges and Elections to consider candidates Barbara Lowe for the New York City Health and Hospitals Corporation Board of Directors; Council Member Deborah Rose for New York City Waterfront Management Advisory Board; and Council Member Ben Kallos for the Council to the New York City Commission on Public Information and Communication; and this year's last Council Stated Meeting.
On Wednesday morning, State Senator Liz Krueger will hold a public forum at 250 Broadway on legislation she sponsors with Assembly Member Crystal Peoples-Stokes to regulate and tax marijuana in a manner similar to alcohol. Advocates, policy experts, and local officials will offer testimony on marijuana policy from the perspectives of criminal justice, health, and the fiscal and economic impacts. Council Members Jumaane Williams and Steve Levin are among those expected to offer testimony.
Wednesday's State Assembly schedule includes: the Assembly Standing Committee on Tourism, Parks, Arts, and Sports Development will meet to review "the implementation of the State Budget and its impact on the programs under the purview of the Committee on Tourism, Parks, Arts and Sports Development"; the Assembly Standing Committee on Health will convene "to receive testimony concerning the New York Health bill."
Wednesday morning is set to see a press conference on the steps of City Hall aimed at addressing the "increasingly anti-competitive nature of New York State Beer Market...The press conference will include a diverse community of small business owners, community groups, elected leaders and activists speaking in opposition to beer pricing discrimination; the growing monopoly by beer companies; and the impending Manhattan Beer merger," according to a press release.
Assembly Speaker Sheldon "Silver is set to give a deposition Dec. 17 in the federal lawsuit brought by two victims of former Assemblyman Vito Lopez...," according to the Daily News.
New York casino picks are expected on Wednesday.
Community Service Society of New York will host four documentary film screenings on Wednesday at the "NY Reentry Roundtable Special Film Screening."
On Wednesday evening, Manhattan Borough President Gale Brewer will introduce "NYC Data Czar Amen Ra Mashiriki" and speak at the Silicon Harlem Winter Soiree & Toy Drive.
Wednesday evening is also the Bay Ridge Democrats' 2014 Holiday Party.
Thursday
Mayor de Blasio plans to visit Rikers Island jail on Thursday, according to previous statements: "Mr. de Blasio characterized the New York Correction Department, which oversees the complex, as the city's most troubled agency, and said he would visit Rikers for the first time as mayor on Dec. 18 to see for himself what should be done to fix it."
In Thursday morning, Manhattan BP Brewer hosts the monthly meeting of the Manhattan Borough Board.
In partnership with the City Council's Progressive Caucus Alliance, The Working Families Party is hosting its "2014 NYC holiday party" on Thursday from 4:30-8 p.m. at Fontana's Bar on the Lower East Side.
[Sign up for our daily morning newsletter, The Eye-Opener]
Friday and the weekend
Friday is set to see the aforementioned "#ThankyouNYPD Rally" starting at 5 p.m. at City Hall Park.
Friday's State Assembly schedule consists of a joint meeting of the Assembly Standing Committee on Labor and the Assembly Standing Committee on Insurance "to examine the potential impacts of the proposed New York State workers' compensation fee schedule on injured workers' access to quality medical care services and return to work rates as well as the potential impacts on the no-fault system."
On Friday afternoon, Manhattan BP Brewer will speak at Apollo Theater's Toy & Book Drive.
Saturday, Dec. 20, at noon: "Breaking Broken Windows: Community Town Hall and Open Mic."
Monday, Dec. 22, Mayor de Blasio is expected to attend the "PAL Luncheon at Mutual of America" according to John Catsimatidis.
Things are looking quiet for the week of 12/22, which is, of course, Christmas week. We'll update this post accordingly, and please do send us items to include for updating this post or for future Week Ahead previews. We won't be publishing a Week Ahead after this one until Sunday, January 4 - enjoy the holiday season and happy new year!
***
Have events or topics for us to include in an upcoming Week Ahead in New York Politics? E-mail Gotham Gazette executive editor Ben Max any time: This email address is being protected from spambots. You need JavaScript enabled to view it. (please use "For Week Ahead" as email subject).
***
by Rati Mukhuradze and Ben Max
@GothamGazette