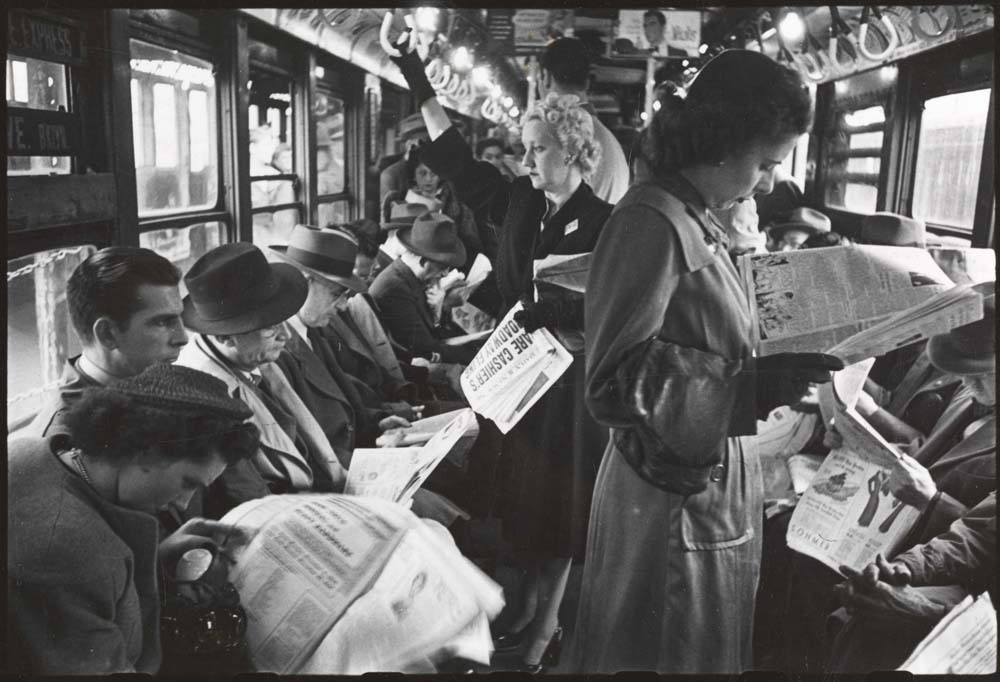 photo: Stanley Kubrick via Museum of the City of New York
---
Gotham Gazette's Week in Review, Friday December 4, 2015
PHOTO OF THE WEEK: Sheldon Silver outside the courthouse, via Zack Fink of NY1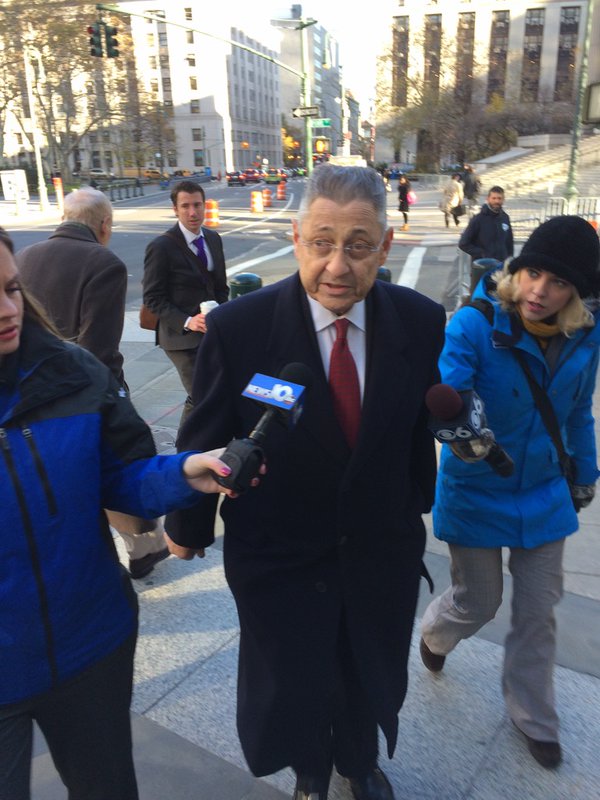 TOP FIVE STORIES OF THE WEEK:
1. Sheldon Silver Guilty: On Monday, former state Assembly Speaker Sheldon Silver was found guilty on all seven counts in his federal corruption trial and now faces prison for abusing his position to obtain $4 million in illegal payments. At the center of Silver's trial was the culture of corruption in Albany, sparking a renewed push by good government advocates for ethics reform. [Read: Will Silver Conviction Be Tipping Point for 'Real' Reform?]
2. NY vs. AIDS: At an event on World AIDS Day Dec. 1, Mayor Bill de Blasio and City Council Speaker Melissa Mark-Viverito announced the city will spend $23 million a year on a new plan to fight AIDS. The city has seen a 35 percent decrease in the number of HIV diagnoses in the past decade, though nearly one tenth of people living with HIV in the U.S. reside in the city, prompting the mayor to call for increased efforts to "end the AIDS epidemic here in New York City by 2020." At the same event, Governor Cuomo said he plans to seek $200 million in new AIDS funding in the state budget.
3. Cuomo and de Blasio's Dinner Detente: On Tuesday, Cuomo and de Blasio met in midtown for a secret sit-down dinner in an attempt to put aside their differences and potentially resolve their longstanding feud, which intensified last week after a Cuomo spokesperson said de Blasio couldn't manage the city's homelessness crisis. Apparently, the meeting "didn't go well," though aides who were with Cuomo and de Blasio at the time said the "conversation was constructive." [Read: Cuomo Increasingly Uses State Power to Undermine De Blasio]
4. Mayor's Rezoning Plans Face Pushback: Discussions on the mayor's rezoning policies continued this week, with some significant criticism from community and borough boards. On Monday, the Manhattan Borough Board voted against de Blasio's zoning changes, with conditions they'd like to see used for amendments, and on Tuesday, the Brooklyn Borough Board did the same, with its own set of suggestions. The mayor has acknowledged the pushback, saying it was not unexpected and that tweaks will be made to the plans before they head to the City Council early in 2016. [Read: Mayor & Speaker: Rezoning Plans Will Change Before Council Vote]
5. Cuomo on Gun Control and Hypocrisy: In the wake of Wednesday's mass shooting in San Bernardino, California, which left at least 14 dead and 17 injured, Gov. Cuomo once again reiterated the need for Congress to take action on federal gun control. Speaking on Rev. Al Sharpton's radio show, Cuomo pointed out the hypocrisy of Republicans wanting to close the border to Syrian refugees following the attacks in Paris, while repeatedly blocking the Denying Firearms and Explosives to Dangerous Terrorists Act since 2007. On Friday on WNYC radio, Mayor de Blasio announced he would be moving to push New York City's pension funds to divest from gun manufacturers.
THIS WEEK'S NUMBERS:
$90,700 a year is the estimated legislative pension former state Assembly Speaker Sheldon Silver is entitled to, despite being convicted on federal corruption charges, the Daily News reports.
3,000-plus New York City police officers have been trained so far in so-called active shooter situations, learning how to move through buildings, with just one partner if need be, as part of a new approach, the New York Times reports.
8 school districts are suing New York State over funding inequities, asking that the court declare current school funding levels "so inadequate" they violate students' rights, Times Union reports.
$90 million in bonds were allotted to the city through the state for funding affordable housing this week, Politico New York reports.
12 communities with limited access to health food have been selected to be part of the new initiative which will build more urban farms, expand school gardens, and establish community-center culinary programs and farmers markets, the Wall Street Journal reports.
2,000 city-owned sedans used by local agencies like the Transportation Department will be replaced with electric vehicles by 2025, in an effort to cut municipal vehicle emissions in half by that time, the de Blasio administration announced Tuesday.
THE GLORY AND THE GOAT:
It was a good week for Westchester County district attorney Janet DiFiore, who was nominated by Governor Cuomo to replace Jonathan Lippman as chief judge of the State Court of Appeals after Lippman retires at the end of this year.
It was a bad week for former state Assembly Speaker Sheldon Silver, who faces decades in prison after being found guilty on all seven counts of federal corruption charges against him.
THE FLASH:
Around this time two years ago, on December 1, 2013, four people were killed and 61 were injured when a Metro-North train derailed in the Bronx after the engineer fell asleep at the controls.
Around this time 60 years ago, on December 1, 1955, commuting became a little easier for straphangers in Queens when the 60th Street Tunnel Connection opened in Queens, which is used today by the R train.
Around this time last year, on December 3, 2014, protests erupted in New York City after a grand jury decided not to indict Police Officer Daniel Pantaleo in the chokehold death of Eric Garner. Protests calling for Pantaleo, who is currently on modified duty, to be fired took place once again this Thursday, though NYPD Commissioner Bill Bratton has said his department is waiting for the federal investigation to be complete before proceeding with any administrative departmental action.
GOTHAM GAZETTE HIGHLIGHTS OF THE WEEK:
City Council Submits Testimony to Pay Commission, by Ben Max
Will Silver Conviction Be Tipping Point for 'Real' Reform? by David Howard King
Cuomo Increasingly Uses State Power to Undermine De Blasio, by David Howard King
Top Ten Corruption Quotes from Silver, Skelos Trials, by David Howard King
City's Rezoning Plans Won't Improve Quality or Affordability, Andrew Berman (opinion)
Ethical Treatment of Our Homeless Neighbors, by Anne Klaeysen (opinion)
After Silver: Legal Reform is Ethics Reform, by Thomas Stebbins (opinion)
MORE FOR THE WEEKEND:
Mayor de Blasio appeared on the Brian Lehrer Show on WNYC Friday to discuss a variety of issues.
On Inside City Hall, Errol Louis discussed the controversy over Mayor de Blasio's housing plan with Vicki Been, commissioner of the Department of Housing, Preservation and Development and Carl Weisbrod, chairman of the City Planning Commission.
***
NOTE TO READERS: we hope you enjoy this new Gotham Gazette weekly feature - please share it if you do; on Twitter, use our handle @GothamGazette.
If you have feedback on this feature for us, you can email editor Ben Max: This email address is being protected from spambots. You need JavaScript enabled to view it.
Watch Sunday evening for our latest Week Ahead in New York Politics, which gives you a preview of key issues and events to be aware of for the week about to start. In the meantime, catch up on the latest original reporting from Gotham Gazette here. And have a great weekend!
***
by Meg O'Connor and Ben Max