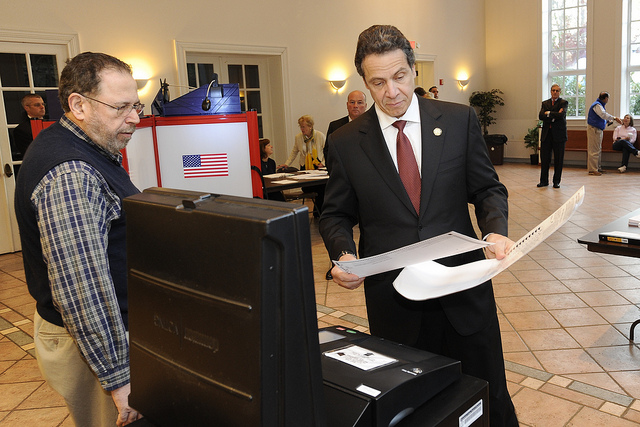 Gov. Cuomo voting in 2011 (photo: The Governor's Office)
---
The 2018 New York state-level primary elections are Thursday, with mostly Democratic races on the ballot, including hotly-contested primaries for three statewide positions of Governor, Lieutenant Governor, and Attorney General. There are also many legislative primaries, mostly on the Democratic side, including eight state Senate races in which the former members of the Independent Democratic Conference, which folded in April amid a great deal of criticism, are being challenged. There are a few other Senate primaries of note for New York City voters, as well as a few Assembly primaries.
All four state-level statewide positions will be on the ballot this fall, there is no Democratic primary for Comptroller and Republicans have avoided any primaries for the statewide posts. All 150 Assembly and 63 Senate seats are also up for election this year, with control of the Senate hanging in the balance -- the Assembly is certain to remain under Democratic control. Republicans have held a very narrow majority in the Senate for several years, ensured through 31 GOP seats, almost all of which are from outside New York City, and Brooklyn Senator Simcha Felder, who was reelected in 2016 on both the Democratic and Republican ballot lines. The IDC has also bolstered that majority in recent years. Like the former IDC members, Felder is also facing a primary challenge.
The three statewide Democratic primaries have been highly competitive, though it is unclear what the margins will be once voters go to the polls on Thursday. Polls have shown certain possible outcomes, but few are putting much weight into those metrics given what New York and the country have seen in recent months and years.
Governor Andrew Cuomo and Lieutenant Governor Kathy Hochul are trying to beat back progressive primary challenges from actor and activist Cynthia Nixon and City Council Member Jumaane Williams, respectively, while the Attorney General primary is wide open, with no incumbent running and an apparently tight three-way race in a four candidate field.
Below is a relatively brief rundown of races for New York City voters to be aware of heading into Thursday's primary, with some additional resources in some instances to help voters be ready to cast their ballots. The winners of these primaries will move on to the general election, which will be decided November 6, at which time New Yorkers will also decide on one U.S. Senate race, for the seat currently held by Senator Kirsten Gillibrand, all 27 New York seats in the House of Representatives, and, for New York City voters, three ballot questions proposed by Mayor de Blasio's charter revision commission.
But first, the Thursday September 13 primaries. And before our rundown of the key races and information about them, details about voting:
Where to vote & your ballot
Polls in New York City and the counties of Nassau, Suffolk, Westchester, Rockland, Orange, Putnam, Dutchess, and Erie will open at 6 a.m., and polls in all other locations statewide will open at noon. All polls statewide will close at 9 p.m. Check your registration status; preview your ballot; and check your polling place.
Governor
The big-ticket item is, of course, the race for Governor. While Governor Andrew Cuomo is expected to prevail on Thursday, with polls showing him well ahead of primary challenger Cynthia Nixon, recent upset wins by left-wing candidates in Florida, Massachusetts, and New York have Nixon and her supporters optimistic that she has a shot to defeat Cuomo.
Nixon has hit Cuomo hard on the subways, affordable housing, education, the environment, criminal justice, healthcare, ethics, and more. She has promised to fully implement MTA New York City Transit President Andy Byford's "Fast Forward" plan and pay for it with congestion pricing, a millionaires' tax, and a carbon tax. Nixon has also slammed Cuomo for what she characterizes as his tacit endorsement of the Independent Democratic Conference, a rogue group of Democrats who aligned with the state Senate Republican majority, and for corruption within his administration and the larger state government, and for his broader approach to economic development as indicative of his penchant for catering to wealthy donors.
Cuomo's lurch leftward on numerous issues over the course of the campaign, including on NYCHA, marijuana, voting rights for parolees, and the IDC unity deal, has been referred to by the campaign and observers as "The Cynthia Effect."
Cuomo has countered by expounding on his accomplishments in office, such as paid family leave, a minimum wage program aimed at getting to a $15 baseline, same-sex marriage, gun control, raising the age of adult criminal responsibility, and major infrastructure investments. He has also touted his ability to manage government and what he calls smart fiscal policy, including the cap on annual property tax increases and annual state budget growth, as well as the timeliness those budgets have been passed, which has come in stark contrast to the years before he took office in 2011.
Save for a contentious debate in August, Cuomo has largely ignored Nixon throughout the primary campaign, preferring instead to carry out government business and take on President Donald Trump. When he has addressed Nixon, Cuomo has largely been dismissive of her candidacy, though his approach to the campaign -- including spending well over $20 million -- has indicated he does not see it as a slam dunk.
Cuomo has made a number of gaffes and errors during the campaign, but he has the significant powers of incumbency and his unmatched fundraising to his advantage. He also has Nixon's lack of government experience working for him, which many supporters, including newspaper editorial boards, have repeatedly point to in endorsing the governor in the primary as he seeks a third term.
Nixon has countered the experience argument by saying that she is the only Democrat who had the guts to take Cuomo on in the primary given that she is an outsider with little to lose. She has also pointed to Cuomo's alleged and confirmed failures, such as management of the MTA, to argue that despite all his experience, Cuomo is "not good at governing."
The winner on Thursday will have the Democratic nomination for a general election that could include the loser, depending on what the loser does with other ballot lines that have been awarded -- the Working Families Party for Nixon, the Independence and Women's Equality Parties for Cuomo. The general election will include Republican nominee Marc Molinaro, Green Party nominee Howie Hawkins, Libertarian nominee Larry Sharpe, and Stephanie Miner, running on the newly-created Serve America Movement ballot line.
Watch the lone Democratic primary debate between Governor Cuomo and Cynthia Nixon
Find much more to read about the race here
Lieutenant Governor
City Council Member Jumaane Williams, Nixon's running mate, is trying to unseat incumbent Lieutenant Governor Kathy Hochul. Williams is seen as a real threat to Hochul, though she has had a solid lead in public polling, due to his Brooklyn base, her limited name recognition, and his endorsements from the likes of the New York Times editorial board, among many other backers of his campaign.
Hochul and Williams have major differences in background and focus areas, and have outlined drastically different visions for the office of Lieutenant Governor. Hochul says she wants to continue her partnership with Cuomo while Williams says he wants to be a thorn in the side of whomever the governor is, turning the position into something of a public advocate at the state level.
Read much more about the Hochul-Williams primary here.
Watch the lone Hochul-Williams primary debate here.
Attorney General
Though the gubernatorial race has dominated headlines both in-state and nationally, perhaps the most consequential race being contested on Thursday is the Democratic primary for Attorney General.
After the abrupt resignation of Eric Schneiderman, Public Advocate Letitia James quickly emerged as the frontrunner in the all-of-a-sudden race, shoring up support from the State Democratic Party, Governor Cuomo, most of the state's large labor unions, and a bevy of other elected officials. Other candidates include Fordham Law professor Zephyr Teachout, Congressional Rep. Sean Patrick Maloney, and Verizon lobbyist Leecia Eve. Polls have shown many undecided voters and a three-way race with Eve far behind the others.
Teachout, an expert on political corruption who is refusing corporate donations, gained endorsements from the New York Times and the New York Daily News editorial boards in August, indicating the momentum shifting her way. In three broadcast primary debates, James, Maloney, and Eve have all targeted Teachout, attempting to undercut her main arguments for election and cast doubts on her values and qualifications. She has thrown some attacks of her own, mostly at Maloney. The two appear to be competing for many of the same Hudson Valley and upstate votes and may stand in each other's way in terms of who can best James, whose base is New York City.
Maloney, who entered the race relatively late, has spent his large war chest on television ads but has been criticized for running a concurrent congressional campaign, and transferring over $1 million from his federal committee to his state committee. Teachout has sued him over the latter practice, saying he is violating campaign finance law.
The race has largely centered around who can best combat President Donald Trump. Both Schneiderman and his temporary replacement, Attorney General Barbara Underwood, who had been the solicitor general, have sued the federal government numerous times, and the candidates have made suing to stop the president's policy agenda, on items such as environmental protections and net neutrality, a focus of their campaign pitches.
The candidates have also promised to varying degrees to go after corruption on Wall Street, in big real estate, and throughout state government. James has taken heat for her supposed lack of independence from Cuomo. Maloney has also endorsed the governor and Eve has said he deserves another term, while Teachout and Nixon are supporting each other.
There is also a three-way primary for the Reform Party nomination for Attorney General. The candidates are Michael Diederich, Nancy Sliwa, and Christopher Garvey. The vote is open to all registered members of the Reform Party and the many New Yorkers who are registered to vote but not with a party, otherwise known as independent or unaffiliated voters.
Read more: A Closer Look at the Democratic Attorney General Candidates' Legal Careers
Watch the Democratic Attorney General Candidates Debate
There is also a Reform Party primary for Attorney General, with three candidates running: Nancy Sliwa, Mike Diederich and Chris Garvey, that is open to the small number of voters registered with the Reform Party as well as the more than 2 million New Yorkers who are registered to vote, but unaffiliatd with any party.
STATE SENATE
Senate District 11 - Queens - Democrats
In eastern Queens, former City Comptroller John Liu is again challenging former IDC member and incumbent Senator Tony Avella. Very little separates the two candidates on policy, but political allegiances and Avella's membership in the IDC are at the forefront of the campaign.
Liu challenged Avella in 2014 but did not succeed. Winning the seat would be a political comeback for Liu, whose 2013 campaign for mayor collapsed as a result of a campaign finance scandal involving straw donors, for which he was eventually fined $26,000 and a top aide went to jail. Liu entered the race late, joining the slate of challengers to all eight members of what was the IDC until it dissolved to rejoin the mainline Democratic conference in an April deal brokered by Cuomo. But, Liu has strong name recognition and a long-time following, positioning him to ride a wave of activism to victory, if the added IDC awareness and turnout numbers pan out as planned by the forces opposing Avella and company.
Avella has countered Liu's charges of Republican-enabling by saying that the crucial vote for the Republicans was Senator Simcha Felder, not any of the IDC members. Liu has stated that Avella's IDC membership has blocked equal funding of schools and the Reproductive Health Act, and rejects the notion that the Republican majority was propped up by Felder alone. On transit, Avella is against congestion pricing while Liu is for it; the district is sparsely served by the subway and much of it is a public transit desert, so both are in support of increased bus service.
The district is heavily Asian and possible reforms to the entrance criteria for the city's specialized high schools is a key campaign issue -- both Avella and Liu are opposed to eliminating the SHSAT, the entrance exam for the schools.
Senate District 13 - Queens - Democrats
In one of the most diverse legislative districts in the city, Senator Jose Peralta, another former member of the IDC, is being challenged by Jessica Ramos, a former de Blasio staffer who has gained the support of her former boss as well as numerous other electeds and progressive groups. Peralta has mostly maintained the support of labor unions. Peralta's and Ramos' views overlap on several key issues, but the race again appears to be centered around the incumbent's membership in the IDC, record of accomplishment, and what Ramos promises to do if elected. Peralta has pitched his experience and ability to get funds back to the district, including some of $15 million for immigrant legal defense that was allocated for the state, while Ramos has repeatedly stated that he should have been part of the mainline Democratic conference fighting for progressive policies and that his membership in the IDC accomplished little for the district. She has pointed to the Dream Act, which Peralta is the lead sponsor of, as continuing to stall despite his arrangement with the IDC and Republicans. Peralta has responded that he's been adding sponsors to the bill, having to convince many Democrats to back it before he could even work on Republicans.
In the immigrant-heavy district, both Peralta and Ramos have also expressed support for abolishing ICE and allowing undocumented immigrants to obtain driver's licenses. Also figuring heavily into the race, as with many others, is the condition of the subway -- both Peralta and Ramos support congestion pricing. On housing, Peralta and Ramos are both in support of repealing vacancy decontrol, the vacancy bonus, and preferential rent.
Senate District 15 - Queens - Republicans
In the 15th Senate District in eastern Queens, two Republicans are battling to take on the task of defeating Democratic Senator Joe Addabbo. Tom Sullivan, a veteran and community board member, is backed by the Queens Republican Party and by City Council Member Eric Ulrich, who represents part of the area and is the only elected Republican legislator in Queens. Sullivan is opposed to the mayor's plan to eliminate the SHSAT, and has criticized what he calls overdevelopment in the district.
He is facing Slawomir Platta, a lawyer whose campaign has centered around his opposition to the construction of homeless shelters in the community, particularly in Ozone Park. Platta formed the No Homeless Shelter Party in August after filing 4,000 signatures with the State Board of Elections.
Senate District 17 - Brooklyn - Democrats
In the wake of the IDC unity deal, Senator Simcha Felder is the only remaining Senator elected as a Democrat but caucusing with Republicans. Felder is being challenged by attorney Blake Morris, who has, like the IDC challengers, cast himself as the "real Democrat" in the race. Felder most recently has courted broader criticism for his central role in controversies surrounding yeshiva oversight and school speed cameras, but his main bloc of support, Orthodox Jews, is likely pleased with his legislative efforts.
Morris has received the endorsement of the New York Times and Daily News editorial boards, as well as a variety of progressive groups and unions, but it is unclear if he can topple Felder in such a heavily Orthodox district.
Senate District 18 - Brooklyn - Democrats
State Senator Martin Dilan, who has represented north Brooklyn in the State Senate for 15 years and for ten years in the City Council before that, is, other than Felder, the only non-IDC Democratic State Senator facing a serious challenge this year. Unlike Felder, Dilan never caucused with Republicans. However, the IDC's erstwhile campaign committee gave $8,000 to Dilan, the only non-IDC Senator to receive such funds, and a recent report by Gothamist accused Dilan of receiving hundreds of thousands of dollars from real estate donors while voting for vacancy decontrol and presiding over widespread displacement and gentrification in North Brooklyn.
His opponent, Julia Salazar, is a democratic socialist who had a huge amount of momentum until massive press attention on her turned to uncovering controversies in her past, as well as several instances of her not telling the truth during her campaign.
While she has been surrounded by negative press over the past several weeks, her campaign had gained a large following and many endorsements based on her plans to push for stronger rent laws and combating the gentrification she says Dilan has facilitated, promising to end vacancy decontrol and preferential rent and expand rent stabilization. Dilan has expressed regret in the years since his vote for vacancy decontrol, saying he didn't anticipate the gentrification of the neighborhood.
Salazar, however, has been caught telling misleading statements and outright lies about her background. These include emphasizing her Jewish heritage when she was raised Catholic, calling herself an immigrant when she was born and raised in Miami, claiming to have graduated from Columbia University when she did not, and painting herself as working class despite having grown up in relative affluence. Dilan has branded her as a gentrifier in the neighborhood herself.
Senate District 20 - Brooklyn - Democrats
In Central Brooklyn, former IDC member Senator Jesse Hamilton is being challenged by attorney Zellnor Myrie, a well-funded opponent who has received numerous endorsements from labor, progressive groups, and elected officials, including Mayor Bill de Blasio, who used to represent part of the Senate district when he was in the City Council.
Hamilton portrayed Myrie in a debate on NY1 as a carpetbagger from the Bronx, and also criticized his former employment by City Council Member Fernando Cabrera, one of the most conservative members of the Council who has a history of anti-LGBT statements. Myrie responded by saying that he had only worked for Cabrera for one year, that Cabrera's statements about LGBT people occurred after he worked for him, and that he had lived in the Bronx to attend Fordham Law School. Myrie says that during his time in the City Council, he helped write the Tenants' Bill of Rights. Myrie has focused his campaign around the need for Democratic control of the Senate in order to combat the affordable housing crisis in the city.
Hamilton, who announced his intention to join the IDC a day before the 2016 general election, has been accused by Myrie of blocking reforms to criminal justice and housing through his alliance with the Republicans. Hamilton has countered by saying that his affiliation with the IDC brought much-needed investments into the underserved, majority-minority district. While Myrie has received a significant amount of support from elected officials, including the members of Congress who represent the area, Hamilton has continued support from Brooklyn Borough President Eric Adams, whom Hamilton succeeded in the seat in 2014.
Senate District 22 - Brooklyn - Democrats
In south Brooklyn, Andrew Gounardes, an aide to Borough President Adams, is facing journalist Ross Barkan for the chance to challenge incumbent Senator Marty Golden, the only Republican Senator representing Brooklyn and one of only two in the entire city, along with Staten Island's Andrew Lanza.
Gounardes' and Barkan's policy preferences largely overlap. Instead, Gounardes is distinguishing himself via political experience and connection to the district, while Barkan is touting his refusal to accept corporate contributions and independence from establishment Democrats. He's also focused much of his campaign on outlining policy plans, with a focus on the MTA, including accessibility. Both are also making the race about replacing Golden, who has made inflammatory statements about immigrants, used campaign money at a catering hall his family owns, and has a history of reckless driving, including killing a woman with his car.
Senate District 23 - Staten Island and Brooklyn - Democrats
In District 23, which covers parts of south Brooklyn and Staten Island's North Shore, former IDC Deputy Leader Diane Savino is being challenged by Jasi Robinson, an activist. The district is one of the more conservative ones represented by Democrats, and Robinson has raised little money compared to her fellow IDC challengers.
Robinson has said that, especially in the wake of Eric Garner's death at the hands of NYPD officer Daniel Pantaleo, Savino failed to be a leader in the community for people of color. Like other IDC challengers, she has said that the IDC has blocked the passage of universal healthcare and the Reproductive Health Act, and plans to support those in Albany. Savino is known as a hard-working legislator with many partners in government who is also well-known and -liked in her district. Many of those supporting IDC challengers have stayed away from this race, likely expecting Savino to win easily.
Senate District 31 - Manhattan - Democrats
State Senator Marisol Alcantara, who represents northern Manhattan and parts of the West Side, is perhaps the most vulnerable IDC incumbent facing a challenge this year, having scraped by in a tight race in 2016 to replace now U.S. Representative Adriano Espaillat, who had backed her then but has decided to stay neutral this year.
Alcantara is facing three challengers in the Democratic primary: former City Council Member Robert Jackson, who narrowly lost to Alcantara in 2016, Tirso Pina, and Thomas Leon. Jackson, a former City Council Member from the area, has been endorsed by many elected officials, including Mayor de Blasio, and progressive organizations, while labor unions and the local City Council Member, Ydanis Rodriguez, have stuck with Alcantara.
Both Alcantara and Jackson have expressed unease with the Inwood rezoning that passed the City Council earlier this summer, echoing community members worried that it could cause displacement and gentrification. Like other IDC challengers, Jackson has emphasized Alcantara's membership with the IDC, saying that it hindered the ability to reform rent laws, codify Roe v Wade, and fully fund public schools. She has touted resources brought back to the district and bills she has passed, as well as the fact that she is currently the only Latina in the state Senate.
The 2016 saw Alcantara, Jackson, and Micah Lasher each earn about one third of the vote, with Alcantara winning by several hundred. This year, Lasher is behind Jackson and working to get him elected, as are a number of elected officials with sway in parts of the Senate district where Lasher did well two years ago.
Senate District 34 - Bronx and Westchester - Democrats
Senator Jeff Klein was the founder and leader of the IDC and, since its demise earlier this year, became deputy minority leader in the Senate under the "unity" deal orchestrated by Governor Cuomo, who pledged not to support any primary challenges to sitting senators, but has kept a lot of distance from Klein. Klein, however, has been sending mailers depicting himself with Cuomo and kind words about the senator from the governor. Cuomo, meanwhile, does not list Klein among those who have endorsed him on a very long list of officials and groups.
Klein is being challenged by Alessandra Biaggi, an attorney, formerly within the Cuomo administration, and the granddaughter of former Congressional Rep. Mario Biaggi. She has questioned Klein's alliance with Republicans and an extensive agenda of progressive policies not passed given GOP control of the Senate. She has won the backing of a number of progressive groups and elected officials, like Council Speaker Corey Johnson and Comptroller Scott Stringer, and is getting a lot of help from the Working Families Party and 32BJ SEIU, the building workers' union. She's also been endorsed by likely future Congressional Rep. Alexandria Ocasio-Cortez, whose district overlaps some with the one Biaggi wants to represent in the state Senate.
Klein's campaign coffers are some of the most flush in the state, and for years he has been one of the vaunted "four men in a room" negotiating the state budget, but he appears to be taking the Biaggi challenge seriously. State campaign finance records show that Klein has spent over $1 million of campaign funds since July; his July disclosure form listed over $2 million in the bank, while his September disclosure listed $950,000.
Though Klein was in the room negotiating new sexual harassment policies for elected officials and others, he himself was accused of sexual misconduct by a former staffer in January, which helped kick off a push for hearings on sexual harassment in Albany. Klein has denied the allegation of forcibly kissing Erica Vladimer, and requested an investigation by the state's ethics body, JCOPE. The status of that investigation is unclear.
Nevertheless, Klein has been endorsed by a long list of labor unions and a number of elected officials.
Biaggi's platform includes legislation she claims Klein has helped stymie, such as the Reproductive Health Act, GENDA, the Climate and Community Protection Act, and rent law reforms. Klein maintains that his alliance with the GOP benefitted the district, including investments for seniors and domestic violence survivors, and that the "32nd vote" bolstering the GOP was not any member of the IDC, but Felder.
Senate District 38 - Westchester and Rockland - Democrats
State Senator David Carlucci, a former IDC member who represents Rockland County and part of Westchester, is facing a challenge from Julie Goldberg, a librarian and former teacher.
Talking with LoHud about the race, Carlucci said his highest priority issue for his constituents is lowering property taxes, while also noting his experience as a senator includes on-time budgets, holding to a 2 percent property tax cap, capping state spending, and expanding STAR (School Tax Relief Program). Goldberg's highest priority is fully funding public schools in the district, which she said were owed $74 million from the state. She also listed "protections for women's rights, safety for our immigrant communities, universal healthcare, election reform, and criminal justice reform" as other issues she prioritizes.
Carlucci told LoHud that his membership in the IDC brought significant progressive victories, including "marriage equality, the SAFE Act, 12 weeks paid family leave, $15 minimum wage plan, and raised the age of criminal responsibility." Goldberg said that the IDC is a "complex, cynical machine whose purpose is to ensure its members' re-election" and that significant progressive legislation was blocked from the floor by Republicans.
Senate District 53 - Upstate - Democrats
State Senator David Valesky, a former IDC member representing parts of Syracuse, Madison County, Oneida County, and Onondaga County, is facing a challenge from Syracuse University administrator Rachel May.
At a debate on WRVO public radio earlier this month, Goldberg said that Valesky's membership in the IDC had hurt the district by preventing important legislation from coming to the floor. Like other IDC members defending their seats, Valesky claimed that the IDC had delivered significant legislative victories, and that the Republican majority was propped up by Felder, not IDC members. He said some of the legislation that failed in the Senate, such as the Dream Act, had failed despite the IDC's support because it didn't have enough votes.
May said that the district's schools could be fully funded by a small increase of ".03, .04 percent" in the financial transactions tax, yielding "billions of dollars in revenue." Valesky did not explicitly oppose raising taxes to fund education, but said that raising taxes in an already high-taxed state would drive people away from New York.
STATE ASSEMBLY
Assembly District 30 - Queens - Democrats
Assemblymember Brian Barnwell, who represents Maspeth, Middle Village, Sunnyside, and Woodside, is facing a challenge from Melissa Sklarz, who hopes to become the first transgender person elected to the state Legislature.
Sklarz has criticized Barnwell for voting against the Reproductive Health Act, and has made women's rights a focal point of her campaign. Barnwell has protested the city's placement of homeless shelters in the district, a stance which Sklarz, who was once homeless, has criticized while also calling for placing homeless people into permanent housing. Barnwell has only been in the Assembly a short time after having pulled off a shocking 2016 primary upset of Marge Markey.
Assembly District 39 - Queens - Democrats
Assemblymember Ari Espinal, who entered the Assembly in April after winning a special election to replace now-City Council Member Francisco Moya as his chosen successor, is facing a two-pronged challenge for the seat from Catalina Cruz, who was an aide to former City Council Member Julissa Ferreras-Copeland and former Peralta staffer Yonel Letellier Sosa.
In the largely immigrant district, Espinal, who was born in the U.S., is being challenged by two immigrants, including one, Cruz, who is herself a "Dreamer." Espinal supports abolishing ICE, while Cruz has called the idea "beautiful" but unrealistic. Both candidates have called for passing the Dream Act and for allowing undocumented immigrants to obtain driver's licenses. Other issues figuring into the Assembly race include education and transit. On the controversial 82nd Street rezoning, all candidates have expressed opposition.
Espinal has the backing of the Queens County Democratic Party, but Cruz, who has received a good deal of support from elected officials and groups, hopes that the Ocasio-Cortez victory signals that the machine's support is not as meaningful as it once was.
Assembly District 62 - Staten Island - Republicans
Staten Island Assemblymember Ron Castorina announced he would retire from the Assembly for a seat on Surrogate's Court. Three Republicans are vying in the primary to replace him: Staten Island Community Education Council President Michael Reilly, attorney Glenn Yost, and public health advocate Ashley Zanatta.
Reilly is backed by City Council Member Joe Borelli, a prominent Trump surrogate who represents the South Shore in the Council and previously held the Assembly seat, which could propel him in a borough where 56 percent of voters picked Trump in 2016, most heavily on the South Shore. Meanwhile, Yost is backed by State Senator Andrew Lanza, who represents the southern part of the island in the Senate, and by Assemblymember Nicole Malliotakis, the former Republican nominee for mayor who represents the eastern shore and part of southern Brooklyn.
Like many Republicans in the heavily Democratic city, both Reilly and Yost have made lowering property taxes a major campaign issue, as Staten Island is the borough with the highest homeownership rate by far, at nearly 70 percent according to the Furman Center. All three candidates have also cited the need to control the deer population, and to better address the opioid epidemic that has hit the South Shore harder than most other places in the city.
Assembly District 68 - Brooklyn - Democrats
There's an open Assembly seat race in southern Brooklyn after Democratic Assemblymember Pam Harris resigned amid corruption charges. Mathylde Frontus and Ethan Lustig-Elgrably are the two Democrats seeking to replace Harris, and they are engaged in what has been an intense primary. Lustig-Elgraby, recently an aide to City Council Member Mark Treyger, has the backing of a number of elected officials.
Assembly District 84 - the Bronx - Democrats
Amanda Septimo, a former aide to Congressional Rep. Jose Serrano, is challenging Assemblymember Carmen E. Arroyo, who has been in offie since 1994, when she was , according to her website, "the first and only Puerto Rican/Hispanic woman elected to the NYS Assembly...[and] first Puerto Rican woman elected to any State Assembly in the US." Septimo is arguing that it is time for new leadership and is focusing her campaign on issues such as affordable housing and youth programs.
Ben Max contributed to this article.