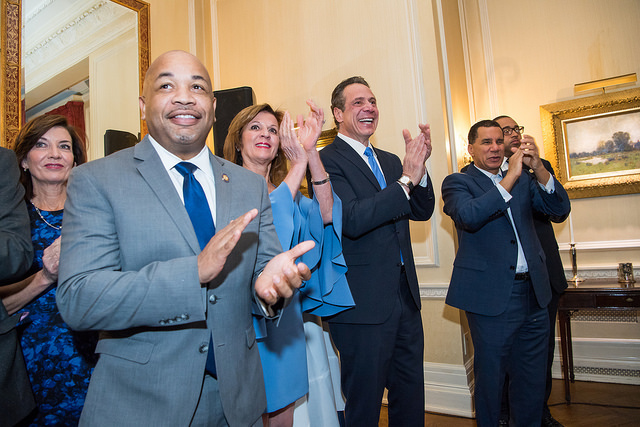 Assembly Speaker Carl Heastie (photo via the Governor's office}
---
This is part of AGENDA 2019, a joint Gotham Gazette-City Limits project
Find the rest of the series here
As New York lurches out of election season and looks to what issues the state legislative session in 2019 could tackle, the Assembly is in an unfamiliar position as something more than a purgatory for progressive priorities. For years, the lower house of the Legislature was a place where progressive goals like criminal justice and voting reforms, the DREAM Act, the Gender Expression Non-Discrimination Act, the New York Health Act, and the Climate and Communities Protection Act could reliably be passed thanks to a huge Democratic majority. And every time those bills passed the Assembly, the state Senate, controlled by either Republicans or an alliance of Republicans and breakaway Democrats, would almost always keep the companion legislation in committee, far from a floor vote.
But with Democrats about to take control of the state Senate in addition to the governor's mansion, the Assembly will in 2019 have a chance to actually see bills they've passed every year get a real debate in Albany. And advocates and activists are waiting expectantly for just that scenario to happen, their sense of urgency heightened in the Trump era, which led their efforts to help flip the state Senate so it is no longer a roadblock.
While the state Senate Democrats will not be in the same political universe as the outgoing Republican majority, the conference will still need to sort out its priorities, including how those of some of its tax-averse suburban and upstate members, who'll need to win re-election in 2020, align with the city-dominated Assembly. One-party rule may not be the rubber stamp that Republicans warned it would be during the election, especially as the new state Senate majority will have to get its footing under a dominating and fairly moderate governor. Cuomo also campaigned for the newly-elected state Senators from Long Island, as well as the Hudson Valley's Peter Harckham and Brooklyn's Andrew Gounardes, which in theory, and his own telling, gives him some sway over them that may counteract the influence of grassroots activists who worked to elect a Democratic Senate.
By appearances, a wave of progressive legislation bursting out of Albany and washing over New York would be an expected natural occurrence. Democrats are in possession of a supermajority in the Assembly and Senate, one whose membership stretches from Suffolk County to upstate and western New York and whose new members did not shy away from embracing far-left progressive priorities like single-payer healthcare. Carl Heastie, once found to be one of the most liberal legislators in all of America, remains the Assembly Speaker, and Democrats have a 106-43 advantage in the chamber. One significant question now hanging over state government: how hard left will the Assembly push?
Their long-sought situation in the Legislature leaves progressive activists like Jonathan Westin, the executive director of economic justice organization New York Communities for Change, feeling hopeful for the session to come. "I think the Assembly has been committed to a lot of progressive legislation for a long time and we expect them to continue to do that," Westin told Gotham Gazette. "A lot of the grassroots base is ready to push but at the same time we feel pretty confident that the Assembly is gonna go forward and pass a lot of these bills."
In his first year as speaker, Heastie laid out a series of now-familiar priorities for the 2015 Assembly Democrats. Passing the DREAM Act, raising the state's minimum wage, reforming the state's rent laws in a more tenant-friendly direction. While the DREAM Act has still not come to the floor of the state Senate since a failed 2014 vote and the state's rent stabilization laws were renewed but not drastically changed in 2015, progressives did see a victory when Cuomo prioritized and pushed through the Republican Senate a $15 minimum wage program of sorts in 2016.
Heastie used the 2018 legislative session to again push for the DREAM Act to become law, and also highlighted Assembly legislation to alter a suite of rent regulations essential to hundreds of thousands of units of affordable housing in New York City. Assembly Democrats also passed the New York Health Act, which would institute single-payer health care, for the fourth straight year in 2018, GENDA for the tenth straight year, major climate change fighting legislation (the CCPA) for the third straight year, and the Reproductive Health Act , which would codify Roe v. Wade into state law, for the fifth straight year.
What's different about the upcoming legislative session is not only have Democrats captured the state Senate, but a good chunk of the new legislators going to Albany are staunch progressive voices who were sent to office by furious left-wing organizing both old and new.
Democrats like Zellnor Myrie and Jessica Ramos made things like major overhauls of the rent laws and repeal of the Urstadt Law, which keeps New York City from setting its own rent-stabilization laws, centerpieces of their insurgent state Senate campaigns. In the Hudson Valley, newly-elected Senators Harckham and Jen Metzger both embraced the New York Health Act as feasible and worthwhile, and DREAM Act-supporting activists from Make the Road Action, the immigrant and working class advocacy organization, helped power Long Island state Senator John Brooks and state Senator-elect Jim Gaughran to their swing-district wins.
On the other hand, there are already powerful figures in the party suggesting that long-sought leftist priorities are toxic outside of New York City, leadership in the Legislature will have to tamp down enthusiasm for any bills that might raise taxes, and Cuomo said in an interview that he thinks something like single-payer health care will get bottled up by the governing processes that separate campaign rhetoric from reality.
Incoming Senate Majority Leader Andrea Stewart-Cousins herself said "We're not coming in there to raise people's taxes," in an interview on WBAI's Max & Murphy. But she did also lay out priorities for the conference to start, naming things like reproductive rights, the Child Victims Act, and said, "I'm sure that will be able to do something about that early on" when it comes to instituting early voting in New York.
In the Assembly, Heastie sent out a list of priorities just after the election, a mashup of specific socially liberal and more vague fiscally liberal policies that are familiar to many. Called out by name for passage are the Child Victims Act, the Reproductive Health Act, banning gun bump stocks, speedy trial reform, and electoral and campaign finance reforms like no-fault absentee voting, closing the LLC loophole, and early voting.
But while the speaker wrote that New Yorkers "deserve a healthcare system that guarantees coverage for all," there's no mention of the New York Health Act or the state-run single-payer system it would create. No specifics are listed for the rent reforms while Heastie states "The Assembly Majority is ready to pass legislation to extend and strengthen programs that protect low and middle income tenants to keep them from being priced out of their homes and communities," (though Heastie reportedly told a pair of real estate representatives at the Somos conference that vacancy decontrol and preferential rent are history) and the DREAM Act is nowhere to be found, nor a mention of any environmental policy (though that isn't a total aberration). Heastie's office declined an interview request, pointing Gotham Gazette to the speaker's post-election missive.
And even though some of the more famous liberal priorities aren't mentioned by name, the focus on electoral reform appears to be a place where the base and the Assembly line up perfectly, with the upcoming Senate majority and Cuomo apparently in the same mindset, too, though the details will need to be hammered out.
Working Families Party political director Bill Lipton told Gotham Gazette that he doesn't expect the Assembly's "long, progressive history" to change under Carl Heastie and a new Albany order, and that he's happy to see people willing to tackle electoral issues.
"We can't repair the damage unless we face head on the contradiction of financing election campaigns with wealthy donors who want tax cuts, contracts and loopholes for themselves," Lipton wrote to Gotham Gazette in a statement. "The result both nationally and here in New York has been disastrous," Lipton wrote, while highlighting a small-donor matching funds program that he hopes the state institutes now that there's a Democratic trifecta. Campaign finance reform is something Cuomo has long-pledged support for, not moved through the Republican Senate, and promised to deliver with a fully Democratic Legislature.
Westin also endorsed a starting focus on electoral reform: "the one thing that's been in common in New York is the influence of real estate money and we have to clean it up once and for all. Carl and the Assembly have a real opportunity to do that, and I think is one of the biggest things that needs to happen quickly," he said.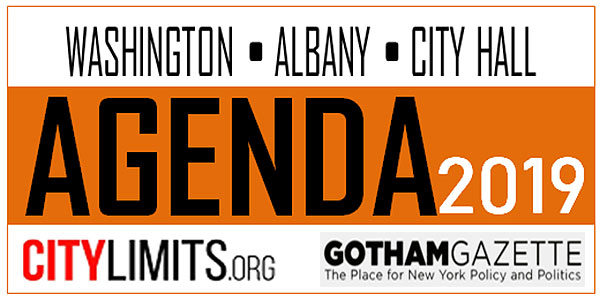 There is some reason for progressives to have concerns in the Assembly though, according to Sean McElwee, the co-founder of progressive think tank Data for Progress. While McElwee pointed to the progressive wave that elected a large piece of the Democrats' state Senate majority, that energetic mandate wasn't seen in Assembly elections. "In the Assembly you've basically had a bunch of Democrats who were like the [Republican] House of Representatives under Obama. They kept passing an Obamacare repeal, and once it was time to pass it for real, there were some cold feet. I worry about that dynamic with the Assembly. When I've talked to the New York Renews coalition about the CCPA, they've said silently, 'Yeah we're gonna have real problems in the Assembly when it comes time to pass this,' and the same for Medicare for All advocates."
It's not an out-of-hand fear for progressives, who can look to neighboring New Jersey and the fact that legislators backed away from pledges to tax the rich and didn't get a slam dunk on legalizing recreational marijuana despite Democrats having total control of the government.
But those activists who powered the anti-IDC candidates and Long Island Democrats to victories aren't planning on sitting on their hands. "We may see some Assemblypeople who previously voted for some things be hesitant about putting their votes behind them," Mia Pearlman, the co-founder of progressive grassroots organization True Blue New York, told Gotham Gazette. "So if it comes to that, we fully plan to be lobbying in Albany and on the ground in the district of any elected representative who we feel can be swayed, needs to be swayed, needs support, needs pressure to vote for legislation that we're supporting." Pearlman did say that even though there might be some hesitant members, she felt that there were also plenty of members of the Assembly who were ready to get to work on passing the bills that had died in the Senate in past years.
While Pearlman echoed the call to tackle an issue like electoral reform early on, she also said she and her allies very much expect the Assembly to make reasonable progress on the other bills that have been stymied in previous years. On something like the New York Health Act, for instance, she said that while the bill doesn't have to be passed for the sake of being passed, she wants to see an actual debate move forward on it to find the best way possible to provide universal comprehensive healthcare coverage, a line of thinking that aligned with Harckham's call for hearings and passing a bill by the end of his first two-year term.
"The idea that it's somehow a victory for the Assembly to have such a big majority solely so they can say 'Yay we have a majority' is sort of absurd," Pearlman said. "The purpose of having a big majority is to actually do something with it, to pass legislation, not just pat ourselves on the back and say 'Look how many members we have.' So we expect after all these years of waiting that they'll use that majority to write legislation and get things done."
The Assembly could, in theory, pass the existing version of all of the bottled up left-leaning bills that haven't made it out of the state Senate for years, and put the onus on the new Senate, as well as the governor. But it seems needlessly adversarial for the Assembly to get off on that kind of footing with a more ideologically similar Senate conference, which in all likelihood they'll need in negotiations with a governor more prone to triangulation, political centrism, and describing his progressive opponents as "dreamers not doers" than he's known for bold leftism.
The new situation in Albany is also an opportunity for government to work differently, Pearlman suggested, opening things up and making it more transparent, especially during the budget season. "We don't have to have three men in a room or two men and a woman in the room, that is not written in our state constitution that the budget has to be written at the last possible minute behind closed doors," Pearlman said. "What we're hoping is that the conference leaders will look at the process of how things are done in Albany and demand they're done in a more transparent and more equitable and better way."
At the moment though, Stewart-Cousins doesn't seem keen on blowing up the process, as she told Max & Murphy, "I'm interested to see how this thing really works as well. I'm sure I'll have a lot of opinions once I've actually been part of it," in response to whether she plans to make the budget process more transparent.
Cuomo also campaigned on keeping state spending tethered to the (somewhat rhetorical) two percent cap he instituted during his first term, and has flatly said an additional tax on high-earners to raise revenue for the MTA will not be happening, even speaking for the Legislature before the next session has started. So as for what might make it through the budget, McElwee said he predicts progressives can get "one big budget-buster" through the process each year, and if he had to play favorites, he'd pick the Climate and Communities Protection Act. "For me and I think a lot of millennials, climate change is the biggest existential threat we change. And I think a policy that can mitigate that while also creating jobs and infrastructure would be a sort of progressive model for the county," he said.
But ultimately, progressive activists say they aren't taking anything for granted, even as people talk about the Democratic majority in the state Senate as a permanent one. "Politics is all about waves and momentum, and if you don't capitalize on the momentum you never know where you're gonna end up in the future," Westin told Gotham Gazette. "I think our belief is we need to pass all the priorities this cycle, as you see even on the federal level and clearly in the state too, you never know what the next configuration is going to look like, and we don't want to waste this opportunity."
This is part of AGENDA 2019, a joint Gotham Gazette-City Limits project
Find the rest of the series here