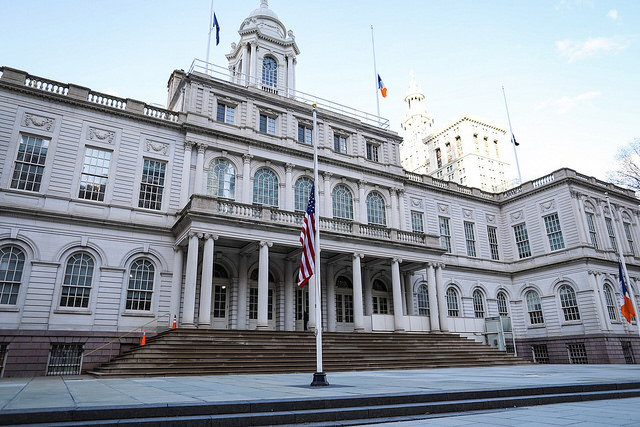 City Hall (photo: Benjamin Kanter/Mayoral Photo Office)
---
Public awareness is at the heart of achieving buy-in and delivering progress through a charter revision commission, which can propose foundational changes to city laws that go before voters for approval or disapproval. But in New York City, there will soon be two such commissions running concurrently -- one launched by Mayor Bill de Blasio and another through City Council legislation -- creating risk of competing and overly-politicized messages, a confused public, and, ultimately, failure at the polls despite significant attempts to offer potential improvements to how the city functions.
The dual commissions are being called duplicative and "absurd," showing that New York City did not heed a cautionary tale from across the country two decades ago.
A similar instance was seen in Los Angeles in 1999 and serves as an example of the unnecessary confusion and wasted resources two simultaneous charter revision commissions can cause. "If it can be avoided, don't have two separate commissions," said Erwin Chemerinsky, the publicly-elected chair of the mayor's 1999 charter revision commission in Los Angeles, in an interview with Gotham Gazette.
Chemerinsky spent almost two years deadlocked with a separate commission appointed by the Los Angeles City Council and said he "can't believe it's happening again" in New York. It was only after extensive negotiations with the chair of the L.A. Council's appointed commission, George Kieffer, that Chemerinsky could reach a compromise and deliver one proposal to voters in June of 1999.
"[It's] a huge waste of time and effort. Also, the two commissions inevitably will be perceived – and will perceive themselves – as rivals," Chemerinsky said.
At the moment in New York City, the charter revision commission called by de Blasio through mayoral fiat, with all 15 commissioners named by the mayor, is in the midst of public hearings and rapidly working towards delivering voters ballot proposals for a changed charter on Election Day in November of this year. His commission, announced during his February State of the City address, has been given a mandate to focus on campaign finance reform and improving voter access -- with the context that only 1 million of 4.6 million active voters turned up for the 2017 mayoral election in November, up slightly from record low turnout in 2013.
Yet, charter revision commissions are required to consider the entirety of the charter when doing their work. "Either commission could take up whatever issues it wants to take up," Hunter College professor Joseph Viteritti, who was involved in New York City's 1989 charter revision commission – the last time the city's charter was truly looked at in its entirety (and revamped significantly) – told Gotham Gazette. "Once the commission is set up it can do what it chooses."
The other commission, the creation of Public Advocate Letitia James, Manhattan Borough President Gale Brewer, and the City Council, has a much broader mandate from those officials, and is being tasked with a full review of the charter including looking at major processes for land use and budgeting. It has a longer timeline -- with proposals projected to go before voters in November 2019 -- and will be made up of commissioners appointed by the citywide and borough-wide elected officials.
Its members have not yet been appointed, but de Blasio, who will have four appointees to the commission, recently signed the legislation to create it. The mayor has downplayed the notion of two competing commissions.
"They're different concepts," de Blasio told Gotham Gazette at an April 25 press conference. "We talked very openly about the goals of each commission…They are trying to achieve different things."
Others are far more concerned.
"It's hard to get the public engaged in a discussion about the city's charter," said Claude Millman, who served as a commissioner during the 2001 New York City charter revision commission and who was the executive director for the city's 1999 commission. "It's even harder to keep the public involved when charter revision is diffused over two, separate commissions."
The city charter is, as Viteritti explains, "the city's constitution." It's a document that outlines the distribution of power and describes the duties of municipal officials. New York City has seen several charter revision commissions in the last decades, including in 1999, 2001, 2003, 2005, 2010. Not all of them were successful in having their proposals approved by voters. But the last complete overhaul to the city's charter -- similar to what the City Council is hoping to deliver -- was approved in 1989, with sweeping changes to how city government is structured and functions. "These kinds of issues are profound, it could reorganize the whole government," Viteritti said.
In Los Angeles, the city's charter was also transformed following the 1999 public vote, in which 60 percent of voters approved the proposed measure, The New York Times reported. The document was condensed to improve efficiency and clarity (according to the University of Southern California, it was sliced from a 700-page document to a 143-page document) and it led to the introduction of neighborhood councils, delivered things like clarification on the role of the police commission's inspector general, and mandated regular audits of the city's finances.
Chemerinsky said the charter overhaul was only successful because, after spending two "frustrating" years conducting hearings and operating separately as seeming "rivals," the mayor's commission and the City Council's commission came together to deliver the public one coherent and comprehensive proposal at the polls. "George Kieffer, the chair of the [City Council's] appointed commission called me and said we needed to come up with one proposal or both would get defeated," Chemerinsky said. "It was tremendously difficult. It took a huge effort to work out a compromise and an even larger effort to get the commissions to accept it."
New York City should consider this example fair warning, says Susan Lerner, executive director of Common Cause NY, a government reform organization.
"I think it's absurd we have two," Lerner told Gotham Gazette and City Limits during a recent podcast. Referencing the Los Angeles example, Lerner said: "at the end of the day, after double staffing and double meetings that multiplied the process unnecessarily, they ended up having to consolidate and come up with one compromised charter revision."
And there is no doubt the resources involved are extensive -- the mayor has budged $1.5 million for his commission; the City Council has its slotted to spend at least $1.7 million. "It's a Herculean task," Millman said. "The new agency has to open its office, divvy up tasks, promote its mission to the public, draft legislation, prepare reports justifying the need for the legislation, find and consult with experts, hold hearings throughout the city, respond to media and elected officials, select legislative proposals that are detailed enough to matter, and summarize those legislative proposals in a few sentences that can fit on the ballot."
Though James and Brewer urged the mayor to drop his commission, telling the Council's Committee on Governmental Operations during a March 16 haring that it has "predetermined conclusions; narrow focus; and a timeline too tight," de Blasio has given no indication of slowing down. His commission has already held five public hearings, one in each borough wrapped up in Manhattan on Wednesday night, and is moving quickly towards a ballot proposal deadline of September 7 and Election Day vote in less than six months.
James believes that campaign finance reform can be looked at as part of an "independent" and all-encompassing commission.
"New Yorkers deserve a truly independent review commission that is charged with evaluating the entire charter to effectively take on the needs of neighborhoods and communities across the city," James told Gotham Gazette. "The mayor has made it clear that his commission will focus solely on campaign finance reform. While I wholly support campaign finance reform, after thirty years, it is time that we do a top to bottom review of the city's charter in a democratic and inclusive manner."
On the other hand, Brewer said she thinks the commissions "don't need to be combined" as they are serving different purposes, but admitted talking about the two might prove confusing for the public. "It may be a bit confusing for us all to talk about two different commissions over the next couple months, but there doesn't need to be any conflict," she said in an interview.
The open public hearings held by the mayor's commission in recent weeks have seen varying levels of engagement, but many of the questions and comments from members of the public have been about issues separate from campaign finance reform or voter access.
At the hearing in the Bronx on April 30, there were concerns raised around term limits for elected officials; suggestions around an independent body with the power to discipline police; questions around the amount of public funding going to NYC Health + Hospitals; and queries about obtaining a New York driver's license and state identification for people living in the borough.
During the Brooklyn hearing on Tuesday evening, those testifying touched on a variety of matters, including campaign finance reform and civic engagement, but also land use processes, school integration, and more.
"Hearings give people opportunity to voice issues they think are important – issues about the amount of power the mayor has, community boards, the role of money in campaigns," Viteritti said.
Yet, depending on what comes through de Blasio's commission, the same people may feel compelled to turn up again to address the City Council's commission, sharing the same concerns if left unaddressed.
"It's a sad statement the mayor and the City Council couldn't come together on this," said Lerner, of Common Cause, which will be offering testimony to the commissions. Another government reform group, Reinvent Albany, recently testified to the mayoral commission that it should explore proposing strict fundraising limitations on nonprofits that are aligned with city government.
According to Viteritti, the success of the city's 1989 commission came from an "honest, scholarly and research-oriented examination of the charter" by experts. "It shouldn't be political resizing, or re-allocating the power balances within the institution in the name of self-interested parties," he said.
"I don't think the two commissions are going to be combined here," Viteritti continued. "But I hope both commissions can bring in real experts to prepare an informative report for the public and it doesn't turn into a back-and-forth politically."
As the two Los Angeles commissions were being formed in the late 1990s, the LA Times asked, "Can Charter Reform Survive the Politics?" The answer appeared to be "no" as the two commissions carried on their rivalry, even after a merger of proposals -- "Nasty Turn on Charter Reform," another headline declared -- with the LA Times reporting: "No doubt some council members hoped that bickering and competition between the two commissions--and between the mayor and the council--would doom serious reform."
But after all, a "Great Leap into Reform" was taken, according to the LA Times, which credited Mayor Richard Riordan for the charter revision success and applauded the "36 men and women of the two charter reform commissions who, in more than 300 meetings over two years, crafted a document that will serve Los Angeles' future, not its past."
Mayor Riordan, in turn, credited Chemerinsky. "His clarity and leadership brought together a consensus that would have been impossible without him, and that consensus was absolutely necessary," Riordan said, according to a University of Southern California article from soon after the vote. "It absolutely wouldn't have happened without him."
If executed thoroughly and with forward thinking, the impact a successful charter revision commission can have on a city is extraordinary. "Los Angeles Reinvents Itself, Adopting New City Charter" reads a 1999 headline from The New York Times after the charter review proposals were successful at the polls, somewhat similarly to New York's successful 1989 overhaul. Local communities in Los Angeles were given increased control over zoning and planning, and a system of neighbourhood advisory councils was introduced. But delivering these positive changes took a united effort from the mayor and the City Council, Chemerinsky said, if not in the commissions themselves, then in their messages to the pubic.
"If there are two commissions, find a way to have them come together," Chemerinsky said. "Find a way to have one commission, or failing that, one proposal."
[Read: De Blasio Downplays Placing Donors on Charter Revision Commission]
[Read: With Transparency Tweaks, City Council Passes Charter Revision Commission Bill]