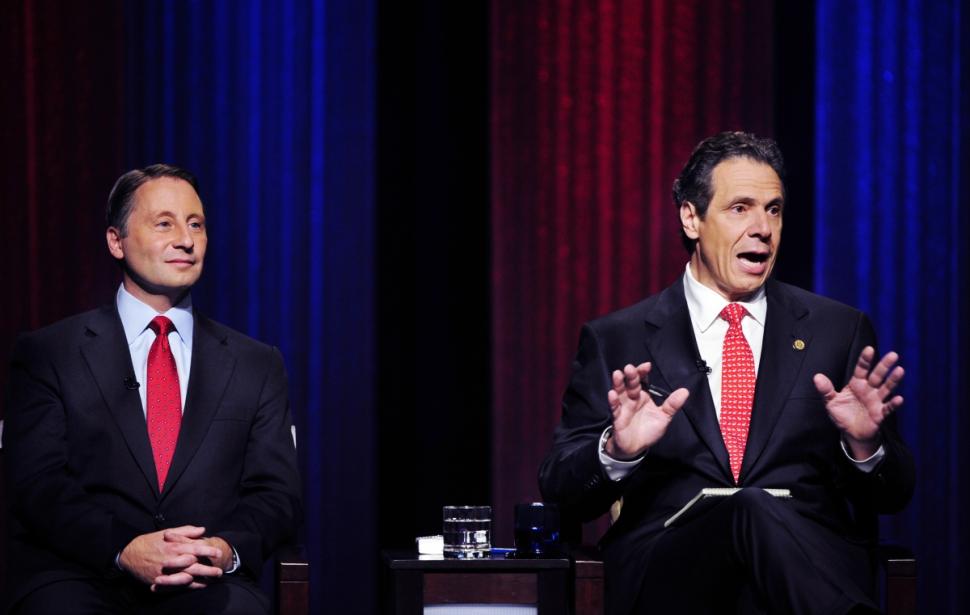 Andrew Cuomo, right, & Rob Astorino (photo: Gary Wiepert/AP)
---
All three major statewide elected positions are held by Democratic incumbents asking New Yorkers to renew their contracts for four more years. Voters will go to the polls on Election Day - Tuesday, November 4 - and decide if Governor Andrew Cuomo, Attorney General Eric Schneiderman, and Comptroller Tom DiNapoli deserve such an extension.
There's a lot at stake on Election Day: not only who holds those three offices (along with the other statewide post of Lieutenant Governor, which is voted on in conjunction with Governor); but also control of the State Senate, which will have a major influence on the legislation that comes through Albany over the next four years. The other house of the State Legislature, the Assembly, is heavily Democratic and certain to stay that way. Voters will be able to select their local representatives in these two state houses - although in many cases incumbents are actually running for re-election unopposed.
Key issues at stake next year include the Dream Act, the Women's Equality Act, campaign finance reform, the future of state and local minimum wage levels, the cap on charter schools, renewal of rent regulation laws, and much more. If the Democrats were to take control of both houses of the State Legislature and return Gov. Cuomo to his post, a large swath of progressive legislation could move through Albany. That is a very big "if," of course.
Additionally, on Election Day voters will be choosing their local members of the U.S. House of Representatives. In New York City (and around the state and country) many are watching to see the outcome of the race in New York's 11th Congressional District, where incumbent Republican Rep. Michael Grimm is facing Democratic challenger Domenic Recchia. Grimm is the only Republican representing New York City in Congress. There are several other highly competitive congressional races happening around the state.
And, don't forget to turn your ballot over: there will be three ballot proposals on which New Yorkers will be able to vote "yes" or "no" to amend the State Constitution. More on all of the above below; use our Gotham Gazette-WNYC Election Guide if you want to see who will be on your ballot or just explore:
As we always do, we'll help you get caught up and prepared to vote on Tuesday; a more detailed rundown of where things stand and what to look for:
Governor
[Read our series The Cuomo Record with a look at the governor's term on several important issues]
Gov. Andrew Cuomo appears set to cruise to victory over Republican challenger Rob Astorino and yet this isn't how it was supposed to happen. If Cuomo had his way he would be currently riding the wave of a bestselling and critically acclaimed memoir, stoking talk about his position on the national scene. He would be enjoying massive bipartisan support, influential with the press, feared and respected by his fellow pols.
Instead, Cuomo's re-election went off script this spring when growing liberal dissatisfaction with the governor boiled over leading up to the Working Families Party (WFP) May convention. Cuomo faced a quandary - agree to support Democratic Senate candidates and a slate of progressive legislation he had previously stalled on or face a WFP-groomed challenger to his left. Cuomo chose the former and agreed on video to the WFP demands.
And still, WFP challenger Zephyr Teachout opted to continue her candidacy and take Cuomo on in the Democratic Primary. Her campaign revealed deep dissatisfaction with Cuomo among liberal Democrats and a general lack of enthusiasm for the governor. But that wasn't the worst part for the incumbent. It also came out that Cuomo is facing a federal investigation for meddling in his own anti-corruption commission.
Cuomo refused to debate Teachout and even snubbed her attempted handshake at a parade. Then, amid the general election race, Cuomo's book has been critically panned and sold few copies in its first weeks of release. He's been largely written off by national pundits (for 2016, at least) and faced harsher scrutiny from the press, with further revelations of questionable conduct by him and his administration.
Instead of debating Astorino one-on-one or launching much of a campaign, Cuomo took a trip to Israel and one to the Dominican Republic and Puerto Rico. Leading up to Election Day, Cuomo has also tripped over himself to out-lead President Barack Obama and Mayor Bill de Blasio on Ebola response. In doing so Cuomo questioned the heroism of a doctor who volunteered to treat Ebola patients in Guinea, contradicted the CDC's guidelines, angered the White House, and faced an immediate public backlash on quarantine guidelines that appeared rushed and ill-considered.
Thats the bad news.
The good news for team Cuomo is that the governor remains the most powerful politician in the state and is likely to win re-election by a fairly wide margin. His reputation as a modern Machiavelli is still well-deserved: Cuomo has successfully splintered New York Republicans by earning the support of major GOP electeds, keeping Republican State Senators from supporting Astorino with the threat of his own inevitability. He has also outmaneuvered the Working Families Party - creating the Women's Equality Party, similar to the WFP in name (WEP) and target audience.
If the WFP doesn't reach the threshold of 50,000 votes it could lose its ballot status and Cuomo isn't doing anything to encourage anyone to vote for him on the WFP line - in fact he appears to be working against it, encouraging supporters to vote for him on the WEP line. Cuomo has even made several statements, including comparing the public schools system to a monopoly, that angered and possibly alienated WFP voters. The WFP has attacked Cuomo for his comments while launching a campaign asking voters to hold their noses and still cast a vote for Cuomo on the WFP line.
What alternative do disappointed WFP and Democratic voters have? Not many for those who want the WFP to make it to 2015 with any semblance of strength. But, Green Party candidate Howie Hawkins, who talked policy in the lone gubernatorial debate instead of sniping, supports major liberal policies and has been moving in the polls. Meanwhile de Blasio appears to be fighting a losing battle to oust Cuomo's Republican allies in the Senate.
Cuomo appears to have positioned himself in a Godfatheresque final scene where all his rivals are dealt a comeuppance while he ascends.
Cuomo has positioned himself as the centrist in a race where he faces challenges to his left and right. The governor touts his conservative fiscal policies, which he calls responsible, that have led to on-time budgets and reduced spending on public employees, Medicaid, and education, while he reminds voters of his liberal civil triumphs on same-sex marriage and gun control.
Republican Rob Astorino has dogged Cuomo on his premature shuttering of the Moreland Commission on Public Corruption and the federal investigation into his interference with it; slammed Cuomo for supporting Common Core learning standards; and insists that he, unlike Cuomo, will approve hydraulic fracturing to boost the upstate economy. Astorino has seen his campaign sputter as Republican support has been tepid and cash has not flooded his coffers.
On fracking, Cuomo has continually insisted he will "let the science decide," a strategy that has amounted to extending supposed Department of Environmental Conservation (DEC) studies into the process over a period of years and recently pledging to release the results after the election.
Green candidate Howie Hawkins has pledged to ban fracking, implement public financing of elections to get rid of the corporate cash that has infused Cuomo's campaign, and introduce a Green New Deal where every New Yorker would be entitled to a job. He's polling well for a third party candidate at around 10 percent.
Attorney General
It is no secret that there is no love lost between Gov. Andrew Cuomo and Attorney General Eric Schneiderman, so it is a tad bit ironic that Cuomo's interference in the Moreland Commission has come back to haunt Schneiderman in his race against Republican John Cahill, a former top aide to Gov. George Pataki. Cahill has insisted that Schneiderman should detail his involvement in the commission and should have done more to prevent Cuomo's interference and closure.
Cahill argues Schneiderman has made the office a political tool and should spend less time focusing on Wall Street and banks and more time on consumer protection. Schneiderman's camp insists that he has a robust portfolio of fighting discrimination, getting justice for workers who are victims of wage theft, and rooting out mortgage fraud. Schneiderman also touts the major settlements he has won from big banks, his work regulating gun shows, and his protection of women's rights.
Comptroller
Incumbent Democrat Tom DiNapoli was thought to be the most vulnerable statewide elected before the election season began. Gov. Cuomo appeared to have it out for DiNapoli by introducing into budget negotiations a last-minute pilot public financing system only for the comptroller race. However, Democrats have rallied around the DiNapoli, who refused to take part in the pilot due to its haphazard construction. DiNapoli has seen strong support from virtually all of the Democratic establishment.
DiNapoli's Republican challenger, Bob Antonacci, has failed to raise enough small donations to qualify for the public financing program. Antonacci has run a generally friendly campaign, but has criticized DiNapoli for being a "shareholder activist" by using the state's pension fund to weigh in on issues of social justice. Few New Yorkers seem to be paying any attention to this race and Republicans have been hesitant to come out behind the challenger.
Control of the State Senate
Despite efforts from de Blasio and Cuomo and a theoretical power-sharing deal between mainline Democrats and the Independent Democrats, it appears that Barack Obama's low approval ratings and a national Republican surge could have more affect on who controls the New York State Senate next year.
Republican control of the State Senate could be very bad news for Cuomo, who has promised to deliver on a number of progressive issues like The Dream Act and campaign finance reform. Cuomo founded the Women's Equality Party on a 10-point legislative agenda that was blocked by Senate Republicans for two years after Cuomo announced it with great fanfare during his 2013 State of the State speech. If Republicans are able to capture a senate majority it is likely the the WEA will have to wait at least two more years.
However, if Republicans do win control of the Senate it could help Cuomo on other issues.
The races to watch on which control of the chamber hinges are mostly Upstate, on Long Island, and in Western New York.
A rematch between Democratic Sen. Cecelia Tkaczyk and Republican George Amedore in the newest district created by gerrymandering is one key race to watch as their prior contest was decided by just 18 votes.
The contest in the Hudson Valley between Democratic Sen. Terry Gipson and Republican Sue Serino is expected to be close as the district leans Republican.
The seat being vacated by Republican Sen. Greg Ball, who opted not to seek re-election, features a contest between Democrat Justin Wagner and Republican Terrence Murphy. Wagner waged a failed challenge to Ball two years ago.
In Rochester, Democratic Sen. Ted O'Brien faces a serious challenge from Republican Rich Funke.
There are several Long Island races also in play.
There are also plenty of uncontested races, of course.
On the *BACK* of your ballot: 3 Constitutional Amendment Proposals
Prop 1: Reform of the process by which state legislature and congressional district lines are drawn
The language on your ballot will begin, "The purpose of this proposal is to reform the process of establishing new state legislative and congressional district lines that the Constitution requires every 10 years. If the proposal is approved, a redistricting commission will be established to determine lines for legislative and congressional districts, subject to adoption of the commission's plan by the Legislature and approval by the Governor. Under the current provisions of the Constitution, the Legislature is the entity responsible for establishing these lines." [More]
Prop 2: Allowing bills being brought to state legislators to be shared electronically instead of being printed
The language on your ballot will begin, "The purpose of this proposal is to allow electronic distribution of a state legislative bill to satisfy the constitutional requirement that a bill be printed and on the desks of state legislators at least three days before the Legislature votes on it. Under the current provisions of the Constitution, this requirement can only be satisfied by distribution of a physical printed copy." [More]
Prop 3: Allowing the Smart Schools Bond Act, $2B in state bond sales toward providing money to school districts for technology purchases and school infrastructure
The language on your ballot will begin, "The purpose of this proposal is to authorize the creation of state debt and the sale of state bonds in the amount of up to two billion dollars ($2,000,000,000) to provide money for the single purpose of improving learning and opportunity for public and nonpublic school students in New York." [More]
***As you prepare to vote on Tuesday, please visit our Elections Center; use our Gotham Gazette-WNYC guide to find out exactly who will be on your ballot; read articles from our election coverage; and/or peruse other resources we've put together like this page of debate video and editorial board endorsements***
Tweet us @GothamGazette and good luck deciding as Tuesday approaches!
***
by David King and Ben Max, Gotham Gazette