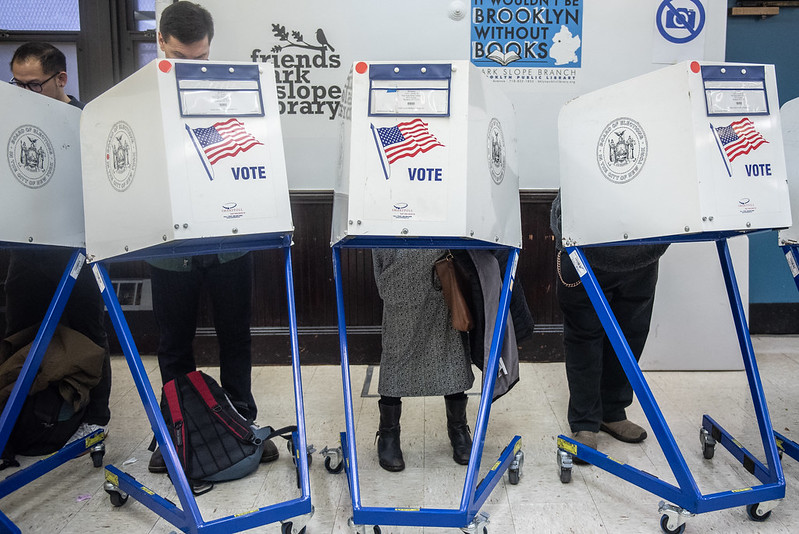 (photo: Michael Appleton/Mayoral Photography Office)
---
New Yorkers will head to the polls on Tuesday to vote in primaries for Congress and State Senate, the second primary election this year following an earlier June primary for statewide and state assembly races. 
The two separate primaries were a result of a messy redistricting process that unfolded this year, with new district lines drawn based on the 2020 Census count. With the new maps in place, there are several competitive races across the city and state, especially among Democrats, with no easy predictions about the results. 
Polls will be open in New York City from  6 a.m. to 9 p.m. Find your poll site here
WATCH: Previewing August Primary Day in New York
Read: New York Congressional Races to Watch in the August Primary
Read: New York State Senate Races to Watch in the August Primary 
Here are seven things to watch in Tuesday's primary election:
1. Turnout
Turnout is broadly expected to be low since New York has never held a primary in August before and many New Yorkers will be away for the summer. The nine-day early voting period came to an end on Sunday, with 148,331 voters casting early ballots across the state, including 76,335 voters in New York City, according to data from the State Board of Elections.
Absentee ballots also continue to come in. As of Friday, 210,152 absentee ballots had been sent to voters, including 108,874 in the city; 77,177 had been returned, including 36,890 in the city. Manhattan accounted for the most early votes and absentee ballots returned across the state. 
With two separate primaries, there is no easy way to compare turnout to previous elections. In the June primary, there were statewide candidates on the ballot and turnout fell drastically from 2018. Only 13% of registered Democrats, about 865,000, voted in the Democratic primary for governor while 16% of registered Republicans, or 447,000, voted in the Republican gubernatorial primary. 
2. Two Big House Primaries
There are two major Democratic primaries taking place in the newly drawn 10th and 12th congressional districts in New York City. 
The new 10th District covers Lower Manhattan south of 14th street and parts of western Brooklyn including Downtown, Gowanus, Park Slope, Sunset Park, Red Hook, and Borough Park. More than a dozen Democrats are on the primary ballot in the race, though there are six leading candidates based on public polls, endorsements and fundraising: City Council Member Carlina Rivera; Assemblymembers Yuh-line Niou and Jo Anne Simon; Dan Goldman, a former prosecutor who led the first impeachment of then-President Donald Trump; former U.S. Rep. Elizabeth Holtzman; and U.S. Rep. Mondaire Jones, who represents the Hudson Valley's 17th district but moved to Brooklyn to run in the new 10th.
Goldman, Niou and Rivera have consistently been at the front in public polling. But Goldman, a moderate and an heir to the Levi Strauss fortune, seems to be the apparent frontrunner, having put $4 million of his own personal wealth into his campaign and receiving the coveted endorsement of The New York Times. 
The primary winner will face Republican Benine Hamdan in the November general election.
The new 12th congressional district combined the East and West Sides of Manhattan from roughly 13th Street to 110th Street, leading to a fiercely contested primary between veteran Democratic Reps. Jerry Nadler and Carolyn Maloney. Also in the race is Suraj Patel, a young attorney who previously unsuccessfully challenged Maloney twice, and a fourth candidate, Ashmi Sheth, who has run a limited campaign.  
Read: Contentious NY-12 Primary to Conclude, with Nadler and Maloney Careers on the Line
Experts say that absentee ballots could be decisive in both races. 
Read: Absentee Ballot Programs Could Be 'Single Most Important Factor' in High-Profile NY-10 and NY-12 Congressional Races
3. State Senate Incumbents Face Tough Challenges
Several Democratic State Senators are facing tough primary battles as they contend with their new district lines. 
In District 21, which covers parts of central and southern Brooklyn, State Senator Kevin Parker faces two challengers: David Alexis, a progressive endorsed by the Working Families Party and the New York City Democratic Socialists of America (NYC-DSA); and Kaegan Mays-Williams, a former assistant district attorney in Manhattan.
State Senator Andrew Gounardes currently represents District 22, from Bay Ridge and Borough Park to Gerritsen Beach. But he is running for reelection in the newly drawn District 26, spanning parts of western Brooklyn from Dumbo to Fort Hamilton, including Gounardes' base in Bay Ridge. He is being challenged by David Yassky, a former City Council member, former policy advisor to Gov. Andrew Cuomo, and Bloomberg-era Taxi & Limousine Commissioner
State Senator Gustavo Rivera's district lines changed drastically and his home is now outside the new District 33, which covers parts of the Bronx from Riverdale to Van Nest. If he wins, he will have to move to the new district. Rivera is facing massive opposition from the Bronx Democratic Party, which is backing his challenger, Miguelina Camilo, president of the Bronx Women's Bar Association and a first-time candidate. 
State Senator Robert Jackson is running for reelection in the newly drawn District 31, which covers Upper Manhattan from Washington Heights to Inwood and parts of the Bronx including Morris Heights, University Heights, Marble Hill and Kingsbridge. He faces three opponents but the toughest challenger among them is Angel Vasquez, a political consultant and former chief of staff to former State Senator Marisol Alcantara, who Jackson unseated in 2018. Vasquez has been backed by several elected officials and others led by U.S. Rep. Adriano Espaillat.
The other two challengers are perennial candidate Ruben Dario Vargas and Spanish-language interpreter Francesca Castellanos.
4. Progressive-Moderate Battle for New Triborough Senate Seat
The redistricting process essentially created two new State Senate seats in the city with no incumbents in either: District 17, an Asian plurality district in South Brooklyn; and District 59, which includes parts of Midtown East in Manhattan, Greenpoint in Brooklyn, and Astoria and Long Island City in Queens. 
There is a heated primary battle in District 59. There are five candidates on the ballot but only two main contenders, former City Council Member Elizabeth Crowley, and Kristen Gonzalez, a product manager for American Express backed by the Democratic Socialists of America - New York City. Michael Corbett, vice chair of the state Democratic Party, is also running, while the other two candidates have dropped out. Nomiki Konst, a former journalist and one-time public advocate candidate, abandoned her bid for the seat and endorsed Gonzalez, while small business owner Francoise Olivas dropped out and backed Crowley. 
In District 17, there is no primary race. Iwen Chu, chief of staff to Assembly Member Peter Abbate Jr., has the Democratic nomination and is all but assured to win the general election given the heavy Democratic enrollment advantage in the district.  
5. Mayor Adams' Endorsements
In several competitive races where moderates and progressives are facing off, one prominent voice has been attempting to influence the outcome. Mayor Eric Adams, a moderate Democrat, has made endorsements in more than a dozen races this year, including previously in the June primary, as he hopes to help elect Democrats who will support his policy goals, particularly on changing the state's bail laws. 
"I just want reasonable thinking lawmakers. I want people that are responding to the constituents," Adams said at an unrelated news conference on August 18. "The people of this city, they want to support police, they want safe streets, they want to make sure people who are part of the catch-release-repeat system don't continue to hurt innocent New Yorkers."
Adams has endorsed former Council Member Elizabeth Crowley, a moderate, in District 59 over progressive Kristen Gonzalez. He has backed State Sen. Parker for reelection. He also held a fundraiser for Miguelina Camilo, who is running against State Sen. Rivera. 
One of his choices was particularly controversial. He endorsed Rev. Conrad Tillard in his primary challenge against State Senator Jabari Brisport, a progressive running in District 25, which covers parts of Brooklyn from the Brooklyn Navy Yard to Ocean Hill. The New York Daily News reported soon after that Tillard has a history of anti-Semitic, anti-abortion and anti-gay remarks, but Adams nonetheless defended him, saying he is "a lot different than the man who said those things decades ago."
6. Rose Poised for Rematch Against Malliotakis
Republican Rep. Nicole Malliotakis is expected to win her primary for District 11, which covers the entirety of Staten Island and parts of South Brooklyn, against her opponent John Matland, a health care worker. Malliotakis, the only Republican Congress member in the city, took the seat in 2020 after defeating Democrat Max Rose, who won the district in 2018 by unseating Republican Dan Donovan. 
Rose is hoping for a rematch against Malliotakis this year. He is seeking the Democratic nomination for the seat against progressive activist Brittany Ramos DeBarros and Komi Agoda-Koussema, a public school teacher. If he should win, he will likely face Malliotakis in the general election and though the district leans towards Republicans, Democrats will see it as an opportunity to flip the seat. 
7. Others With a Lot on the Line
There's a lot on the line in Tuesday's primary for players across the political board. 
The Working Families Party and the NYC-DSA saw several of their endorsed candidates lose in the June primary and tomorrow's election is their second shot at flexing their political muscle. The two organizations have endorsed progressive candidates in several competitive races, including both incumbents and challengers. In the 10th congressional district, the WFP has backed Assemblymember Yuh-line Niou, presenting a big test for the minor party in its own backyard in Brooklyn. Meanwhile, U.S. Rep. Nydia Velazquez, a WFP standard bearer, has put all her weight behind Council Member Carlina Rivera instead of endorsing Niou or her Democratic House colleague, Rep. Mondaire Jones. 
Read: Congressional Race in Its Base a Big Test for Working Families Party 
The WFP has also endorsed State Senator Alessandra Biaggi in the open race for the 17th congressional district that spans Rockland County, northern Westchester County, Putnam County, and parts of Dutchess County. Biaggi is running a spirited campaign from the left against U.S. Rep. Sean Patrick Maloney, chair of the Democratic Congressional Campaign Committee. 
In the 16th congressional district, which covers southern Westchester County and parts of the northeast Bronx, the WFP endorsed Democratic Rep. Jamaal Bowman, who is trying to hold on to his seat against three primary challengers: Westchester County Legislators Vedat Gashi and Catherine Parker, and Mark Jaffe, president and CEO of the Greater New York Chamber of Commerce. 
Gashi, a moderate, has emerged as the toughest contender of the three and has been endorsed by former longtime Rep. Eliot Engel, who Bowman ousted from office in 2020.  
The NYC-DSA and WFP's endorsements also overlap in some cases. Both have endorsed Gonzalez against Crowley in Senate District 59, Alexis against Parker in District 21, and Brisport in District 25 against his primary challengers. 
Political observers are also closely watching the 19th congressional district. There is an open race under the new district lines, which cover parts of the Southern Tier, Catskills, and Hudson Valley. The seat has been empty since Antonio Delgado was appointed lieutenant governor and two candidates are running in the Democratic primary to replace him: attorney Josh Riley and small business owner Jamie Cheney. The winner will face Republican Dutchess County Executive Marc Molinaro in the general election.
But Delgado's resignation also triggered a special election, also set for Tuesday, for the remainder of his term under the current district lines, and Democratic Ulster County executive Pat Ryan and Molinaro are running for the seat. At the same time, Ryan is running in the primary for the 18th congressional district, putting him on two separate ballots. Most of the current 19th District is included within the newly-drawn 19th, while other parts of the district have ended up in the new 18th District. 
The special election is being seen as a harbinger of what could happen in the fall general election, as Democrats are hoping to fend off a red wave that threatens their House majority by energizing their base over the Supreme Court's recent decision to strike down the national right to an abortion. 
For Democratic Rep. Adriano Espaillat, the primary will be a test of his political power as well as he has endorsed two challengers in competitive races against incumbent progressive Democrats. He endorsed Angel Vasquez, who is challenging State Senator Robert Jackson in the newly drawn District 31, and has also backed Miguelina Camilo against State Senator Gustavo Rivera in the new District 33. 
Espaillat has also endorsed Council Member Rivera in the 10th congressional district.
Note- this article has been updated.