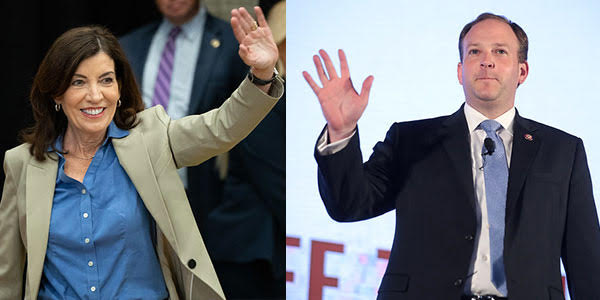 Kathy Hochul and Lee Zeldin
---
This is Part 1 of a two-part article on the issues dominating the 2022 race for New York Governor.
After winning their respective primaries, Democratic Governor Kathy Hochul and Republican Congressional Representative Lee Zeldin are now competing in the general election to become New York Governor from 2023 through 2026.
The favorites from the start, Hochul and Zeldin both won by comfortable margins in the June primaries. Hochul, a moderate from the Buffalo area and the state's first female governor, is seeking to win election to the role after having succeeded disgraced former Governor Andrew Cuomo upon his August 2021 resignation. Zeldin, a conservative from Long Island who gave up his congressional seat to seek the governor's office, is hoping to become the first Republican to win statewide in New York since Governor George Pataki won a third term 20 years ago, in 2002.
As the June primaries concluded, the issues that appear set to dominate the general election for Governor of New York and many other offices on the ballot this year took shape, whether from what the winning candidates' focused their campaigns on or from forces outside their control. Though there have been some shifts in emphasis since, those issues remain the focus as the race enters its final six weeks.
The New York political conversation is being dominated in part by reactions to major U.S. Supreme Court decisions issued in June, as well as other national trends and their local impacts, and how New York policy-makers are responding on issues including abortion rights and gun control, crime and public safety, inflation and the economy.
There are also other long-standing issues that Hochul, Zeldin, or both appear set to campaign on, from schools to how the state is attempting to mitigate the impacts of climate change to how it has handled the COVID-19 pandemic to population declines in parts of New York.
The sitting governor, Hochul has been championing her achievements over the past year, including in response to the Supreme Court rulings overturning Roe v. Wade abortion rights and a New York-specific concealed carry gun law. Zeldin has largely been criticizing Hochul, blaming her for not doing enough about increased crime and cost of living, tying her to Cuomo, with whom she served as Lieutenant Governor from 2015 to 2021, and more.
The General Election Matchup
Only two names will appear on the gubernatorial ballot this year after the Board of Elections rejected petitions from the Green and Libertarian Parties, which both lost automatic ballot status in 2020 and subsequently fought unsuccessful legal battles to enter the general election.
Hochul mostly coasted through the Democratic primary, spending a massive $26 million in fending off challenges from New York City Public Advocate Jumaane Williams and Congressional Representative Tom Suozzi.
Lieutenant Governor Antonio Delgado will join her ticket in the general election after overcoming progressive activist Ana Maria Archila and moderate former New York City Council Member Diana Reyna by a sizable margin in his primary. Delgado left Congress to accept the position as Hochul's lieutenant governor, her second such appointment in a short time after Brian Benjamin took the post and subsequently resigned after being arrested on public corruption charges from his tenure as a state senator — a scandal that Zeldin is using against Hochul in questioning her judgment and readiness for the job.
The Democratic nominees will also appear on the Working Families Party ballot line in the general election after the WFP-endorsed Williams and Archila were defeated and moved to vacate that nomination so as to not play a 'spoiler' role in the fall election.
Hochul's campaign platform has largely centered around touting what she's done in just over a year as governor. She is also offering a few agenda items that she backed but did not get accomplished in her lone state budget and legislative session as governor thus far. Hochul has not laid out an agenda for a full term as governor or even for next year.
But Hochul has thus far run on what she has passed and is implementing on healthcare, infrastructure and economic development, gun violence prevention, education, childcare, renewable energy, and more. She made the bulk of her achievements during the April state budget, as well as the rest of the legislative session that ended in June and a brief special session that followed, when the state passed enhanced gun laws and abortion protections in the wake of the Supreme Court rulings.
Both candidates are on the attack. Hochul and her fellow Democrats paint Zeldin as a "far-right extremist," drawing upon his anti-abortion and pro-gun stances and ties to former President Donald Trump that include his vote against certifying the 2020 presidential elections on the night of January 6, 2021, just hours after the pro-Trump mob ransacked the Capitol.
Zeldin said during this year's primary that he would accept an endorsement from Trump and that he would support him if he became the Republican nominee in the 2024 presidential election. He almost entirely aligned himself with Trump when he was president, voting with his agenda 88.8% of the time, according to a FiveThirtyEight analysis. Trump recently helped Zeldin raise money for the gubernatorial contest.
"Everybody knows that we cannot have Lee Zeldin as our governor," Hochul said in an interview with NY1 on June 29, the morning after winning the primary. "This is not an ordinary Republican – this is a Trump extremist."
"Zeldin backs the Big Lie, voted to overturn the 2020 election, repeatedly supported abortion bans, and would make our state less safe by rolling back common-sense gun safety laws," said Hochul Campaign Communications Director Jerrel Harvey in a statement after Zeldin secured the GOP nomination. "He is so far out of the mainstream it's hard to believe that he's even a New Yorker — much less one that wants to represent all of us as governor."
While Hochul emphasizes Zeldin's stances on guns and abortion that are significantly out of step with what public opinion polling shows of New Yorkers' sentiments, the Republican nominee plans to make his case largely by trying to focus voters on two issues.
"No matter how hard Kathy Hochul tries changing the subject, the top 2 issues of this campaign for Governor are Crime & the Economy," Zeldin tweeted on July 2.
Zeldin, who represents New York's 1st Congressional District on Long Island, prevailed in a competitive four-way gubernatorial primary with solid fundraising, an aggressive campaign schedule, and a wide range of endorsements from Republican leaders. He defeated Andrew Giuliani, son of former Mayor Rudy Giuliani, businessman Harry Wilson, and former Westchester Executive Rob Astorino.
That the Republican candidates had a primary this year was unusual – the party generally unites around a single candidate – and may have pushed Zeldin to articulate conservative stances that could hurt him in the general election as he had to appeal to a deeply conservative and largely upstate voter base. He will appear on both the Conservative and Republican Party ballot lines in the general alongside Alison Esposito, a former NYPD Deputy Inspector who ran unopposed in the primary for Lieutenant Governor.
The pair were denied an additional spot on the ballot via the Independence Party after submitting apparently fraudulent photocopied petition signatures that are the subject of ongoing investigations and Zeldin has tried to distance himself from. 
"New Yorkers in every corner of our state are hitting their breaking points," Zeldin said in a June statement. "They're tired of the attacks on their wallets, safety, freedom, and kids' education. The reality is Kathy Hochul doesn't want to talk about these issues that matter most to New Yorkers. Instead, she's busy pandering to the far left and she's going to pay a price for that at the ballot box in November."
"More than any other state right now we're seeing this population loss," Zeldin added in his primary night victory speech. "Our campaign is a campaign to try to convince you to stay, to make sure that your family who has left will want to come back."
The four-term congressman champions a tough-on-crime agenda and promises to boost the state economy through initiatives like fracking, tax cuts, and business deregulation. He has released somewhat detailed policy plans relating to crime, political reform, education, energy, and helping military veterans. But he has not provided much about how he plans to address the state's economy beyond cutting taxes and regulations, and has no clear plans for the state's affordable housing crisis, health care system, public transit, public university systems, or climate issues. Notwithstanding multiple requests from Gotham Gazette asking the campaign to clarify his stances on these issues, Zeldin's campaign did not respond.
Based on Cuomo's many scandals, Zeldin frequently criticizes Hochul for her time as Lieutenant Governor. He also regularly points to Hochul's selection of Brian Benjamin as her first Lieutenant Governor and his subsequent resignation over federal public corruption charges from his time as a state senator.
"Kathy Hochul is in over her head. She's a walking identity crisis, to be honest," Zeldin said in his victory speech on the night of June 28 – language he has used repeatedly and some have called misogynistic.
In his own interview on NY1 after winning the GOP primary, Zeldin pushed back against Hochul's depiction of him as a "far-right extremist," and reaffirming his commitments to repealing sweeping bail reforms passed by Democrats in 2019 and since toughened twice (including this year upon Hochul's urging) and to "firing" Manhattan District Attorney Alvin Bragg, whom Republicans have made a boogeyman based on his reform policies.
"Well, if it's extremist to want our streets to be safe by repealing cashless bail and holding rogue DAs accountable for their refusal to enforce the law, well, so be it," he said.
Focus Issues - What the Polling Says
The key issues in the gubernatorial race have taken shape, with public opinion surveys showing that the economy, crime, and the Supreme Court's two recent decisions are top of mind for many New Yorkers. On the 'horse-race' of the election, in most cases polls show Hochul with a commanding double-digit lead over Zeldin.
Polling from Emerson College/PIX-11/The Hill conducted in early September found the economy to be the most important issue to 38% of 1,000 'somewhat likely' and 'very likely' New York voters who were polled, followed by abortion access (14%), healthcare (10%), gun violence (9%), crime (7%), and immigration (5%). Among voters under 35, the survey found that healthcare was the most important issue (with 21.8%), whereas 54.6% of voters over 35 said the economy.
An online poll conducted by SurveyUSA in August identified inflation as the most pressing issue among of 1,200 New Yorkers (among whom 715 were determined to be 'likely voters' in November) when deciding how to cast their ballot in November, with 33% of respondents saying it was the most important issue in the race, including 47% of Republicans, 29% of Democrats, and 26% of independents. Healthcare (12%), criminal justice reform (12%), jobs (10%), and abortion access (10%) were also found to be priorities for likely voters in the survey.
Siena Research Institute polling in early June and late July gleaned that voters widely oppose the Court's rulings overturning New York's century-old concealed carry requirement and the federal right to an abortion, and they are widely supportive of protecting abortion rights and enacting laws that place significant safeguards on firearm ownership and carry.
Earlier polling in April and March suggested that voters are also worried about affordable housing and the state's high cost of living, and that they are supportive of reforming Albany's political structure to increase government ethics and transparency as the capital reels from the scandal and corruption of the Cuomo years.
A John Zogby Strategies poll released in March suggests that some voters are considering leaving the state in search of better economic opportunities, while a Regional Plan Association/Global Strategy Group poll released in March and NYC Speaks poll released in April both show that, among New York Metropolitan Area voters, the state's high cost of living and finding affordable housing are key concerns.
Climate, education, and covid policies are all also likely to be top issues of the general election, which will conclude on Election Day, November 8. Early voting will be October 29 through November 6, with absentee balloting throughout.
As of September 26, Hochul and Zeldin are still debating if and when they will actually meet for one or more general election debate(s).
Read Part 2 of this article, with a closer look at these issues dominating the race for New York Governor and where Hochul and Zeldin stand on them.