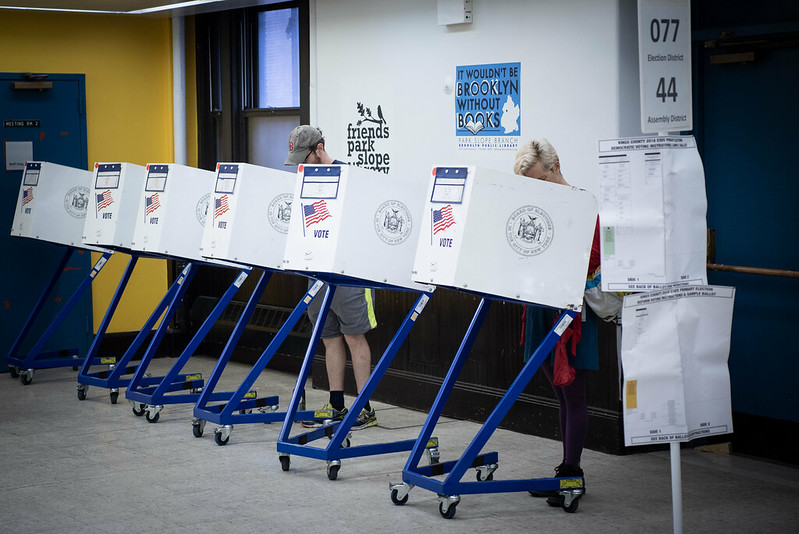 (photo: Michael Appleton/Mayor's Office)
---
A year after the 2018 election cycle, when insurgent candidates and heightened political participation helped drive a wave of New Yorkers to the polls, voter turnout in the city this fall continued the trend. While still low as a percentage of registered voters, the 15 percent turnout was far higher than previous off-year elections.
While many attribute the recent increases in voter participation to a Trump effect, the particulars of this year's city ballot, including key items not present in the corresponding cycle four years ago, may also have had an effect: a citywide Public Advocate election and five ballot questions offering New Yorkers the chance to approve or reject changes to city elections and governance.
Yet while the series of proposed city charter amendments may have motivated some voters to the polls, new analysis shows the questions did not generate as much interest as the public advocate candidates at the top (and front) of the ballot.
New maps created by Steven Romalewski, director of the Mapping Service at the Center for Urban Research, CUNY Graduate Center, using voter turnout data from the New York City Board of Elections show that, while turnout was relatively high across the board, there was significant drop-off from the top and front of the ballot -- where candidate races are listed -- to the ballot proposals on the back.
Romalewski's analysis also shows the places where turnout was highest (Upper West Side, Brooklyn Heights, and Park Slope) and lowest (parts of the southern Bronx and southern Brooklyn) and illustrates where voters seemed especially motivated to vote on the charter changes.
Of the nearly 4.8 million active registered voters in New York City, 15 percent went to the polls over the two weeks they were open this fall, according to still-unofficial city turnout data and the most recent state voter registration numbers released at the beginning of November. By comparison, in the 2015 general election turnout was just 6 percent, according to the New York City Campaign Finance Board, though there was no citywide race or charter amendments on the ballot that year.
The increased turnout follows an election last year where turnout was uncommonly high at 39.1 percent, according to the Campaign Finance Board. It also coincides with a number of long-sought voting reforms passed by the State Legislature after Democrats took control of both chambers following the so-called "blue wave" elections of 2018. Among them was early voting, a change advocates argued would improve access to the ballot box, which went into effect this fall. For the first time, city voters had the opportunity to vote early at 61 assigned poll sites over the course of nine days leading up to Election Day, November 5, when thousands of traditional poll sites opened citywide.
The highest profile race this fall was for public advocate, the only citywide elected office on the ballot, where Democratic incumbent Jumaane Williams beat Republican City Council Member Joe Borelli and Libertarian nominee Devin Balkind to keep the seat he had won earlier this year in a nonpartisan special election.
Williams won handily with nearly 78 percent of the vote in a city where registered Democrats outnumber Republicans close to seven to one. In addition to Williams' race, as well as a City Council contest to fill the seat he vacated and a handful of judicial races, the ballot contained the five referenda encompassing 19 charter amendments put forward by the 2019 Charter Revision Commission.
Voters overwhelmingly approved all five questions, with the 19 proposals dealing with elections and governance, by between 71 and 77 percent.
In five maps provided to Gotham Gazette, Romalewski breaks down turnout data and ballot referenda voting by Assembly district using unofficial election night results in which roughly nine out of ten ballot scanners were counted. Official results are expected to be certified soon.
In the areas with the highest turnout, like the Upper West Side, Brooklyn Heights, and Park Slope, nearly 24 percent of registered voters cast ballots for public advocate, according to the analysis. The neighborhoods with the lowest turnout, like the West Bronx, Mott Haven, Parkchester, and Bensonhurst saw just 10 percent or less of registered voters go to the polls (see map below).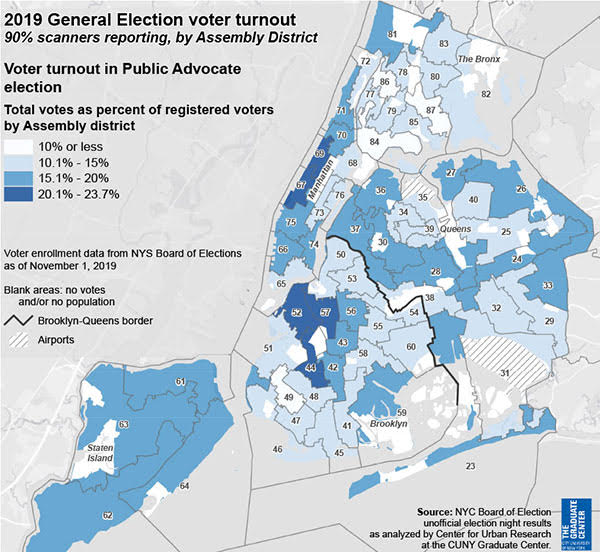 The Upper West Side and Brooklyn Heights saw close to the same high turnout on proposal 5 as they did for public advocate -- 22.4 percent (see map below). But much larger regions had turnout rates of 10 percent or less: all but three Bronx Assembly districts fall into this category, as well as Corona, East Elmhurst, and Flushing, Queens.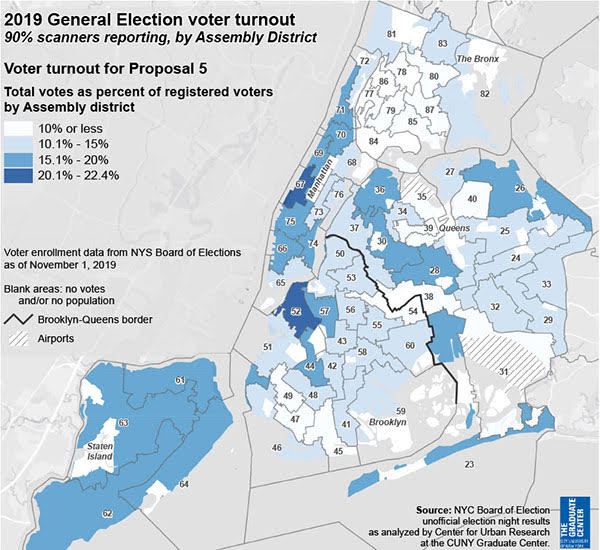 A vast majority of Assembly districts saw drop-off of between 1,000 and 2,889 votes from the top of the ballot to the back of it. The districts that saw the smallest drop-off -- under 1,000 votes -- were in parts of Lower Manhattan, the Upper East Side, Williamsburg and parts of the borough's southern tier. The worst drop-off was in Upper Manhattan, the South Bronx, Eastern Queens, and parts of Central Brooklyn.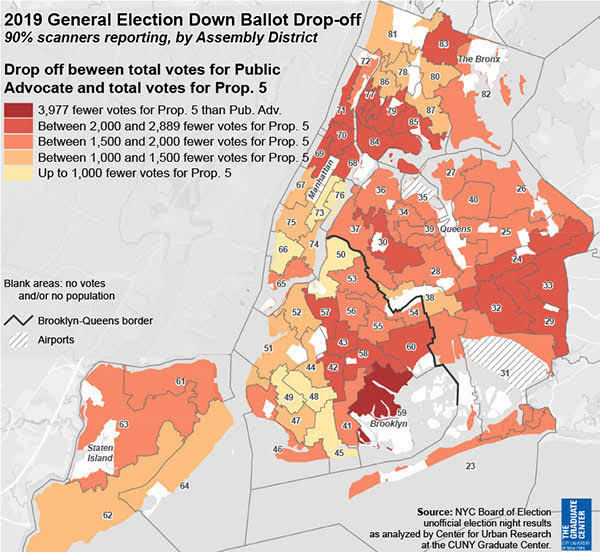 Despite what then-Public Advocate Letitia James described in July 2018 as "a rare opportunity to fundamentally change the future of our City" when the charter commission was empanelled through her legislation with Manhattan Borough President Gale Brewer, a number of factors may have contributed to the drop-off on ballot proposals by the time the votes were cast.
Among them are the miniscule, 7.5-point font the ballot questions were printed in and the large amount of detail contained in each one. Another might be the limited public education conducted by government agencies in the run-up to the early voting period, or the fact that many of the city's most prominent officials did not express positions on the proposals. There's also the fact that the commission did not propose particularly sweeping changes to how city government functions, though ranked-choice voting, part of the first ballot question, is a major change.
All but one Assembly district in Queens, where there was a notable district attorney race, saw drop-off of more than 1,500 votes between the public advocate race and the fifth ballot proposal -- meaning many Queens voters were not taking stock of their entire ballot.
One district -- Assembly District 59 in Brooklyn -- had a drop-off of roughly a thousand more voters than any other district in Romalewski's maps. That drop-off could actually be smaller because data for that district was available from only 78 percent of ballot scanners, compared to between 85 and 99 percent of scanners in most of the other districts, he explained in an email. When they are all counted the gap may shrink.
Another, and perhaps more notable, outlier is Assembly District 48 -- spanning Borough Park and Midwood, Brooklyn -- where there was actually a greater number of ballots marked for or against Question 1 than public advocate by 76 votes, according to one map (see below). Given its inclusion of ranked-choice voting, Question 1 was perhaps the most consequential and controversial of the ballot measures, especially among certain officials and groups. According to the unofficial election night results, voters in District 48 rejected Proposal 1 by a margin of 4,058 to 1,545, and the other four proposals by similar margins.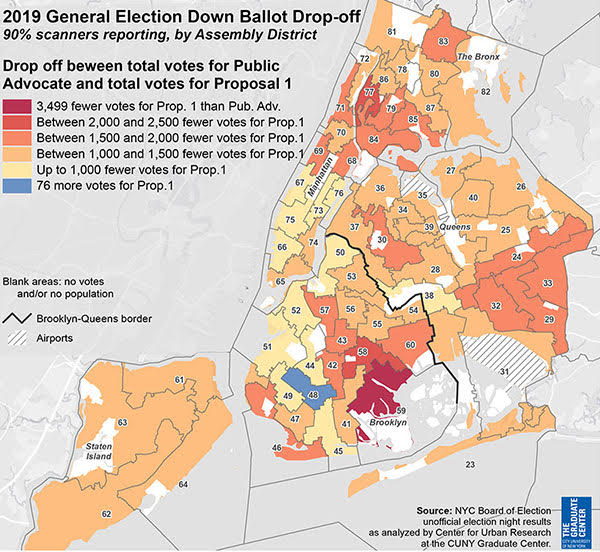 Ranked-choice voting, which for party primary and special elections will let voters list up to five candidates by preference rather than selecting a single top choice, received significant attention in the weeks leading up to Election Day, with groups campaigning for and against the proposal. The biggest proponents of the new method were a coalition of good government groups, voting rights advocates, and elected officials, which spent close to $1 million on advertising for it.
But five days ahead of Election Day, a group of city and state elected officials representing Orthodox Jewish communities in the Midwood area of Brooklyn began appearing in digital, print, and radio ads urging voters to reject all five ballot proposals, according to data from the Campaign Finance Board. The images of Assembly Member Simcha Eichenstein, who represents District 48, along with State Senator Simcha Felder and City Council Members Kalman Yeger and Chaim Deutsch graced the English- and Hebrew-language ads, often accompanied by text reading: "If approved, these proposals will waste money, make our streets more dangerous and give our community less say in our city government. Help protect our voice."
A total of $22,150 was spent on the ads over five days, according to campaign finance filings. They were paid for by the Police Benevolent Association Independent Expenditure Committee, which was also pouring money into a parallel campaign to defeat a proposal, in Question 2, that would enhance civilian oversight of the NYPD. The PBA spent a total of $139,626 on its "Vote No on Question 2" campaign, which includes the $22,150 geared toward Orthodox Jewish voters.
Two days before Election Day, the City Council's Black, Latino and Asian Caucus also spent $5,000 on leaflets opposing ranked-choice voting, even though some of its members were proponents of a yes vote on Question 1.
One map shows that not only was there relatively high turnout for public advocate -- between 15,000 and 24,200 votes -- in the western half of lower Manhattan, as many as 99 percent of those voters also voted for or against proposal 5 on the back. The same map shows a number of districts where turnout was as low as 4,145 and down-ballot drop-off was between 25 and 33 percent. Those districts fall mostly in northeast Queens and the South Bronx (see map below).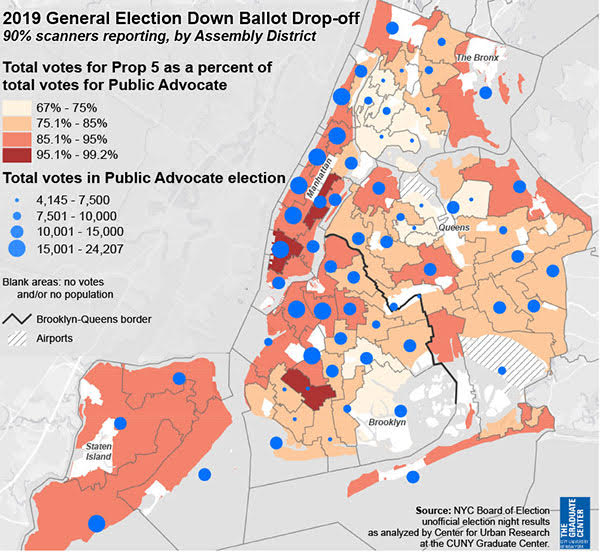 But in Assembly District 48, the opposite was true: voters there cast ballots for public advocate in relatively small numbers (between 4,145 and 7,500) but those that did were highly motivated to vote on the ballot proposals as well. As many as 99 percent of them voted on proposal 5 at the end of the ballot, Romalewski pointed out in an email.
While all five ballot questions passed citywide and in almost every borough, Staten Island voters rejected three of them, including the ranked-choice voting and police oversight proposals (Questions 1 and 2, respectively), as well as one related to the city budget (Question 4). The widest vote margin of the rejected proposals on Staten Island, where voters tend to be more conservative than the rest of the city and where many police officers live, was on the police-related reforms.
There, in addition to the PBA campaign against the police oversight amendments, several local elected officials joined PBA President Pat Lynch and other law enforcement union leaders days before Election Day to rally in opposition to the proposal. Borelli, who received nearly twice as many votes on Staten Island as Williams in the public advocate race, was among them.
Note: this article has been updated.