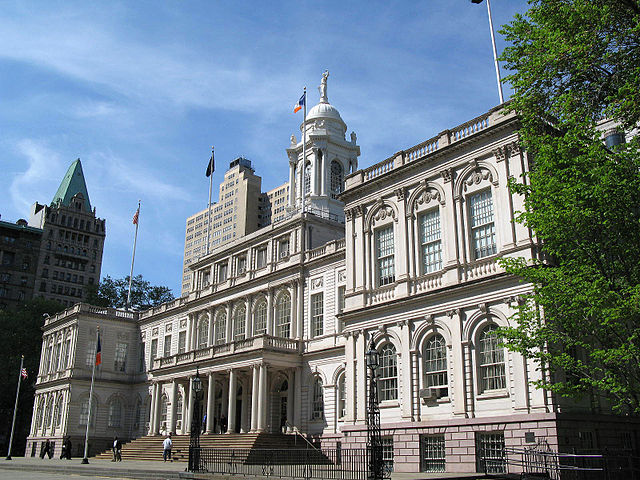 New York City Hall
---
What to watch for this week in New York politics:
This week will be off to a fast start with Mayor Bill de Blasio unveiling his initial Fiscal Year 2016 preliminary budget plan. De Blasio will announce his budget Monday at 2 p.m. at City Hall, outlining the shifts in spending and what they say about his priorities. We already know that money has been added for new NYPD bulletproof vests. Look for more stories Sunday evening into Monday in various publications that de Blasio's team has placed in an effort to roll out top agenda items included in the budget.
De Blasio's first budget was mostly praised, though there were questions about how he initially accounted for elements of union contracts he had struck and he did have to make modifications based on feedback from Comptroller Scott Stringer - all part of the budget process, which has several phases. Once the FY2015 budget (the city's fiscal year begins July 1) was settled between de Blasio and the City Council, many lauded the work done to prioritize new progressive initiatives and maintain solid fiscal footing. De Blasio does have to watch his out-year deficits, experts say. The city budget is also reliant on what happens in Albany, of course, so adjustments will likely have to be made as Governor Andrew Cuomo and the state Legislature negotiate the state's FY2016 budget over the next two months (the state's fiscal year begins April 1). De Blasio met with new Assembly Speaker Carl Heastie on Sunday to discuss rent regulations, which will be a major issue in Albany negotiations, during budget talks and/or afterward.
De Blasio and other city officials, including Stringer, head to Albany on Feb. 25 to address the Legislature about the city's budget needs. The Legislature has already begun holding budget hearings, including on education, at which New York City Schools Chancellor Carmen Fariña testified and explained the City's opposition to some of Gov. Cuomo's education reform proposals. Cuomo is attempting to tie a large amount of increased school aid to his education reform agenda, the governor continues to have events around his larger agenda throughout the state, including many held by his top emissaries, such as Lieutenant Governor Kathy Hochul.
De Blasio's executive budget rollout is just the first step in the city's FY2016 process. The City Council will spend weeks holding budget hearings and give its response before the budget outline is adjusted and another round of hearings is held, final tweaks are made, and, in all likelihood, a June deal is reached. We'll get some more indication of what the City Council is eyeing both in calendar 2015 and fiscal 2016 when Speaker Melissa Mark-Viverito gives her first State of the City address on Wednesday of this week. On Sunday, Mark-Viverito and a council delegation head to Israel for a nine-day trip. Details below.
Other top storylines to watch this week, followed by the run of the week in day-by-day detail, as we usually do:
Many eyes are on Albany as new Assembly Speaker Heastie gets more acclimated in his role and budget negotiations move forward. We're awaiting word from Heastie on his take on several hot-button items, including education reform, the minimum wage, rent regulations, and more. Heastie's first work may be moving reform of the Assembly rules and then also working on larger ethics reform for Albany lawmakers in general. Meanwhile, he has promised to be a more inclusive speaker than his predecessor, which could make budget negotiations more complicated. If Heastie is more of a spokesperson for the will of his conference, especially his New York City delegation, which is a large portion of the chamber, it may matter a bit less what he believes in individually. As watchers know, though, anything can happen when the Albany horse-trading gets going and a budget deal is being worked out.
Democratic movement in NY11? Staten Island Democrats are due to meet with potential candidates to take on Staten Island DA Dan Donovan in the yet-to-be-called special election in New York's 11th Congressional District (to replace Michael Grimm, who resigned after a pleading guilty to one count of felony tax fraud) - according to the SI Advance, which reports the interviews will take place on Wednesday. It is looking like it will be another Brooklyn Democrat, perhaps Council Member Vincent Gentile, to attempt to take the seat (former Council Member from Brooklyn Domenic Recchia was unsuccessful against Grimm in November). A lawsuit was filed last week to push Gov. Cuomo to call the special election, which he has stalled on doing. The district, which encompases all of Staten Island, has been without a representative since Grimm resigned at the beginning of January.
It is Black History Month, look for many related events, including one being held Thursday by Public Advocate Letitia James, Council Speaker Mark-Viverito, the Council's Black, Latino, and Asian Caucus, and other council members.
As always, there's a great deal happening at the City Council and all over the city, with many events to be aware of. Day-by-day details below...
***Do you have events or topics for us to include in an upcoming Week Ahead in New York Politics?
E-mail Gotham Gazette editor Ben Max: This email address is being protected from spambots. You need JavaScript enabled to view it.***
The run of the week in detail:
Monday
As mentioned, Mayor de Blasio will unveil his FY2016 budget proposal on Monday, 2 p.m., City Hall.
Advocates and elected officials supporting the DREAM Act will rally in Albany around noon on Monday, with a 1 p.m. press conference scheduled. As part of the "Moral Mondays" series, this week's push is around the stalled legislation that would allow for state financial aid to go to college students brought to the United States illegally. Gov. Cuomo has recommitted to seeing the DREAM Act passed, it seems, including language in his budget proposal to tie it to an education tax credit bill that Republicans favor.
Monday's City Council schedule will include a meeting of the Committee on Recovery and Resiliency jointly with the Committee on Fire and Criminal Justice Services for an oversight hearing "Examining the City's Enhanced Emergency Response Plans post Superstorm Sandy"; and a meeting of the Committee on Consumer Affairs to discuss oversight of "Education and Outreach on Financial Literacy for Young Adults," and to see the introduction of a new bill regarding "provision of young adults with outreach and education regarding consumer protection issues."
Because of inclement weather, HOPE 2015 was rescheduled for Monday, Feb. 9. The NYC Department of Homeless Services will conduct its annual Homeless Outreach Population Estimate (HOPE) - a program aimed at collecting "vital information for outreach teams to help homeless people leave the streets for a better life." The annual event will draw hundreds of volunteers including a good number of elected officials as those involved walk the city. [Read our report on the intensified efforts made by advocates and the City to help the homeless during the harsh winter months]
"On Monday, February 9th, the newly formed Community Investment Advisory Board will hold the first of five public hearings, one in each borough, under the new Responsible Banking Act. The law represents one of the strongest steps any government has taken to respond to hold banks accountable to local communities. This law puts NYC at the forefront of a national movement of municipalities enacting laws to direct more City deposits and business to banks that are meeting the credit needs of communities where they do business" - according to a media advisory from the Association for Neighborhood and Housing Development and the New Economy Project.
Also Monday evening, there will be a town hall event regarding the Kent Avenue warehouse fire in Brooklyn. "At the town hall, city agencies will be in attendance to brief the community on the fire and its impacts and to answer any questions. The following agencies will be in attendance: Department of Health and Mental Hygiene, Fire Department, NYC Emergency Management, Department of Environmental Protection, Department of Buildings, Sanitation Department, Small Business Services, Police Department, Environmental Protection Agency and Mayor's Community Affairs Unit. All North Brooklyn residents are strongly encouraged to attend...The Town Hall is being hosted by Council Member Stephen Levin, State Senator Daniel L. Squadron, Assemblyman Joseph R. Lentol, Congresswoman Carolyn B. Maloney and State Senator Martin Malave Dilan."
Monday's Joint Legislative Budget Hearings are on taxes and on economic development.
On Monday, the Senate Standing Committee on Civil Service and Pensions will meet in Albany to consider various pieces of legislation related to pensions and civil service law.
The Senate Standing Committee on Judiciary will hold a hearing regarding Court of Appeals nominees Judge Leslie Stein and Judge Eugene Fahey.
On Monday evening, Comptroller Stringer will deliver remarks at the Turtle Bay Association 31st Annual Love Thy Neighborhood Valentine Party.
On Monday evening, the "New York City Council Urban Investigation Final Presentation" will be given by students involved with programming from The Center for Urban Pedagogy (CUP). 'How does the City Council actually work?' is the question at the heart of this work. "In this latest Urban Investigation, CUP and teaching artist Dillon de Give tackled these questions with a group of public high school students from International Community High School in Mott Haven. To find out how the City Council works, the students interviewed City Council staff and members—including Speaker Melissa Mark-Viverito—as well as staff from city agencies. They created a short video to share what they learned. Join us for the debut of their project at Anthology Film Archives, where students will present the video and discuss their creative process."
On Monday and Tuesday is the 10th Annual H.F. Guggenheim Symposium on Crime in America. Among many aspects, Joe Ponte, Commissioner of the New York City Department of Correction will participate on the 9th and Ken Thompson, Kings County (Brooklyn) District Attorney will give the keynote address on the morning of the 10th.
[READ THE LATEST ORIGINAL REPORTING FROM GOTHAM GAZETTE]
Tuesday
On Tuesday, Mayor de Blasio will meet with Members of Congress Jerry Nadler and Nydia Velázquez; he will deliver remarks at the 10th Annual John Jay/Harry Frank Guggenheim Symposium on Crime in America; he will meet with Mayor of London Boris Johnson in City Hall; and he will deliver remarks at the opening of "The Italian Americans" at NYU.
Tuesday's City Council schedule will include a meeting of the Committee on Public Housing for an oversight hearing on: "A Fair Deal for NYCHA? A Look at NYCHA's Decision to Sell a Stake in Project-Based Section 8 Housing to Private Developers"; a meeting of the Committee on Transportation for oversight "examining the expansion of bus rapid transit in New York City," and the introduction of new bills relating to a "bus rapid transit plan" and "car sharing in the city fleet"; a meeting of the Committee on Parks and Recreation on "Annual report on non-governmental funding for NYC parks"; and a meeting of the Committee on Veterans on bills "Requiring the reporting of veterans receiving agency services"; "Membership of the veterans advisory board"; and "Meetings of the veterans advisory board." [As part of our extensive coverage of veterans issues in New York City, we recently wrote about issues around the Veterans Advisory Board related to its membership and its transparency]
On Tuesday morning, there will be a meeting of the Senate Standing Committee on Agriculture to consider a variety of relevant legislation. There will also be a meeting of the Senate Standing Committee on Local Government: "The New York Conference of Mayors (NYCOM) and Municipal Officials to address the Committee...[on] An act to amend the real property tax law, in relation to school tax relief (STAR) exemptions" and a variety of other items.
There will be a meeting of the Senate Standing Committee on Education regarding a variety of relevant bills. There will be a meeting of the Senate Standing Committee on Transportation on various legislation including "An act to amend the vehicle and traffic law, in relation to prohibiting a child under the age of eight from being left unattended in a motor vehicle"; "An act to amend the vehicle and traffic law and the penal law, in relation to distribution of certain mandatory surcharges imposed for alcohol-related traffic convictions" and several others.
Tuesday morning will see a Joint Legislative Budget Hearing on Higher Education.
Tuesday morning will see a special event at The New School: "In Need of Shelter: Protecting the city's children from the traumas of homelessness." Details: "The de Blasio administration has made reducing family homelessness a key priority. Nevertheless, homeless families spend on average over 400 days in city shelters, and the number of families is near a record high. Young children are overrepresented; the number of kids under the age of 6 in shelters has grown nearly 60 percent since 2006. How can we keep children in city-subsidized shelters safe? How can we use the time they spend in shelter to foster rather than derail their development? How can we support parents who are leaving shelters that may be the only homes their children have known? A conversation with experts in the field, and the release of the latest edition of Child Welfare Watch"
On Tuesday afternoon, the College of Staten Island will host a conversation on policing in New York City and the United States, with sociologist Alex Vitale and Eric Garner's daughter Erica Garner: "To Serve and Protect? Broken Windows Policing and Eric Garner." More: "The police killing of Staten Island resident Eric Garner, and other cases, has galvanized a mass movement demanding fundamental changes to policing in New York City and the United States. Come to a lecture and public discussion with sociologist Alex Vitale and activist Erica Garner for a critical dialogue on policing, its deeper roots, and the mass movement that has emerged."
"Stop the trafficking" will be Tuesday evening at Brooklyn Borough Hall: "Human trafficking is the second largest source of illegal income worldwide exceeded only by drug trafficking. Our esteemed panel includes: New York City Councilmember Laurie Cumbo, Chair of the Committee on Women's Issues, LifeWay Network, GEMS and Safe Horizon for a discussion on human trafficking, how it affects our community, and the current efforts in place to combat this global crisis." [Read a recent Gotham Gazette op-ed by Manhattan DA Cy Vance on the need for New York to strengthen its sex-trafficking laws]
On Tuesday evening, Comptroller Scott Stringer hosts "Trailblazers, a program and awards ceremony in honor of African-American History Month," 6 p.m., New York Public Library Schomburg Center.
The Safe Passage Project and the Diane Abbey Law Institute for Children and Families of the Impact Center for Public Interest Law at New York Law School Present: Unaccompanied Immigrant Children and the "Priority Docket": New York's Experience on Tuesday evening at New York Law School.
[ARE YOU SIGNED UP FOR OUR NEWSLETTERS? CLICK HERE TO SIGN UP!]
Wednesday
On Wednesday at noon, "New York City Council Speaker Melissa Mark-Viverito will deliver her inaugural State of the City address, "Lifting Every Voice," at the Johnson Community Center in East Harlem."
[Read our interview with Mark-Viverito about her first year as speaker and the leadership style she has brought to the role; and read our broader look at the "new" City Council's first year (2014), with a focus on what changed and what did not under new leadership and an almost half-new council]
Earlier, on Wednesday morning, the offices of Senator Kirsten Gillibrand and City Comptroller Scott Stringer are hosting a "Tax Workshop for Clergy."
On Wednesday evening, Stringer is holding a meet-and-greet with residents of Starrett City, in East New York, Brooklyn.
Earlier, on Wednesday morning, PCAC and ULI New York present: "Keeping NY on Track: the Importance of the MTA Transit Network in a Changing World," a discussion on the MTA Capital Program. Moderator: Seth Pinsky, Executive Vice President, Fund Manager, Metro Emerging Markets & Public Affairs Director, RXR Realty and Speakers: Joan Byron, Director of Policy, Pratt Center for Community Development; Donna Keren, SVP, Research & Analysis, NYC & Company; Janno Lieber, President, WTC Properties, Silverstein Properties; Mark J. Marcucci, Managing Director, Global Head of Citi Realty Services, Citi.
Thursday
Thursday's City Council schedule will include a meeting of the Committee on Finance on "Approving the new designation and changes in the designation of certain organizations to receive funding in the Expense Budget"; a meeting of the Committee on Rules, Privileges and Elections to discuss a variety of items: "Communication from the Mayor - Submitting the name of Wellington Chen to the Council for its advice and consent regarding his appointment as a member of the Landmarks Preservation Commission, pursuant to Sections 31 and 3020 of the New York City Charter. Communication from the Mayor - Submitting the name of Kim Vauss to the Council for its advice and consent regarding her appointment as a member of the Landmarks Preservation Commission, pursuant to Sections 31 and 3020 of the New York City Charter. Communication from the Mayor - Submitting the name of Hank Willis Thomas to the Council for its advice and consent regarding his appointment as the painter member of the New York City Art Commission, known as Public Design Commission, pursuant to Sections 31 and 851 of the New York City Charter"; and the first of two February City Council Stated Meetings.
Public Advocate Letitia James will host a discussion on the NYC Campus Safety Act. 5 p.m. at The New School: "James has been working closely with college students across the city to craft legislation that targets on-campus sexual violence. The result is the NYC Campus Safety Act...[which] seeks to provide City resources to assist colleges across the city to strengthen education, prevention, and response to on-campus sexual and domestic violence as well as boost the reporting mechanisms for survivors." RSVP.
Thursday evening will see the aforementioned Celebration of Black History Month at the City Council, hosted by Public Advocate Letitia James, Council Speaker Melissa Mark-Viverito, the Council's BLAC and other council members: 6 p.m. in Council Chambers, City Hall. To RSVP, email This email address is being protected from spambots. You need JavaScript enabled to view it.
On Thursday evening, The Bronx Republican Party is hosting its Lincoln Day Dinner, at which it will be honoring John Catsimatidis with the Bronx Republican Party 2015 "Leadership Award"; the Chairman's Special Tribute: The Bronx Republican Party 2015 humanitarian awardee will be announced; and closings by Honorable Ed Cox, Esq., Chair of State GOP, and Bronx GOP Chairman John Greaney.
Friday and the weekend
Friday's City Council schedule is a meeting of the Committee on Sanitation and Solid Waste Management for a hearing regarding a bill aimed at "Reducing permitted capacity at putrescible and non-putrescible solid waste transfer stations in overburdened districts."
State Comptroller Tom DiNapoli is hosting the "Eighth Annual Emerging Manager & MWBE Conference" on Friday at the Hilton Albany Hotel: "The Emerging Manager Program allows the New York State Common Retirement Fund (CRF) to: invest in newer, smaller and diverse investment management firms;
access the next generation of talent in the investment field; and provide opportunities for the CRF to invest with qualified minority- and women-owned business enterprises (MWBE)."
Friday evening will see the New York State Association of Black and Puerto Rican Legislators Evening Reception, hosted by City & State NY.
Saturday at noon, City Council Speaker Melissa Mark-Viverito, in collaboration with the Silberman School of Social Work, will host an event in East Harlem: "Rising for Justice in El Barrio." More: "Join us as we stand with East Harlem residents and people all over the world against the violence towards women and girls. Violence Intervention Program, the Silberman School of Social Work and my district office joined forces for this community-based action to combat sexual assault and rape, and make our schools and neighborhoods as safe as possible."
Leaving on Sunday, Feb. 15, Mark-Viverito is leading a city council trip to Israel - set to last nine days and include about 15 council members. "The trip is sponsored by the Jewish Community Relations Council and the UJA Federation of New York. This is Speaker Mark-Viverito's second trip to Israel as a Council Member – she previously made the trip in 2012. The delegation will include, other than the speaker, Council members David Greenfield, Brad Lander, Mark Levine, Mark Treyger, Ritchie Torres, Helen Rosenthal, Cory Johnson, Donovan Richards, Antonio Reynoso, Eric Ulrich, Andrew Cohen, Jimmy Van Bramer, Rafael Espinal and Darlene Mealy" - according to JP Updates.
***
Have events or topics for us to include in an upcoming Week Ahead in New York Politics? E-mail Gotham Gazette executive editor Ben Max any time: This email address is being protected from spambots. You need JavaScript enabled to view it. (please use "For Week Ahead" as email subject).
***
by Rati Mukhuradze and Ben Max
@GothamGazette