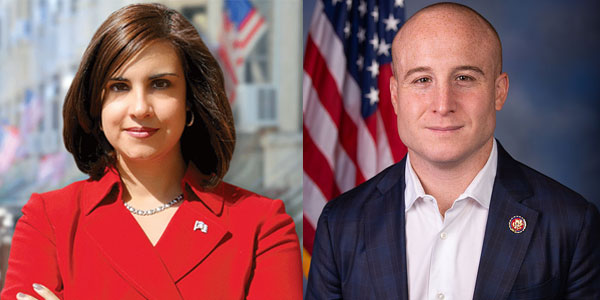 Assemblymember Nicole Malliotakis, left, & Rep. Max Rose face off in NY-11
---
Voting in the 2020 general election is set to come to a conclusion on Tuesday, November 3, Election Day. The full, official results won't be known for weeks.
The eyes of the world are on the presidential race between President Donald Trump and former Vice President Joe Biden, and it's unclear when a winner may be declared.
Though it's unlikely Trump can pull off an upset and beat Biden in New York, voters here have been going to the polls in large numbers, just like across the country, with 2020 expected to see modern record voter turnout. How exactly the presidential race shakes out in New York is among many things to watch as we count the votes.
1. Voter Turnout
Voter turnout, both in person and by mail, is likely to reach historic highs in the 2020 general election.
There are 5.3 million voters registered in New York City​ and just under 13 million registered across New York State, as of February 2020. (Many thousands more registered between then and the October deadline, but those numbers are not yet available.)
In the 2016 presidential election, only about 64,000 absentee ballots were cast in New York City. This year, eligibility for absentee balloting has been expanded to all registered voters due to the coronavirus pandemic, a change that led to a huge surge in such voting in the June primaries. As of October 20 of this year, over 1 million absentee ballots for the general election had been processed in New York City, according to the city Board of Elections (BOE). The board will accept absentee ballots that are put in the mail or dropped off by Election Day.
The nine-day early voting period, October 24-November 1, has yielded over 1.1 million in-person votes cast in New York City alone, a little more than 21% of registered voters in the city (using the February number). This is the first presidential general election with either universal absentee voting or early voting in New York. (In 2019, the first year of early voting when only a handful of local races were on the ballot, only about 60,000 people citywide and 256,000 statewide voted at an early voting site.)
While many New Yorkers are taking advantage of voting by mail or early voting, Election Day is still expected to see a large surge of voters, with many expecting New York turnout, like that across the country, to surpass recent election cycles.
In the 2016 presidential election, 2.76 million voters cast ballots in New York City (roughly 56% of registered voters) out of a total 7.8 million votes cast statewide (a 62% turnout rate).
In the 2012 presidential election 2.47 million votes were cast in New York City (a 53% turnout rate), out of 7.13 million votes across the state (59% turnout). In 2008, when Barack Obama was first elected president, there were 2.6 million votes cast in New York City (57% turnout), of 7.7 million votes cast across the state (64% turnout).
2. New York City Tries to Run a Smoother Election with Expanded Options
It has already been another election marred by poor execution by the New York City Board of Elections. What Election Day itself will bring is yet to be seen. While some changes and challenges have been brought on by the COVID-19 pandemic, some problems this year look like those made by the Board of Elections and its vendors in prior years.
There are many outstanding questions about what will unfold on Election Day and in the counting of ballots thereafter.
The 2020 elections have seen an unprecedented level of absentee voting, the result of the state expanding eligibility to all registered voters as part of the larger effort to combat the spread of COVID-19. The high volume and the amount of time it takes to receive and verify mail-in ballots means that many races may not be officially called until weeks after polls close. The New York City Board of Elections has predicted it will complete the ballot canvassing process by November 24, four days before the statutory deadline. The Electoral College is set to formally elect the president on December 14.
Lines at the polls will be long this year, not only because of high turnout, but because of social distancing. The city Board of Elections says it has hired 4,800 additional poll site workers who will be assigned specifically to line management. The board has also mailed "Fast Pass Tags" to all registered voters that have scannable barcodes for expedited and "contactless" poll site check-in. Voters may (but are not required to) bring them to their early voting or Election Day poll location, where electronic poll books are also now in use, having been first instituted last year among a wave of voting and election reforms.
Completed absentee ballots can also be dropped off during open hours at early voting and Election Day polling locations and at BOE borough offices. There is no check-in required for using one of the dropboxes.
The city BOE opened 88 early voting sites this fall, up from 79 for the June primaries and 61 during the general election last year, when early voting began in New York. That number, which became 89 after the threat of a lawsuit by a Manhattan Assembly member, has proven too small, however, given the large turnout, adding to the list of issues with Board of Elections planning and administration.
After having reduced the total number of early voting hours by ten, from 74 to 64 hours, according to Vote Early New York, a non-profit advocacy group, the BOE responded to large turnout on the first several days by adding additional early voting hours. In one Upper East Side district, following days of long lines and a planned court challenge from Assemblymember Rebecca Seawright, herself on the ballot this year, the BOE opened up an alternative early voting site. The sites were open for nine days from October 24 through November 1.
New York City is the only jurisdiction in the state that assigns voters to a specific early voting site, rather than having universal centers where any registered voter can go. Voting rights advocates have pushed the city to adopt borough-wide and citywide early voting but administrators have said memory limitations on the machines it uses make it impossible to store the ballots of every election district.
On top of the new absentee voting element this year, election administrators are operating under a brand new state requirement to notify voters when their mail-in ballots are being rejected on certain technical errors and provide them a channel to correct the mistake.
The new mandate, signed into law in August, applies to missing or incorrect signatures on the inner "oath" envelope and to ballots that were returned without the oath envelope entirely. When there is a "cure" eligible error, the Board of Elections is required to send notices to all mailing and email addresses on file for the voter at hand, and must make attempts by phone wherever possible to reach each voter. The notice will include a form through which voters can "cure" the mistake and return to the BOE to be reviewed and counted. Pursuant to an executive order signed by Governor Andrew Cuomo, administrators are allowed to review ballot envelopes for defects as soon as they are received, but state law requires they remain sealed with the ballot uncounted until seven days after Election Day.
There are always unforeseen mishaps that impact the voting experience leading up to and on Election Day in New York City. In September, a vendor printing error led as many as 100,000 Brooklynites to receive another voter's oath envelope, which would render the ballot inside invalid if cast. The BOE says it has contacted all impacted voters and has provided new, correct ballots and envelopes.
Between a fifth and a quarter of absentee ballots are rejected every year on technicalities, a majority of which are because of missing signatures. The state has redesigned the oath envelope to emphasize with a prominent red 'X' where a signature is required and passed the 'curing' law.
3. Presidential Election Results Across New York City and State
If the last presidential election result is any indication, Joe Biden will handily win New York and pick up its 29 electoral votes. In 2016, Democratic nominee Hillary Clinton won 4.5 million votes across the state, compared to Trump's 2.8 million. In New York City, the Clinton-Kaine ticket beat the Trump-Pence ticket overwhelmingly, garnering 2.16 million votes to 494,549 votes.
Trump, however, won 45 New York counties to Clinton's 17, particularly as he was successful in less-populated rural and suburban areas. He did win both Staten Island (Richmond County) and Suffolk County, one of the two on Long Island, along with Nassau, where Clinton won fairly narrowly.
In New York City, there are a few pockets of Republican strength beyond much of Staten Island. Trump won parts of Queens that are home to white ethnic voters and a significant swathe of Brooklyn where there is a concentration of Orthodox Jewish communities.
While Trump did well in some suburbs of the city, many parts of the region moved towards Democrats in the 2018 elections, when Trump was not on the ballot himself but many voters appeared motivated by his initial nearly two years on the job. Case in point, in the 2018 state elections, Democrats won several State Senate seats in districts long held by Republicans, some in extremely tight races, including one in Southern Brooklyn's 22nd State Senate District. The same was true in Congressional races in the city and beyond, especially New York's 11th Congressional District, where Democratic wins helped the party take over the House of Representatives. It remains to be seen whether Trump can help those Republicans make a comeback or if Democrats will retain their hold.
Though Republicans are hoping that Trump's presence at the top of the ticket will help them win back those seats in more conservative and moderate districts in rural and suburban areas outside New York City, Democrats are perhaps more confident that their base will turn out in greater numbers and they will win independents by large margins.
4. Can Minor Political Parties Keep Their Ballot Lines?
The presidential election is likely to have major consequences for the state's minor political parties and what the New York ballot looks like in 2021 and beyond. New York's fusion voting system, which allows candidates to run on several party lines on the ballot and accumulate votes, is not itself at risk of ending, but there are new thresholds parties must meet to keep an automatic ballot line on which to nominate candidates for offices all across the state.
The system gives minor parties like the Working Families, Conservative, Independence, Green, and Libertarian parties the ability to cross-endorse a candidate also backed by the Democratic or Republican Party to run on their line. The arrangement is mutually beneficial – candidates get allies that can help them expand their voter base and the parties garner influence with candidates and office-holders.
This year's state budget included legislation creating a new campaign finance system for state elections, based on the recommendations of a state-created commission, while also creating new hurdles for minor parties that could place many of them in a tenuous position heading into the election.
Starting this year and continuing every two years, political parties now have to meet new, higher thresholds to automatically qualify for a ballot line. Where previously they only had to win 50,000 votes every four years in a gubernatorial election, they now have to win 2% of votes cast or 130,000 votes, whichever is greater, every two years, in a gubernatorial or presidential election. Based on the 2018 election, none of the state's minor parties would have met that threshold except the Conservative Party. The Working Families Party is in the midst of a massive effort to keep its line.
[Read: New York's Smaller Political Parties Must Quickly Meet New Ballot Thresholds]
5. Max Rose Tries to Keep the Congressional Seat He Flipped in 2018
In New York's 11th Congressional District, first-term Democrat Max Rose is in a pitched battle for his seat against Republican Assemblymember Nicole Malliotakis. A recent NBC 4 New York / Marist Poll found that Malliotakis held a slight lead in the race, with 48% of likely voters to Rose's 46%.
The district, which has swung several times between the two parties, covers all of Staten Island and parts of Southern Brooklyn along the waterfront. It has been a target for Republicans ever since Rose won it in 2018, defeating incumbent Dan Donovan, the Republican former Staten Island District Attorney.
Rose, a military veteran, is a moderate, center-left Democrat who has often sought to distance himself from the party's more progressive policies and members. As he runs for reelection, he has repeatedly criticized Mayor Bill de Blasio, a two-term Democrat, for his perceived failures in running the city and has at times even expressed support for President Trump, though Rose did vote to impeach Trump.
Malliotakis represents the Assembly in a district that covers most of the east shore of Staten Island and a small part of Southern Brooklyn. She previously ran for mayor of New York City in 2017, but only won 27.1% of the vote, losing handily to de Blasio who won 65.1%. She did, however, win Staten Island that year with 70% to de Blasio's 25.3%.
The seat is rated one of the most competitive across the country, and while it helped Democrats flip the House of Representatives in 2018, the party does not appear to need it to keep the House after this election. But whether it is part of Democrats keeping and expanding their majority or Republicans narrowing it or possibly flipping control back is yet to be seen. The seat had been Republicans' only congressional office in New York City until Rose took it.
6. Other Congressional Races in New York and Control of the House
In the 2018 midterm elections, Democrats flipped control of the 435-seat House of Representatives, with a net gain of 40 seats. In New York, the party flipped three seats – Max Rose defeated Dan Donovan in the 11th District, Antonio Delgado prevailed over John Faso in the 19th District, and Anthony Brindisi was victorious against Claudia Tenney in the 22nd District.
Delgado looks to be headed to reelection, facing first-time Republican candidate Kyle Van De Water, an Army veteran and attorney, in a district slightly north of New York City. Further upstate, Brindisi is again facing Tenney this year as she seeks to reclaim the position. Though Tenney is hoping to be boosted by Trump's presence on the top of the ticket, a recent Siena College poll showed that Brindisi has a comfortable nine-point lead in the race. Rose is the most vulnerable of the three Democrats, as he faces a tough fight against Malliotakis in a pro-Trump district.
The state will also send some new Democrats to the House, candidates finalizing their journeys after tough primaries but easy general elections given teh overwhelmingly Democratic districts they're running in. In the 15th District in the Bronx, Ritchie Torres, currently a City Council member, won the Democratic nomination from a crowded field vying to replace retiring U.S. Rep. Jose Serrano. In the 16th District, including parts of the Bronx and Westchester, progressive Democrat Jamaal Bowman won the June primary to unseat Rep. Eliot Engel, who had been in office for 16 terms. Both Torres and Bowman are all but assured to win the general election and head to Congress, as is another Democrat, Mondaire Jones, who won a tough primary north of the city to replace retiring Rep. Nita Lowey.
7. Andrew Gounardes Tries to Keep the State Senate Seat He Flipped in 2018
Democrat Andrew Gounardes flipped Brooklyn's State Senate District 22 in 2018, defeating longtime incumbent Marty Golden, one of the last remaining Republicans in the state Legislature representing New York City.
The district, situated in Southern Brooklyn, includes some of the more moderate parts of the city. Though it has more than twice as many registered Democratic voters as Republicans, Gounardes nonetheless won in 2018 by a narrow margin. This year, he's being challenged by Vito Bruno, a former nightclub owner and president of the Edmund G. Seergy Republican Club.
Democrats have expressed confidence they can hold the seat given the registration advantage and Bruno's relative lack of name recognition as well as Gounardes' first-term accomplishments, while Republicans think Trump's presence at the top of the ballot can help Bruno win, along with controversial criminal justice reforms passed by Democrats in the State Legislature.
[Read: Democrats Flipped a Brooklyn State Senate Seat in 2018; Is It In Play In 2020?]
8. Other State Senate Races Outside the City and Control of the Senate
After winning control of the State Senate in 2018 and working with their party-mates in the Assembly and governor's office to pass a long list of liberal legislation, Democrats are now looking at the possibility of capturing a supermajority in the chamber. They currently hold 40 out of 63 seats; Republicans hold 20 while three are vacant from Republican resignations. Several Republicans have also announced their retirements at the end of the year, creating a slew of "open" seats that are being hotly contested.
Since 2018, Trump has grown increasingly unpopular in the state, Democratic voter enrollment has continued to increase, and the party has vastly outraised and outspent the GOP in state Senate campaign funds. Democrats are hoping that turnout will be in their favor again this year and believe they can pick up as many as ten seats; they only need a net gain of two for a supermajority, which would allow the Senate Democratic majority to work with the supermajority of Democrats in the Assembly to potentially override gubernatorial vetoes.
Republicans, however, maintain that they will hold on to all their seats and that they will be able to appeal to moderate Democrats and conservatives to unseat several first-term Democrats who have pushed the Legislature and the state overall towards the left.
Brooklyn's 25th State Senate District will also see new representation from Jabari Brisport, who won the June primary over Assemblymember Tremaine Wright and others to fill a vacancy being left by the retirement of State Senator Velmanette Montgomery. Brisport, a democratic socialist, is running unopposed in the general election.
[Read: Democrats Eye a Supermajority, Republicans Look to Regain Seats: the 2020 New York State Senate Battle]
9. Other Races of Note in the City
Queens is set to get a new Borough President and it's all but certain to be Democratic City Council Member Donovan Richards. In the June primary, Richards emerged victorious in a crowded field to claim the nomination; the seat has been held on an interim basis by BP Sharon Lee since former Borough President Melinda Katz resigned at the start of the year to become the borough's district attorney.
Richards' most prominent opponent is Republican nominee Joann Ariola, chair of the Queens County Republican Party. But Democrats hold a massive voter enrollment advantage and the borough has not elected a Republican as borough president since the 1950s.
[Read: Donovan Richards Lays Out His Vision As Likely Next Queens Borough President]
In Assembly District 76 on the Upper East Side of Manhattan, incumbent Democrat Rebecca Seawright is running for reelection. But Seawright's bid is only noteworthy because she is running on the self-created "Rise and Unite" party line that she had to create after she was kicked off the Demorcatic and Working Families Party ballot lines after failing to file the proper ballot paperwork. She is being challenged by Republican Louis Puliafito in a race where the GOP is hoping to eek out a win based on there being no Democratic nominee on the ballot and the fact that the Upper East Side is still home to a sizable group of Republicans.
In Assembly District 64, Democrats may have a chance to flip a Republican-held seat as the current incumbent is Nicole Malliotakis, who is not running for reelection as she runs for Congress. Democrat Brandon Patterson, former deputy chief of staff to state Senator Diane Savino, and Republican Michael Tannousis, a former assistant district attorney in the Bronx and Staten Island DAs offices, are running against each other.
In Assembly District 57, incumbent Democrat Walter Mosley lost the Democratic primary to Phara Souffrant Forrest, a nurse and first-time candidate who was endorsed by the Democratic Socialists of America. After losing the primary, Mosley is running on the Working Families Party line, having received their endorsement as well. But the WFP has asked him to stand down and urged their members to vote for Forrest instead, giving her their endorsement after the primary.
There are also some other notable Assembly races in the city, largely pro-forma finalizing of contested June primaries through the general election.
In Assembly District 31 in Queens, Khaleel Anderson, who is just 24 years old, came out on top in a crowded Democratic primary to win the nomination. The race was for an open seat left vacant after Assemblymember Michele Titus was elected as a civil court judge.
There were other upsets along with those by Souffrant Forrest and Anderson in Assembly districts in the primary, as leftist candidates unseated longtime establishment Democrats and are now poised to sail to election in the general.
In Assembly District 50 in Brooklyn, activist Emily Gallagher defeated Assemblymember Joe Lentol. In Assembly District 51 in Brooklyn, Marcela Mitaynes defeated Assemblymember Felix Ortiz. In Assembly District 34 in Queens, Jessica Gonzalez-Rojas defeated Assemblymember Michael DenDekker. In Assembly District 36 in Queens, Zohran Mamdani defeated Assemblymember Aravella Simotas. In Assembly District 38 in Queens, Jenifer Rajkumar defeated Assemblymember Michael Miller. In Assembly District 84 in the Bronx, Amanda Septimo won after Assemblymember Carmen Arroyo was disqualified from the ballot.
***
by Ethan Geringer-Sameth and Samar Khurshid
@GothamGazette