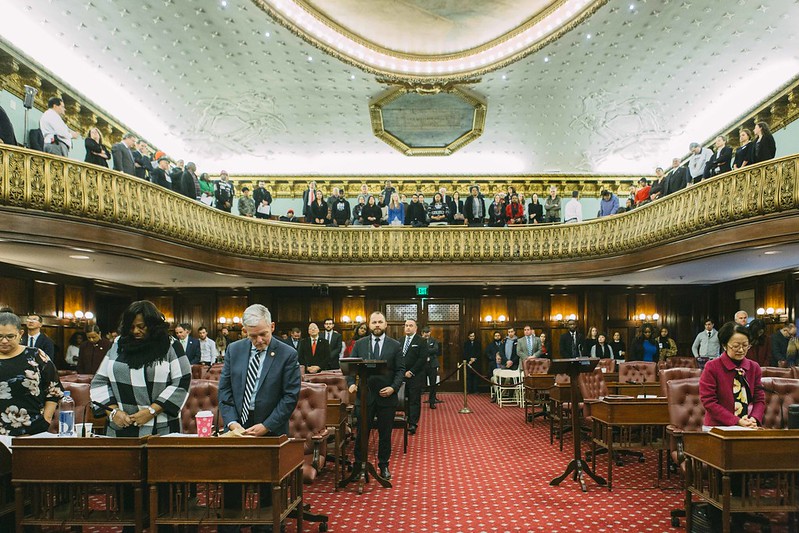 The City Council chambers (photo: Emil Cohen/City Council)
---
Welcome to Council Countdown.
Gotham Gazette, City Limits, City & State, and The Queens Eagle are teaming up to cover the dozens of competitive New York City Council races that are part of the 2021 city election cycle heading toward June primaries and the fall general election. From late April into June, the four publications will report on more than 40 competitive City Council races to help voters know the dynamics of those elections and about the candidates running in them.
Almost all of the Council's 51 seats are held by Democrats, so the Democratic primary is often tantamount to the election in this heavily blue city, making Democratic voters' choice in June especially important. Many races have between five and twelve candidates running, large fields worthy of study and scrutiny, especially given that ranked-choice voting is being used for party primaries for the first time in New York City. All 51 Council seats are on the ballot this year, with roughly two-thirds of them "open" due to term limits. Some incumbents are facing tough reelection challenges.
See below for the stories in the Council Countdown series, updated as new pieces are published by the four outlets.
---
City Council District 1, Manhattan
---
City Council District 2, Manhattan
---
City Council District 3, Manhattan
---
City Council District 5, Manhattan
---
City Council District 6, Manhattan
---
City Council District 7, Manhattan
---
City Council District 8, Manhattan & the Bronx
---
City Council District 9, Manhattan
---
City Council District 10, Manhattan
---
City Council District 11, the Bronx
---
City Council District 12, the Bronx
---
City Council District 13, the Bronx
---
City Council District 14, the Bronx
---
City Council District 15, the Bronx
---
City Council District 17, the Bronx
---
City Council District 18, the Bronx
---
City Council District 19, Queens
---
City Council District 20, Queens
---
City Council District 21, Queens
---
City Council District 22, Queens
---
City Council District 23, Queens
---
City Council District 25, Queens
---
City Council District 27, Queens
---
City Council District 28, Queens
---
City Council District 29, Queens
---
City Council District 30, Queens
---
City Council District 31, Queens
---
City Council District 32, Queens
---
City Council District 33, Brooklyn
---
City Council District 34, Brooklyn & Queens
---
City Council District 35, Brooklyn
---
City Council District 36, Brooklyn
---
City Council District 37, Brooklyn
---
City Council District 38, Brooklyn
---
City Council District 39, Brooklyn
---
City Council District 40, Brooklyn
---
City Council District 42, East New York
---
City Council District 45, Brooklyn
---
City Council District 46, Brooklyn
---
City Council District 47, Brooklyn
---
City Council District 49, Staten Island
---
City Council District 50, Staten Island
---