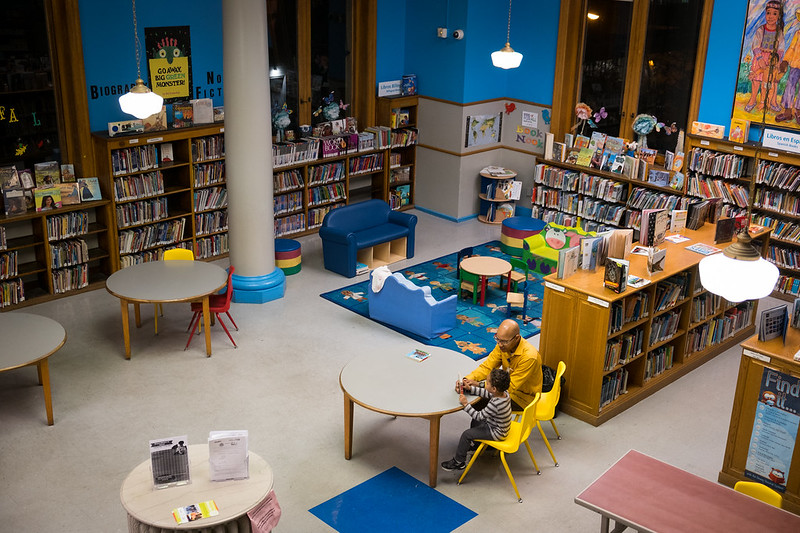 Reading room (photo: Edwin J. Torres/Mayoral Photo Office)
---
The most-read Gotham Gazette reporting of 2022 covers a wide variety of important topics in New York politics and policy.
And while the list below of the 20 most-read Gotham Gazette stories of 2022 is biased against some of our excellent December reporting, which has had less time to accumulate readership, it is still very much reflective of the in-depth local journalism Gotham Gazette is proud to provide New Yorkers. Especially so during another very important election year and the first year in the tenure of a new Mayor and new City Council Speaker.
Not included on this list are some of the articles that had the most readership but are more election guides than reported articles, or other election-focused coverage that was widely read like our detailed look at Lee Zeldin's and Kathy Hochul's campaign platforms; examination of what the polls were saying about the Governor's race as the general election came down the home stretch; discussion of the arguments for and against the $4.2 billion environmental bond act that was on the general election ballot; rundowns of the races to watch in the primary and general elections; and more.
Here is the most-read Gotham Gazette reporting of 2022:

1. New York Voters Approve $4.2 Billion Environmental Bond Act - by Ethan Geringer-Sameth
2. With the Massive Bronx Building Still Vacant, Officials are Again Asking: What's the Future of the Kingsbridge Armory? - by Samar Khurshid
3. After Subway Shoving, Officials Look to Expand State Laws on Mandatory Treatment for Mental Illness - by Samar Khurshid
4. An Initial Look at Voter Turnout in New York's 2022 General Election - by Ethan Geringer-Sameth
5. A Full Term in Hand, What's Governor Hochul's Agenda? - by Samar Khurshid
6. 'We Simply Cannot Predict What This Virus Will Do Next': Dr. Jay Varma's Reflections and Warnings on New York City's Covid War - by Ben Brachfeld
7. 'An Unprecedented Job Program': Adams Promises Overhaul of Workforce Development in New York City - by Ethan Geringer-Sameth
8. Police Have Removed Over 1,300 'Emotionally Disturbed People' from Transit in 2022; Where Did They Go? - by Ethan Geringer-Sameth
9. 'Didn't Quite Hit The Need': Bill De Blasio's Complicated Two-Term Legacy as Mayor of New York City - by Ben Max & Samar Khurshid
10. Bail Reform Remains at Center of New York Political Debate But State Legislature has Never Held a Hearing On It - by Samar Khurshid
11. What's Behind the Increased Use of Kendra's Law in New York City? - by Ethan Geringer-Sameth
12. How Mayor Adams is Reorganizing City Government - by Samar Khurshid
13. What's Next for CUNY After Three Tumultuous Pandemic School Years - by Rachel Cohen
14. 'A Very Unique Political Character': Eric Adams' First 100 Days as Mayor of New York City - by Samar Khurshid
15. What Happened to the Sunnyside Yard Master Plan? - by Samar Khurshid
16. Despite State Budget Funding, Little Progress Bringing Psychiatric Beds Back Into Service - by Ethan Geringer-Sameth
17. Nearly 9 Months In, Mayor Adams Yet to Name a Fire Commissioner - by Samar Khurshid
18. There's a Lot of Finger-Pointing Around New York Redistricting; What Actually Happened? - by Samar Khurshid
19. As Hochul Promises 'Bold' Agenda, Many Housing Policies on the Table for 2023 in Albany - by Samar Khurshid
20. Little Being Done to Address New York's Prison-to-Shelter Pipeline - by Ethan Geringer-Sameth