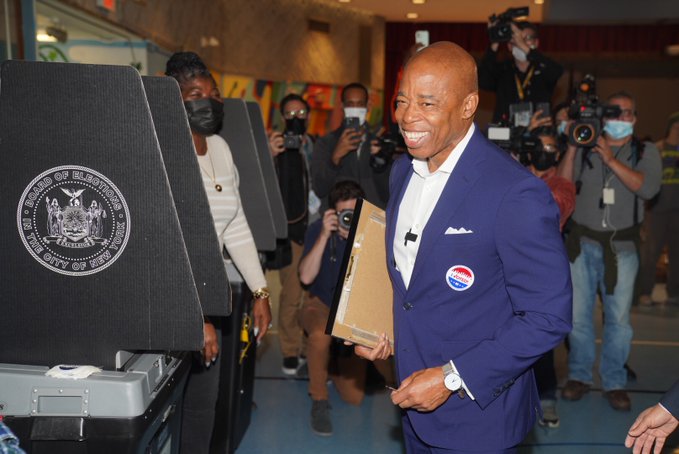 Eric Adams voting for himself for Mayor (photo: @ericadamsfornyc)
---
The most-read Gotham Gazette reporting of 2021 shows what kind of year it was, dominated by the New York City election cycle and the ongoing COVID-19 pandemic.
[Revisit our most-read reporting from 2020 here.]
And while the list below of the 20 most-read Gotham Gazette stories of 2021 is biased against some of our excellent December reporting, which has had less time to accumulate readership, it is still very much reflective of the in-depth local journalism Gotham Gazette is proud to provide New Yorkers. Especially so during such an important election year.
Not included on this list are some of the articles that had the most readership but are more election guides than reported articles, such as "Meet the Republican Candidates for Mayor" and "Where They Stand: Compare Democratic NYC Mayoral Candidates On The Issues," or rundowns of election results, or more recent but very popular posts like "Mayor-Elect Adams Announces Hundreds of Transition Committee Members" and "Tracking the Transition: Eric Adams Appoints His Government."
1. Eric Adams' Strengths and Weaknesses as He Runs for Mayor - by Samar Khurshid & Ben Max
(This article was published in the final days of 2020, but saw the vast majority of its readership in 2021 and was our most-read of 2021)
2. Kathryn Garcia's Strengths and Weaknesses as She Runs for Mayor - by Samar Khurshid & Ben Max
3. Mayor-Elect Eric Adams' Biggest Campaign Promises - by Ethan Geringer-Sameth
4. Maya Wiley Rallies Black Women to Make Her the First to Become Mayor of New York - by Samar Khurshid
5. 88,000 New York City Voters Shifted from Republican or Independent to Democratic Party Ahead of Primary - by Samar Khurshid
6. Maya Wiley's Strengths & Weaknesses as She Runs for Mayor - by Samar Khurshid & Ben Max
7. 'This Is Going To Change Everything': How the American Rescue Plan Will Impact New York City - by Ethan Geringer-Sameth
8. What is Andrew Yang's Mayoral Campaign Policy Platform? - by Samar Khurshid
9. Mayoral Hopefuls Appeared at a Candidate Forum, Then the Conversation Got Interesting - by Samar Khurshid
10. Report Takes Closer Look at Low-Income New Yorkers' Concerns About Long-Term Covid Impacts - by Ethan Geringer-Sameth
11. Antonio Reynoso is the Likely Next Brooklyn Borough President; Here's What He Ran On - by Laura Glesby
12. An Initial Look at Voter Turnout in the 2021 NYC Primary - by Ethan Geringer-Sameth
13. Consultants, Advisors and Staff: Who's Running the Democratic Mayoral Campaigns? - by Samar Khurshid
14. Eric Adams Vows to Overhaul How City Government Works; Experts Point to Several Essentials to Following Through - by Samar Khurshid
15. Despite Assurances, De Blasio Yet to Release Plan for City's Devastated Economy - by Samar Khurshid
16. CUNY Confronts Series of Challenges as University System Nears In-Person Reopening - by Megan Kelly
16. Vanessa Gibson is the Likely Next Bronx Borough President; Here's What She Ran On - by Laura Glesby
17. Mark Levine is the Likely Next Manhattan Borough President; Here's What He Ran On - by Laura Glesby
18. During Pandemic Peak, Psychiatric Patients Were Rushed Into Institutions - by Ethan Geringer-Sameth
19. As Eric Adams Allies Push Francisco Moya, Coalition Forms Behind Adrienne Adams for Next City Council Speaker - by Ben Max
20. The Growth of Dominican Political Power in New York - by Felipe De La Hoz