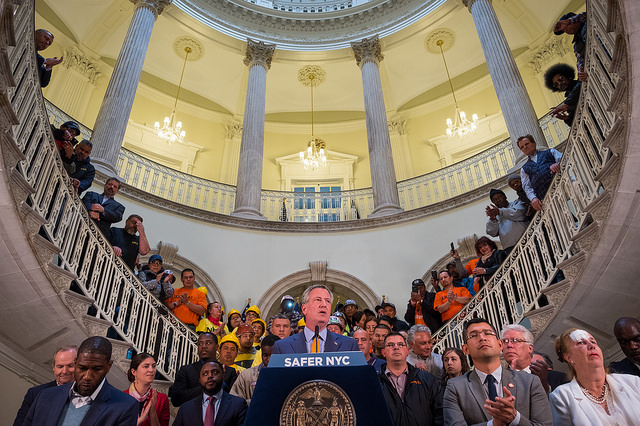 (photo: Edwin J. Torres/Mayor's Office)
---
As we head into 2018, we say goodbye to 2017, a year that featured a New York City election cycle, extended drama in Albany as both the budget was late and the legislative session finished through special added time, and a number of major developments in the five boroughs, as Mayor de Blasio did not face charges in twin criminal investigations, continued to struggle to reduce homelessness, saw his affordable housing agenda move forward with some fits and starts, oversaw record lows in major crimes, and more. The City Council and its Speaker, Melissa Mark-Viverito, spent the last year of the four-year term passing a wave of legislation and pushing closure of the Rikers Island jails, which de Blasio came around to support. Everyone was talking about Donald Trump.
And in our way, we covered it all during a very busy and productive year at Gotham Gazette. While we don't typically report on all of the day-to-day of city and state politics, we specialize in deep-dive stories; finding important angles to popular storylines that aren't being covered; reporting on topics and events that others often don't, like campaign finance reform and City Council oversight hearings; and holding elected officials accountable for being ethical, transparent, and consistent.
We also specialize in election coverage and for this city election year we again partnered with WNYC radio and City Limits to create an interactive voters guide, along with a long list of election-related stories that we published at Gotham Gazette.
Before we jump headfirst into the new year, we look back at 2017. Below is a list of the 10 most-read Gotham Gazette stories of 2017, a list curated using a dash of editorial discretion given that much of our election coverage saw our highest traffic. For the sake of keeping this list mostly focused on our investigative and accountability-focused reporting, we've removed some of the election-related articles that received a great deal of readership, including our preview of the three ballot questions and our look at 20 Races to Watch in the city election cycle (primary election focused), and we also aren't including the most-read op-ed columns, though several of those saw exceedingly high readership. The purpose here is to spotlight some of our best reporting of the year that was widely read.
We hope you'll revisit some of these stories that you may have caught when we first published them or find them for the first time -- and share them! We're on Facebook and we're on Twitter @GothamGazette -- use the hashtag #GGBestOf2017
One other note: not included here are our two podcasts, Max & Murphy, which we produce with City Limits, and What's The [Data] Point?, which we produce with Citizens Budget Commission. You can find all the 2017 episodes of Max & Murphy here, including the final one of the year, with City Council Speaker Melissa Mark-Viverito, and all the 2017 episodes of What's The [Data] Point? here. (All episodes of both are also available on your favorite podcast platform, like iTunes.)
The 10 Most-Read Stories of 2017 from Gotham Gazette
10. 'Community Preference' Lawsuit at Center of Affordable Housing, Segregation Debates, March 2017, by Ethan Geringer-Sameth
9. Little Progress Made on Utica Ave Subway Extension Study, Feb. 2017, by Elena Burger
8. The East New York Rezoning One Year Later, March 2017, by Samar Khurshid
7. Wary of Gentrification, East Harlem Braces for Rapid Change, April 2017, by Maggie Calmes
6. Consulting Firm with Deep City Ties Adds New Class of Clients, Looks National, April 2017, by Samar Khurshid
5. Where's The Polling in the Mayoral Race?, Sept. 2017, by Samar Khurshid
4. Constitutional Convention Absent from Cuomo's 2017 Agenda, Jan. 2017, by Rachel Silberstein
3. Nicole Malliotakis on Trying to Become New York City's First Female Mayor, July 2017, by Ben Max
2. Rochester Mayor Accused of Circumventing Campaign Finance Laws, July 2017, by Rachel Silberstein
1. Killing of FDNY EMT Spotlights Issues for Unsung Profession, March 2017, by Felipe De La Hoz
Bonus: our several-part series on Mayor de Blasio's first term record, published in the run-up to Election Day, which accumulated a good many readers:
Dissecting Mayor De Blasio's Record As He Seeks Reelection
Thanks for reading Gotham Gazette! Look for our final stories of 2017 and all that 2018 brings.